Costa Rican President Luis Guillermo Solís, who present his last annual report to the nation on Wednesday, defended his four years of effort to improve the country's infrastructure, but admitted that his administration fell short when it came to security and addressing the deficit.
In his final speech to the Legislative Assembly before leaving office on May 8, Solís touted the country's stability and economic growth without inflation, the advancement of key infrastructure projects, and poverty reduction as some of the main achievements of his administration.
The president will hand over the presidency to Carlos Alvarado who, like Solís, is from the Citizen Action Party (PAC, center left).
He said his administration was "able to overcome that sensation of paralysis that corroded the hopes of recuperating the rhythm of our development."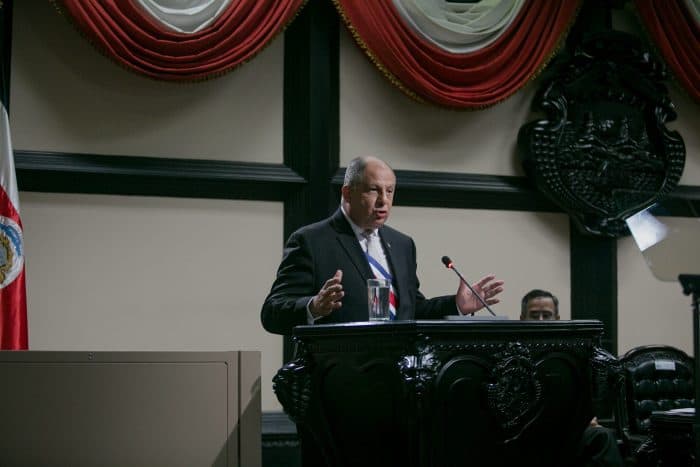 Solís also cited a 2.4 percent drop in poverty, limits on luxury pensions, measures to address tax evasion and response to natural disasters among his achievements. However, he recognized that security has taken a hit under his watch: in 2017, Costa Rica saw 603 homicides, the highest number in the country's history, equivalent to a 12.1 per 100,000 inhabitants.
The World Health Organization (WHO) considers that more than 10 homicides per 100,000 inhabitants constitutes a violence "epidemic."
"During the last years there has been a significant increase in cocaine trafficking from South America," Solís said. "This situation has produced a small-scale drug dealing phenomenon in Costa Rica, evidenced by the disproportionate increase of violent crime between the local drug cartels," he added.
Like the three presidents and Legislative Assemblies before him, Solís and the outgoing Assembly failed to produce badly needed tax reform to address the fiscal deficit, which reached a 6.2 percent of the Gross Domestic Product (GDP).
Regarding diplomatic ties, Solís praised the solution of disputes with Nicaragua in the International Court of Justice (CIJ), including the definition of maritime limits between the countries.
As is customary, the president documented his achievements in a written report to Congress. Slightly unusual was the length: 50,000 pages in 50 volumes.
"For avid leaders, students and citizens," Casa Presidencial announced rather wryly in a Facebook page alongside a photo of the massive tomes.
Our chat with Epsy Campbell, Costa Rica's vice president-elect