Art has been a part of Costa Rican artist James Nienhuis' life ever since he can remember. He started by painting on walls and in his notebooks at school, but his interest for art developed further when his family moved to Cali, Colombia and then to Salt Lake City in Utah and Madison, Wisconsin.
At Madison, in 1990, he began familiarizing himself with graffiti, which caught his attention in creating art as well on a larger scale on walls. Before finishing high school in Madison, in 1997 his family then moved back to Costa Rica, where he graduated from the Saint Francis School. Afterwards, he decided he wanted to go to arts school.
"I finished my senior year, I lived in Costa Rica and graduated. Then I figured out I wanted to go to art school. I'd get into graffiti art when I was in high school here in the States and I started doing a lot of that. Then I just kind of carried that," Nienhuis told The Tico Times via Skype.
Due to that he went on to study art at the Autonomous University of Central America as well as the Universidad Latina. He went to both universities, but then transferred to the United States to study graphic design at the Chicago Art Institute to obtain his bachelor's degree.
Ever since he graduated, Nienhuis has been working hard on his career under the alias Bunny XLV creating art pieces with vibrant characters with a touch of surrealism and paying homage to his Latin American heritage and identity through his art.
On a rainy morning, via Skype, The Tico Times sat down and spoke with Nienhuis, 39, about his life and work. Excerpts follow.
What drew you into art?
It starts at birth. You just have to figure it out. One of the first things that I remember when we lived in Colombia was that I used to draw on the walls and the floors. I'd get in trouble for it and get spanked for it. Eventually that turned into making up comics. I would watch old cartoons, and then you get into comics, and it built from there.
I started copying "Garfield" and "Calvin and Hobbes." I got into graffiti in the early 90s. I would see it outside because I lived in the States at the time. There would be graffiti on the walls. I realized I liked doing characters more than I did letters.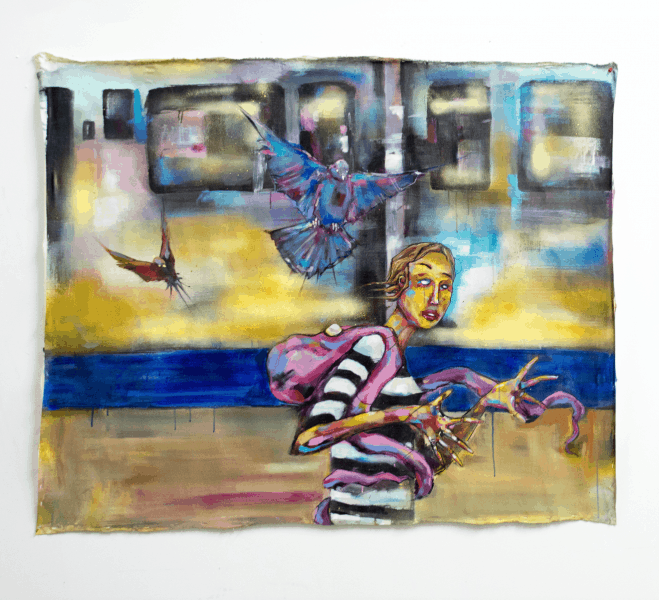 How has living in different places influenced your work?
Most of my influence comes from Costa Rica. There are things that I remember from my childhood or whenever we went to Costa Rica in December. We'd always stay for a month.
Now that I live in Chicago I'm kind of blending in and bringing back my background in graffiti and street art, but also finding a cultural identity within the places I've lived. I'm Costa Rican and I'm also a US citizen. I identify more as a Costa Rican because when you're in the States you have find an identity for yourself in this huge conglomerate of people. Obviously I refer back to my culture and I use that in work a lot.
My mom is from Sardinal, Carrillo in Guanacaste, by Playas del Coco, so in December there'd always be clowns who come out, and there's a big parade. It's fun. Seeing all of those things was a big influence, and I use a lot of horses and bulls and birds and all the animals.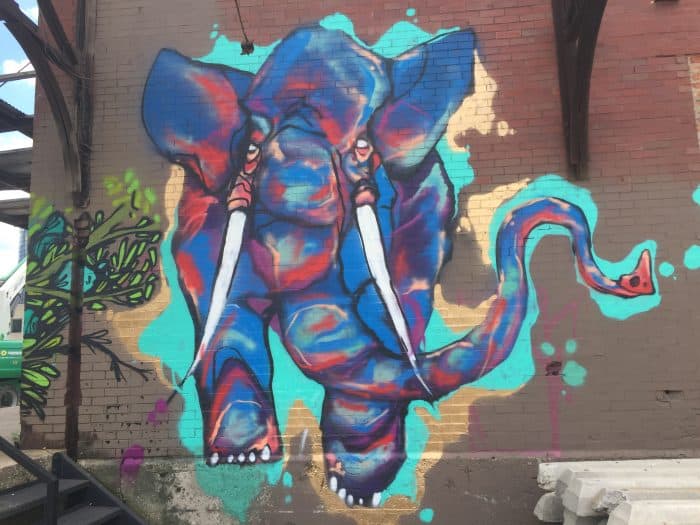 Why did you get into graffiti?
I was maybe 13. I just kind of discovered graffiti from being outside and picking up graffiti magazines, and I skateboarded. Eventually, by skateboarding, I got into graffiti and rock music and rap music that's tied into pop culture.
Graffiti was in my visibility, and there were places that you could do it in my high school. They had walls were the graffiti artists painted. We were just trying to compete with them and we just came up with our own names. It was cool. It was kind of an ongoing battle, but it was a friendly battle. It was about who had the most badass piece at the end of the day.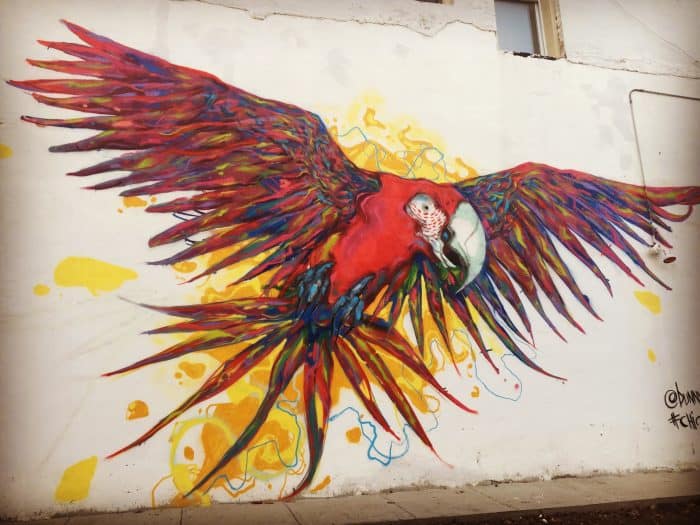 Why do you like to paint on a big scale?
I think I just like the challenge because it's exciting. You have to execute it in a way that will really engage the viewer, and it has to also do the artist justice. I want to be able to be proud of it. I don't want to look at it like: ah, I should've done that differently. It puts pressure on you. You have to execute the dimensions and figure out where everything's going to go… to make it 100 percent successful not for just the viewer, but the artist as well.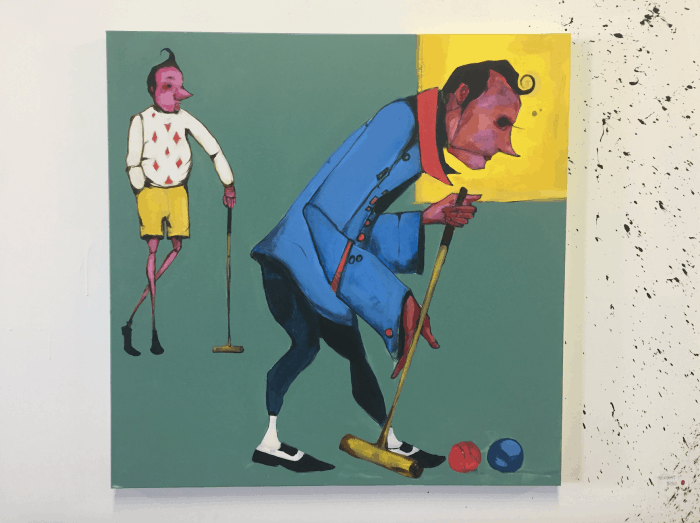 What do you want to express through your work?
I just want to find a humorous approach. I care about the world and the politics and what's going on. As a Latin American living in the United States, now we live in the Trump era. We have to put up with that. We have to pay homage to our cultural identity. I am a Latin American who's also a United States citizen. I also have a cédula [identity card] in Costa Rica, so my identity is Costa Rican. You have to convey that.
It's part of me. I only know, like, two or three Costa Ricans in Chicago. It's my duty to say, "This is how cool Costa Rica is." I love macaws and nature. I love the designs from the oxcarts. It's me. That's what I grew up with. Convey that and pay homage to your culture and background, but also make a mark for yourself.
"Weekend Arts Spotlight" presents Sunday interviews with artists who are from, working in, or inspired by Costa Rica, ranging from writers and actors to dancers and musicians. Do you know of an artist we should consider, whether a long-time favorite or an up-and-comer? Email us at elang@ticotimes.net.