International reactions have continued to U.S. President Donald Trump's description of El Salvador, Haiti and a number of African countries as "shithole countries" during a meeting with legislators on Jan. 11.
Among the most recent developments, Nicaragua on Monday joined the international chorus of criticism directed at Trump. A statement from the office of Nicaraguan President Daniel Ortega called Trump's comments "racist… disrespectful and humiliating" in a statement
The Nicaraguan presidency expressed solidarity with countries and regional organizations that have slammed the derogatory term. These include the governments of Botswana, El Salvador, Ghana, Haiti, Nigeria, the 15-nation Caribbean Community, the African Union and the African Group of UN ambassadors.
U.S. Ambassador to El Salvador Jean Manes responded on the day of the reported comments, albeit indirectly, on Twitter. The diplomat, appointed in 2015 by then-President Barack Obama, wrote: "The United States values its friendship and relationship with the Salvadoran people. I've had the privilege of traveling around this beautiful country and meeting thousands of Salvadorans. It's an honor to live and work here. We'll continue 100% committed."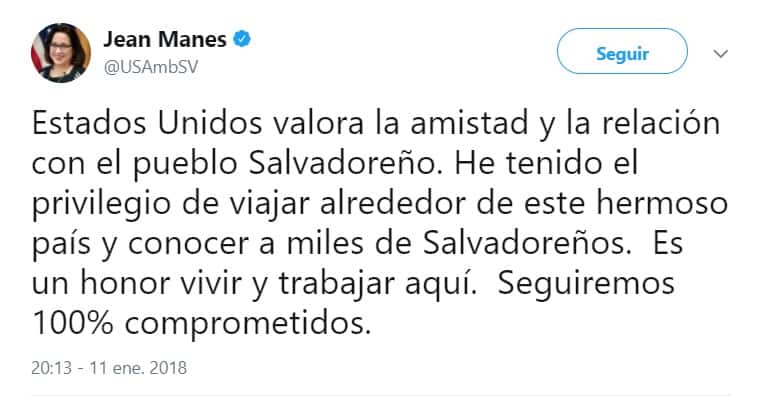 Salvadoran presidential candidate Carlos Calleja wrote, "We should feel proud to be Salvadorans. Every offense, no matter where it comes from, should strengthen and unify us as a nation. Our relationship of respect with the North American people will continue to be a reality today, tomorrow and always."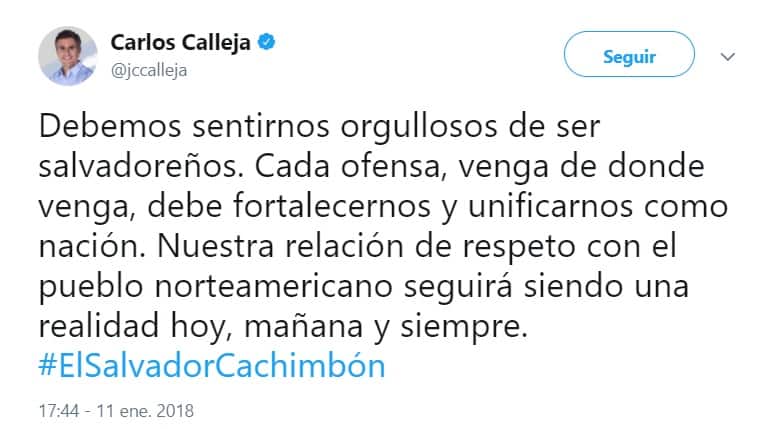 Emotions are running high in El Salvador, Honduras and Nicaragua as Trump's administration moves to cancel temporary protection given to tens of thousands of their compatriots in the US.
Trump's comments were reported after a meeting with senators and congressmen at the White House to discuss a proposed bipartisan deal that would limit immigrants from bringing family members into the country and restrict the green card visa lottery in exchange for shielding hundreds of thousands of young immigrants from deportation.
"Why are we having all these people from shithole countries come here?" Trump said, according to people briefed on the meeting who spoke with The Washington Post.
This week, Trump told reporters, "I'm not a racist."
He denied making the offensive remarks, despite the fact that two senators who attended the meeting confirmed the accuracy of the news reports about the words Trump used.
Two other senators from the Republican Party called the reports a "gross misrepresentation."
Read more:
Trump describes El Salvador, Haiti, African nations as 'shithole countries'