A legislative committee on Government Affairs has dismissed a series of motions seeking to include non-plug-in hybrids – cars powered by hydrogen or solar energy – in a tax-exemption bill focused mostly on electric cars.
Bill #19,744, known as the Bill to Promote the Use of Electric Vehicles in Costa Rica, aims to boost the use of electric transportation. Various lawmakers, however, have been pushing to include other types of vehicle technologies.
The lawmakers' decision means that, if approved, the law will incentivize the purchase of new electric and plug-in hybrid cars only. The bill's primary goal is to increase the use of electric vehicles in the country; many of its benefits would last only for the first five years following its approval, or until 100,000 of the cars are sold here.
The draft bill also states that one of its main goals is for the country "to reduce its high dependency on fossil fuels, as well as to reduce environmental pollution, damage to public health and transportation costs for citizens."
Approval
Marcela Guerrero and Franklin Corella, lawmakers from the ruling Citizen Action Party, first presented the bill in late 2015. The Government Affairs Committee approved the first draft of the bill in April 2016.
Since then, committee members have been hearing opinions against and in favor of the initiative from car importers, citizen groups, business chambers, and other legislators.
Last week, legislators on the committee were close to finishing the discussion and voting on 192 motions filed against the bill in recent months. Guerrero told the media at the end of the committee's session last week that one of the motions they approved capped the tax-exempt amount at $18,000.
The committee also approved a motion to require public agencies to replace at least 10 percent of their cars with electric cars during the five-year period following the bill's approval.
Guerrero said she hopes that options for citizens to buy electric cars will also improve as the market begins to expand, "just as with mobile phones when the government opened the telecommunications market."
She added, "The world is moving towards zero-emission technologies, and Costa Rica cannot afford to be left behind."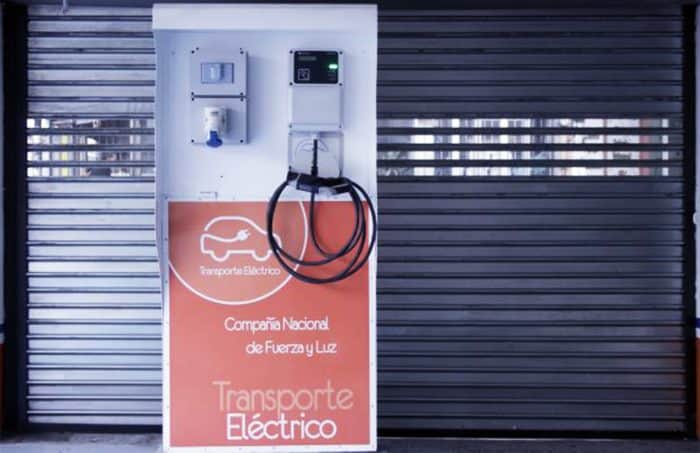 Infrastructure needed
Liliana Aguilar Rojas, Executive Director of the Association of Vehicle and Equipment Importers, appeared before the legislative committee on Wednesday. She told lawmakers that in order to encourage companies to import more electric vehicles, the country first needs to build appropriate infrastructure.
Aguilar said that her association's members believe it is essential to have enough charging stations before moving forward with importing more vehicles.
"Electric and hydrogen cars received a tax cut in 2006, and that did not encourage massive importation," Aguilar said, adding that since 2010 only 1,100 electric cars have been imported into the country.
According to the National Power and Light Company there were eight vehicle charging stations in the Central Valley at the end of 2016. In December, the company announced plans to open at least three more this year.
There are currently just over 2 million vehicles in Costa Rica, according to figures from the National Registry, for a population of some 5 million. More than 90 percent of the country's vehicles run on fossil fuels — 75 percent on gas, 19 percent on diesel.
Hybrid and electric vehicles represent just over 1 percent of all vehicles in the country, while another 5.5 percent run on alternative fuels, such as kerosene and hydrogen.
Proposed benefits
Costa Rica passed the first legislation on clean automotive technologies in 2006. Approved laws stipulate that electric cars pay 17.41 percent in taxes and plug-in hybrids pay 29.04 percent. Taxes for fossil-fuel cars currently represent 52.29 percent of a car's price.
The bill seeks to curb high prices, the main hurdle for buying electric cars here. New electric and plug-in hybrid cars would be fully exempt from the country's sales, selective consumption and customs taxes.
Electric car owners would also be exempt from having to pay the vehicle circulation fee, or marchamo, during the first five years of the car's use.
The bill provides a tax exemption for spare parts and allows car owners to park for free in metered parking spaces; it also proposes exempting electric-car owners from the restriction that prohibits vehicles from entering downtown San José on certain days according to their license plate number.
If approved, the law would ask public and private parking lots to have preferential spaces for electric cars.
Another article of the bill proposes that all new private parking lots and shopping centers built after the adoption of the law be required to include a certain number of charging stations proportional to their parking capacity. Existing parking lots and businesses would be required to comply with the measure when they apply to renew their business licenses.
The proposed legislation also outlines measures to promote the implementation of electric vehicles for public transportation, including buses, taxis and trains.
Technology differences
The urrent version of Bill #19,744 would provide tax exemptions for electric vehicles powered only by a rechargeable battery, that don't burn any fossil fuels, and for plug-in hybrid cars. These are cars that have both internal combustion and electric systems, but their batteries recharge by plugging them to the electrical system, just like electric cars.
Lawmakers excluded full hybrids, which use both internal combustion engines, as well as an electric engine formed by a battery and a series of on-board generators.
Power in these cars depends on the capacity of the battery and its generators. An electronic system automatically chooses which of the technologies will operate the car or to combine both, depending on the road's requirements.