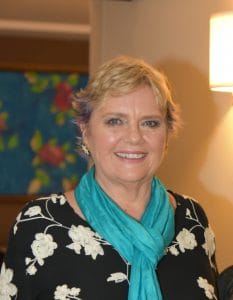 It's a beautiful, sunny morning in Santa Ana; birds are singing, the river gently flows, mountains surround us and the exquisite green trees add a pleasant natural beauty to the landscape. This natural scenery has always been a fundamental part of Deirdre Hyde's work and life, as it has shaped her artistic career.
Hyde, 61, has been living in Costa Rica for thirty-seven years. Her first visit to the country was in 1979 when she joined a British expedition to the Isla del Coco. At the time she was 24 years old and lived on the island for six months. Her life completely changed through this unique experience, completely transforming the life she had lived back in Dorset.
Hyde studied Fine Art Studies at the University of Reading. Ever since, she has been painting a varied selection of natural landscapes, flora and fauna from countries including Costa Rica, Nicaragua, Italy, England, Mexico, Guyana and Spain. However, her work focuses most often on England, Costa Rica and Italy. Her exhibits have primarily taken place in Costa Rica, but she has also had the opportunity to display her works in China, Italy, England, Spain and the United States.
Her vivid brush strokes have illustrated didactic materials for organizations such as Fundación Neutrópica and the World Wildlife Fund. Today, she is dedicating herself to a more poetic, expressive style.
The Tico Times visited Hyde's beautiful Santa Ana home to speak to the artist about her life and work. Excerpts follow.
When did you get immersed in art?
I've always drawn, painted and sculpted. My family's always been involved with art, liked it, and created it, and I studied it at university. I probably would've liked to be an architect, but in 1970 the architecture was horrible. They called it the brutalist era, and I felt no empathy whatsoever for it. I loved designing buildings and I loved the social organization, but I'd rather be doing stuff by myself. That's the nice part about painting. You can have a social impact, but it's a little bit more contemplative.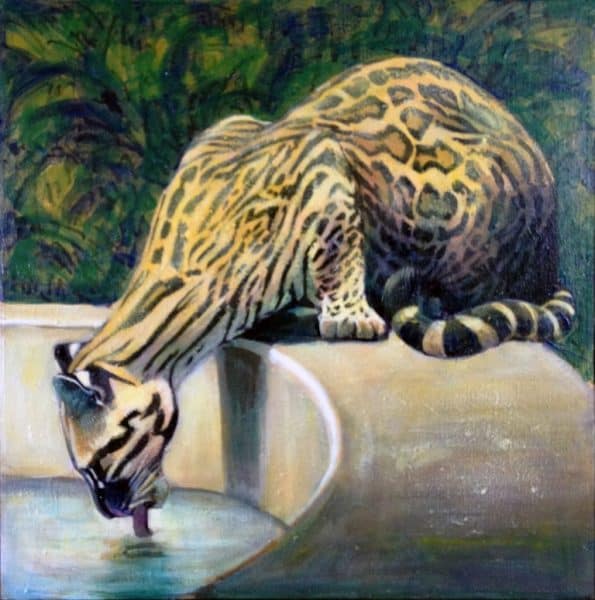 How did the 1979 trip to the Isla del Coco affect your work?
A friend asked me to accompany him; he was coming here, and the rule of the expedition was that everyone had to come with a woman. God! That's embarrassing and it was the 70s. We're really good friends, fortunately, because we lived there for six months alone, just the two of us.
It was wonderful. First, I got over my divorce. I cured; I completely cured. It's what they call the nature cure and it really worked. It was just wonderful for painting. It was lovely, and that's why I couldn't go back [to England]; my rhythm changed, because when I was in England I didn't paint… Ever since, I've been way calmer.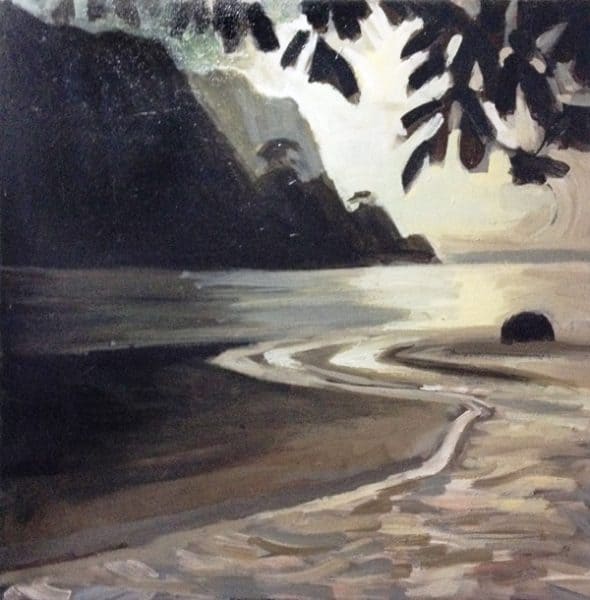 What is your research process?
I'm lucky because I've done lots of work that has to do with nature in Costa Rica. I've talked with biologists. I've talked with the National Museum, the University of Costa Rica, international biologists, so it has been very interesting to absorb what people tell me. I have to do research for everything I do. If one part of the illustration is not researched thoroughly, afterwards they'll come and criticize it as well: They know that that's got five toes and not six toes.
That rigor is very interesting for that side of my work, but then the other side of just painting for myself has the same kind of rigor of being precise. I think I've trained myself [to be that way]. When I'm painting my [own] work I'm trying to be precise about the feeling and the light.
How has working with conservation groups influenced your work?
I'm very aware of the issues and I keep away from the politics of it as much as I can… Most of the conservation groups I've worked with can be dragged down by the politics of it if you're not careful. Because I'm a painter I can withdraw and don't have to get so involved [with that].
Which do you see as the most crucial current issues in Costa Rica related to conservation?
There's always the garbage issue. Here's the thing: Costa Rica is really good compared with everybody else. For instance, in energy production and recycling, compared to anywhere else you go, except for England, it's really good. England is kind of obsessive about recycling and waste management, but they're nowhere near [Costa Rica] on energy. Costa Rican energy is just fantastic, while waste management and energy [is an issue].
In 2008 I happened to go to Brasil de Mora [dam] for the Costa Rican Electricity Institute (ICE). The ICE had to make the dam work; they had to clear the garbage out of the river every week, a sea of garbage in the dam. That was the most alarming thing I ever saw. It was very impressive. There were dogs' [bodies]. There's so much trash from the Central Valley that the dam can't work with, so they have to recycle it all. They have to get it out and deal with it. I hope it's better by now.
Hyde's exhibit of her most recent collection, "Pacific Lights," began on Dec. 10 at the Hidden Garden Art Gallery in Guanacaste. For more information visit Hidden Garden Art Gallery's Facebook page.
Our "Weekend Arts Spotlight" presents Sunday interviews with artists who are from, working in, or inspired by Costa Rica, ranging from writers and actors to dancers and musicians. Do you know of an artist we should consider, whether a long-time favorite or an up-and-comer? Email us at kstanley@ticotimes.net.