CAMARONAL, Guanacaste — Sea turtles enter the world facing long odds. As eggs they are dug up and devoured by raccoons, as hatchlings waddling to the sea they are snatched by pelicans, and in the ocean carnivores of all kinds are waiting to feast on them.
In fact, it's estimated that out of 1,000 hatchlings, only one sea turtle survives to adulthood.
So of course it doesn't help that their eggs are also prized by humans. Here at Playa Camaronal, south of Sámara on the Nicoya Peninsula, some 8,000 olive ridley turtles come ashore to lay eggs every year, and poachers regularly sneak onto the beach at night looking for fresh nests to raid. They can sell a dozen eggs for $6 or $7, and each turtle generally lays 100.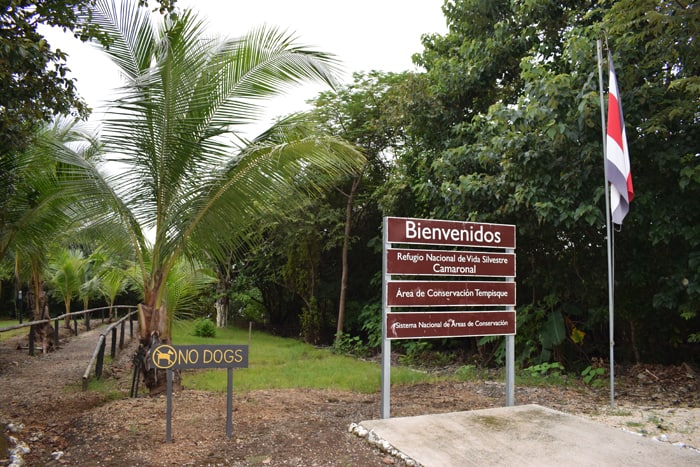 But at Camaronal National Wildlife Refuge, the turtles have powerful human allies — park rangers and volunteers who patrol the beach at all hours of the night looking for two things: fresh nests and people trying to raid them.
"It's hard to catch them because there are few who steal, and those who steal are very intelligent," said Nelson Espinoza, the 35-year-old administrator of the refuge. He and other guardaparques (park rangers) go out at night armed and wearing camo, looking for poachers.
"We've opposed them very strongly, so for a person to steal eggs, they have to be very diligent, very careful," he said. "The poachers never use lights, so the park rangers don't either. The key to finding them is knowing where they enter, where they leave, and there are certain places where they park their vehicles."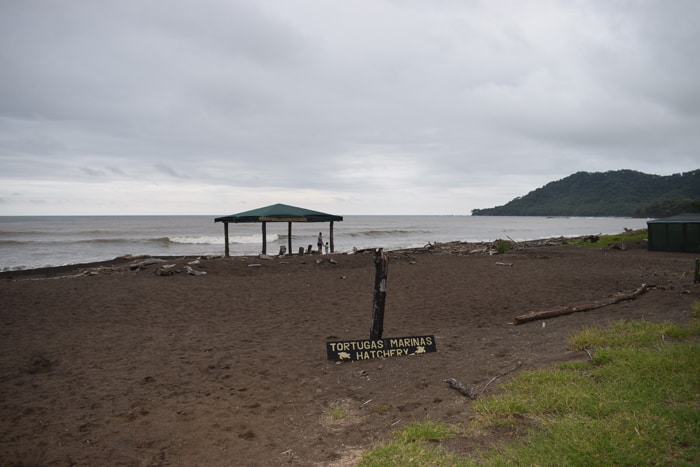 Volunteers from all over the world also live and work here and patrol the beach (unarmed) every night in shifts, looking for turtles coming ashore to lay eggs, or looking for the nests where they already have.
"She comes up here until she finds a place she's satisfied with, and then she digs a hole and lays her eggs," said Graciela Barrantes, 18, a high school senior from nearby Hojancha who is volunteering here.
"And from that moment you have to start watching the nest, because the raccoons are big troublemakers," she said. "We watch the nest, and we put the eggs in a bag, and we take them to the hatchery."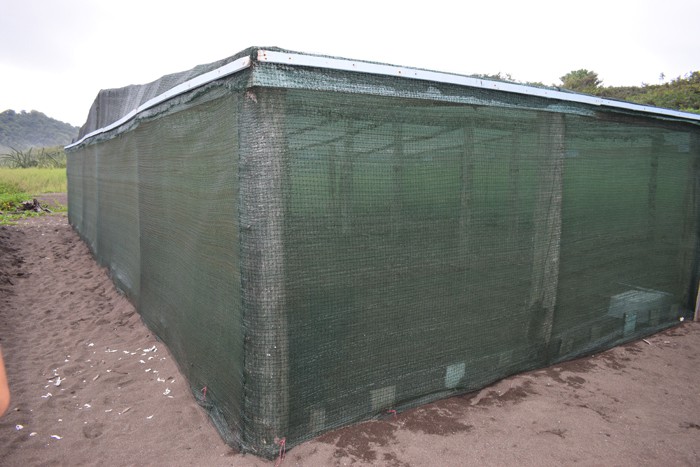 In the locked hatchery on the beach, the eggs are buried in numbered square plots, and the date they were collected is recorded. After 45 to 60 days they will hatch, and when it's almost time a round green pen is placed around them so that the hatchlings don't wander all over the nursery.
"Sometimes we do exhumations," she said. "We check them and if there's no more and it's been several days, they dig them up and take out the bad eggs, or the turtles that are already dead. And sometimes the turtles are stuck in the eggs and we help them to get out."
This kind of project is not uncommon in Costa Rica, but it's an extraordinarily direct intervention of humans to help save a fragile species. The global olive ridley population is not considered endangered but "vulnerable."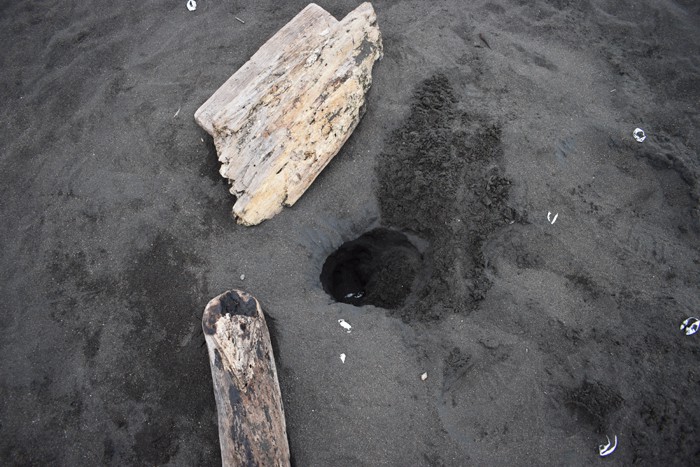 Graciela has never seen an egg poacher, but she's seen empty nests with footprints around them.
"Sometimes people will cut open a turtle's belly just to take its eggs out," she said.
She said sometimes the raccoons follow the turtles out of the sea and wait behind them while they lay their eggs and then eat them warm.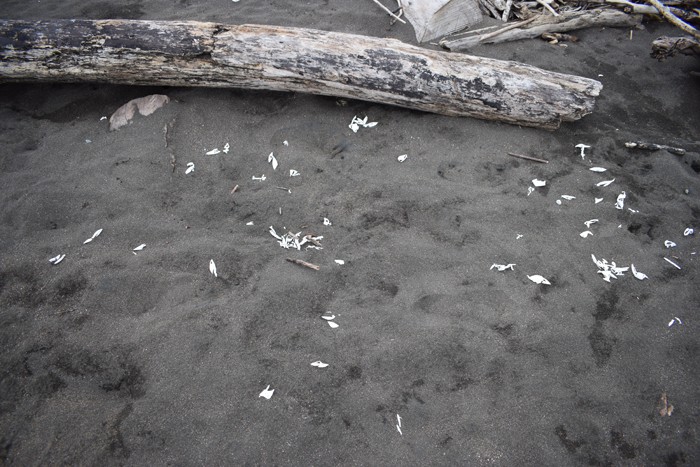 "I've been here four weeks," she said, "and I get a little tired, getting up in the morning at 1 a.m. to 4 a.m. It varies with the tide. For example, yesterday and today, it's been from 11 to 2 a.m. Last week it was from 2 to 5 a.m. Sometimes it's from 9 p.m. to midnight. It depends on the tide. Very high tide, or very low, the turtles don't come."
Four vultures were standing around on driftwood as I walked along the beach with Graciela.
"That's where we throw the bad eggs," she said. Apparently the vultures don't think they're all that bad.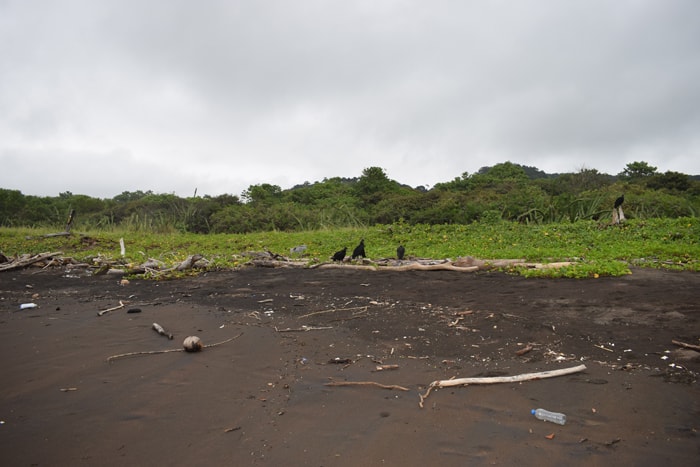 The hatchlings that survive are placed in a sandy tub, carried outside and released on the beach.
"One time we had about 430 little turtles born in one morning," she said. "We release them when we're done counting them, five or six meters away from the surf so they can walk and gain strength and be able to swim. And with the sound of the ocean, they walk that way."
I asked her how many get confused and walk toward the mountains. "None," she said.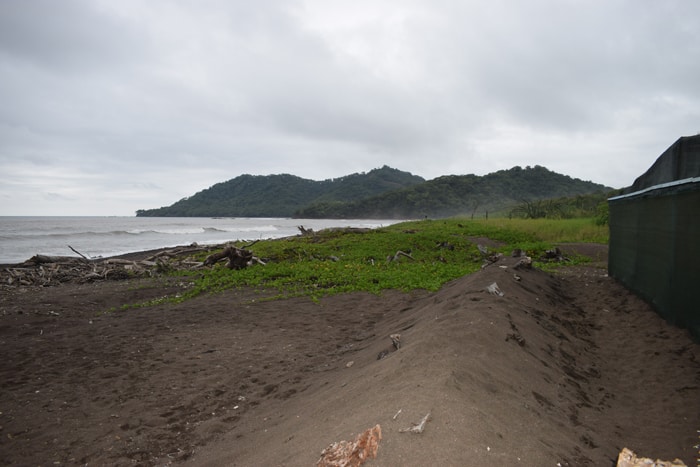 Roughly every two years there is an arribada, where thousands of turtles arrive to nest at the same time on this beach, though egg-laying is normally a solitary chore. Statistically these nests tend to fare more poorly.
Tour groups are welcome here June 1 through Jan. 30 to watch turtles come ashore and lay eggs, or if there are new hatchlings to watch them be released. The best time to come is between 6 and 11 p.m.
The refuge provides free access to the beach (but no dogs allowed), and there's a visitor's center with informational displays on turtles and other wildlife.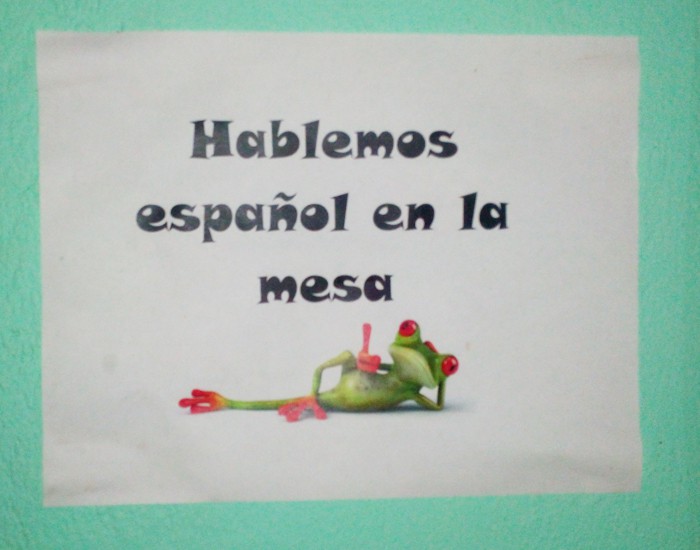 The surfing is described on one display as "world-class," but there are rip currents that can be dangerous for swimmers.
The sand is black and littered with driftwood, and when I visited the ocean near the mouth of the Río Ora was the color of café con leche because of runoff from recent rains.
"The river gets very dirty after a rain, and it fouls the beach, and more trash washes down," Graciela said. Cleaning the beach is one of the chores of the volunteers here.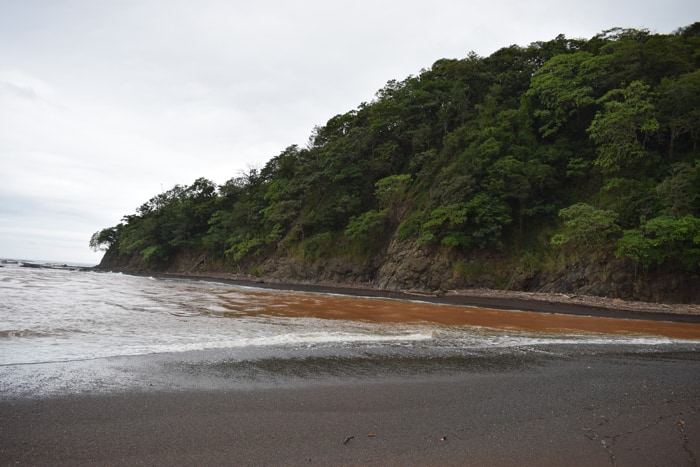 Graciela said there were currently five volunteers here from Belgium, Switzerland and Costa Rica, but 10 more from Australia were about to arrive. Volunteers pay only for their food, and they're compensated with the satisfaction that they're saving turtles in paradise.
I asked Nelson why people come to steal eggs, and what happens if they get caught.
He said there are three reasons:
"The first is because of custom," he said, noting that 15 years ago, collecting turtle eggs was not prohibited and was considered totally normal. People grew up eating the eggs, and they like them, and they don't see why they should stop.
"Those are the first to be caught," he said. "They are not professionals."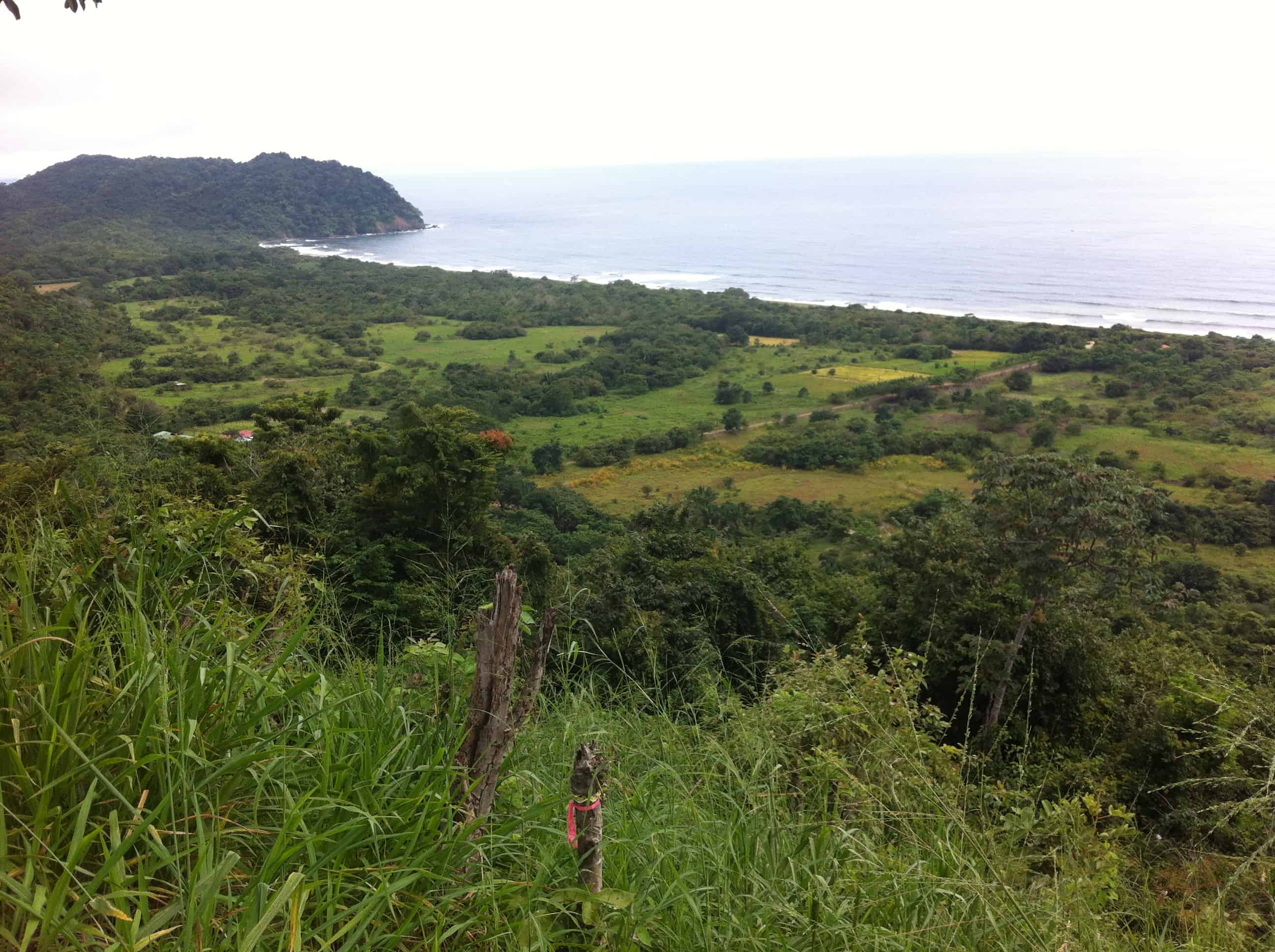 The second group are professionals, and they do it for the money.
"They're organized, and they take advantage of the fact that there's a market," Nelson said. "They come to find eggs and they sell them in bars, or house to house. They go to a far-off town, 20 or 30 kilometers away, and they go to the houses and offer them: 'Do you want turtle eggs? Do you want turtle eggs?' And people buy them."
The third group, he said, are people who think turtle eggs are medicinal, or "magic," or an aphrodisiac.
"They eat them for vitality, energy," he said. "But in reality it's false; in fact, a chicken egg contains more energy than a turtle egg."
So what happens if they catch a poacher? They put him in handcuffs and take him to Santa Cruz, where he spends a night in jail and then faces a hearing in court.
Typically first-time offenders are fined $400 or $500 and sentenced to two years of conditional release, Nelson said. This means they are required to check in and sign their names on a daily basis, they are not allowed to leave the country and they will be in bigger trouble if they re-offend in any way, even by getting into a fight on the street.
Nelson said some 20 percent of the eggs laid on this beach are lost to poachers, some 30 percent to animals, and the other half are rescued by the staff.
By my calculation, that amounts to perhaps 400,000 eggs a year that are saved.
IF YOU GO
Getting there: From Nicoya, drive to Sámara, then take the first left in Sámara toward Carrillo. After about 20 minutes you reach the town of Estrada and turn right onto a dirt road, following the signs to Camaronal. The refuge is about 10 minutes down the road, where 4-wheel-drive is recommended, especially when it's rainy.
Admission: Free beach access from 6 a.m. to 6 p.m.; for turtle-watching tours from 7 p.m. to 11 p.m., $10 for foreigners and ₡1,600 for nationals
Hours: Open daily, 6 a.m. to 11 p.m.
What to bring: No dogs
For more info: http://www.govisitcostarica.com/region/city.asp?cID=463
Contact Karl Kahler at kkahler@ticotimes.net