The sidewalks in San José are so tight it can be hard for two people to walk down them shoulder-to-shoulder, especially when there's a car parked on the sidewalk and it's raining. But fear not, intrepid pedestrian, now there's a way for you to let that inconsiderate motorist know how you feel about their parking job that doesn't involve cussing.
The urban development and public transportation advocacy organization #MovetePorTuCiudad, along with ChepeCletas and Costa Rica Limpia, picked up a trick from other cities around the world that lets pedestrians and bicyclists hand out "citizen tickets" for bad parking.
The tickets, which can be printed here, say in Spanish, "You've won a #CitizenTicket for #BadParking." The idea is to slide them under the windshield wipers of offending vehicles.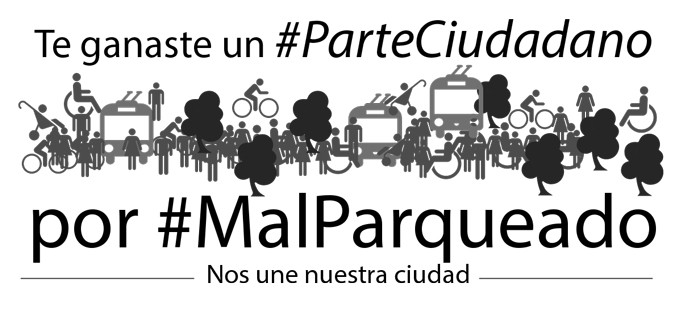 Theodoro Mezger, director of #MovetePorTuCiudad, told The Tico Times the tickets, which are not legally binding, are a light-hearted way to raise awareness about alternatives to driving and an outlet for frustrated pedestrians.
Mezger said ticket recipients thus far have largely reacted defensively.
"When someone gets one of these tickets they usually say it's because there's no place to park," Mezger said. He called bad parking jobs a symptom of wider failings in public transportation options.
Mezger said people should consider alternatives to driving a car to reduce congestion and demand on public space for parking, he said.
Public shaming
There's also a social media component to the campaign that Mezger hopes will be more effective than a real ticket from a Transit Police officer. Using the hashtags #ParteCiudadano and #MalParqueado, users are asked to snap a photo and post it to social media to give inconsiderate parkers an extra push.
"People would rather get a ticket for ₡100,000 (roughly $200) than get called out on social media networks," he said.
Mezger admitted some people don't take the idea of getting a fake ticket as lightly as he would like, but he thinks the conversation is worth having.
"Some people own cars but we are all pedestrians," he said. "We have to ask ourselves who runs this city: cars or people?"
Check out this example of #MalParqueado: