Toucans and falcons soar above the lush rain forest neighboring the Braulio Carrillo National Park as a patch of fog settles in the distance. The birds' mating calls are the only sound coming from outside our aerial tram as my guide from Rainforest Adventures, Luis Vargas, and I roll along the tree line through the rain forest.
Sometimes the postcard scenery you see on advertisements does come to life in Costa Rica. Once you get past the traffic and pollution so prevalent in San José, places as tranquil and beautiful as the Braulio Carrillo area are not too far away. Just an hour's drive from the capital, Rainforest Adventures, located off Route 32, offers a great day trip for those wanting to hike, zipline, or just glide through the forest in an aerial tram.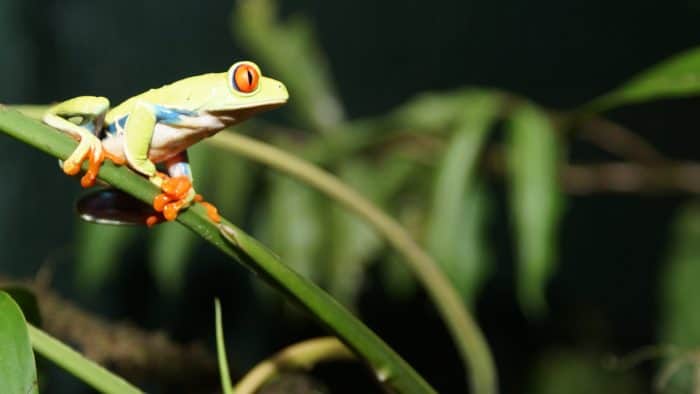 Rainforest Adventures' tram line, which Vargas said was the first of its kind ever built inside a tropical rain forest, extends 2.6 kilometers along a track that holds 24 gondolas. Donald Perry, the man who invented the canopy zipline, was also responsible for thinking up the Rainforest Adventures' aerial tram, built in 1994.
The hour-and-a-half tour takes riders from the forest floor, where there's the possibility of close-ups with wildlife and tropical plants, to the tops of the canopy, where amazing views of the rain forest await.
Besides birds, some of the most notable animals roaming the area here are jaguars, pumas, tapir, deer, monkeys and a litany of poisonous reptiles.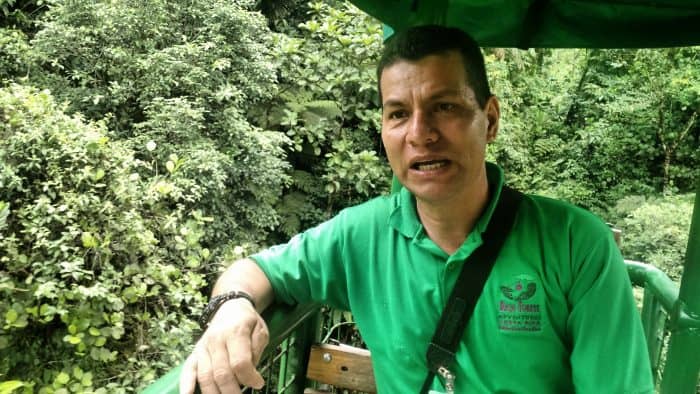 "Terciopelos grow here like rice," Vargas said, referring to the deadly fer-de-lance snake. "We've seen them up to two meters long. You have to remember this is a virgin rain forest. We have a little bit of everything here."
Vargas, who grew up on a nearby finca and has worked as a tour guide in rain forests for a variety of companies, then began to tell me a story about the time he was bitten by a highly venomous terciopelo.
He said the actual bite wasn't as painful as one would expect, but after he saw two small bite marks on his foot he went back to identify the snake, and then he knew he had a limited amount of time to get to a hospital before serious damage would be done. Vargas calmly got himself to a hospital, where he could get antivenin and proper treatment.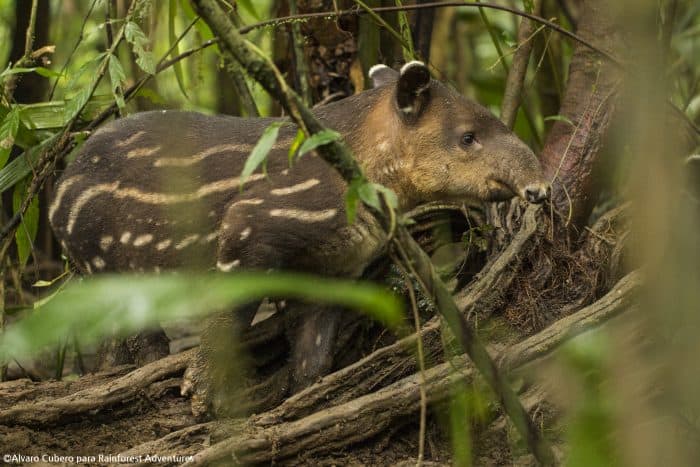 However, he went on to say that the pain of the bite paled in comparison to the time he was bitten by a bullet ant when he grabbed hold of a branch in a forest in Sarapiquí. He said the intense pain lasted for days as he was hospitalized with the entire right side of his body burning from the ant's toxins.
Bullet ants are also prevalent in the area, as suggested by an "Ant Crossing" sign near the front of the visitor's section at Rainforest Adventures.
If creepy crawlers that can leave you on the verge of death aren't your thing, then don't fear. Unless you're taking part in one of the multi-day camping trips through the forest that guides offer, you probably won't be crossing paths with any venomous creatures.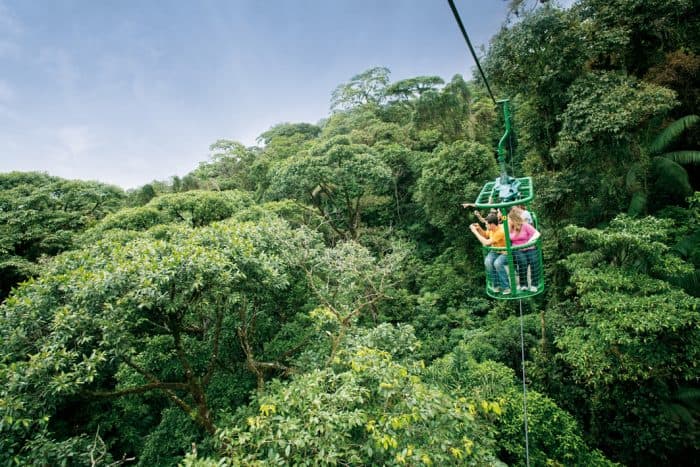 But, as Vargas pointed out, the abundance of these animals demonstrates the natural health of this rain forest. Unlike in a zoo, the animals could be anywhere at any time, which Vargas said points to the conservation efforts taken by the country in recent decades to help preserve national parks like Braulio Carrillo.
"Costa Rica has done a good job of conserving its forests," Vargas said. "We're not perfect by any means and we have room to improve, but the state has done a relatively good job."
Vargas said the government could do a better job of forest conservation by providing better incentives to small-farm owners. As it stands now, he said, Costa Rica offers farmers $20 for every hectare of farmland where owners are reforesting, which is a figure that Vargas called embarrassingly low.
"That's basically offensive to offer that," he said. "It would be better if they didn't pay them anything."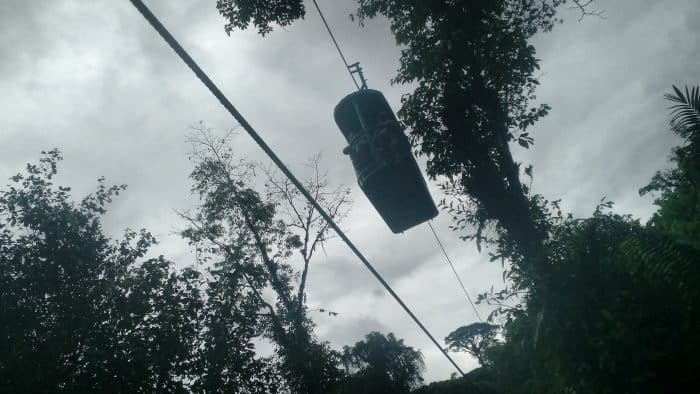 For its part, Rainforest Adventures tries to help conservation efforts through education. The company brings in nearly 5,000 students per year from all over Costa Rica for a reduced cost to the schools as part of its Youth Leadership Program for Sustainable Development.
The idea of the program is to give local students a hands-on look at this important and vibrant ecosystem so close to the Central Valley.
Hopefully it's not as hands-on as grabbing a tree branch full of bullet ants, but surprisingly Vargas said there are some students who actually want to be stung by the ants.
"I warn them and tell them I'm not responsible and that I'll have nothing to do with it," he said. "But they're going to do what they want, as crazy as it may be."
IF YOU GO
Getting there: Take Route 32 north from San José until just past the Braulio Carrillo National Park entrance, and the entrance to Rainforest Adventures is on the right.
Cost: $90 for aerial tram tour, with transportation and lunch included. $60 for basic aerial tram tour without transport or food.
More info: The company also offers zipline tours, hiking, lodging and group packages. Information available at www.rainforestadventure.com.
Contact Michael Krumholtz at mkrumholtz@ticotimes.net.