During the past few weeks, the fictional character of La Tocola has been generating chaos on social media and in the Costa Rican press, thanks to her direct handling of the controversial topic of marijuana. The creative crew responsible for causing all the commotion on the Internet includes Raquel Rivera Rivers (acting and script), Alejandro Vargas (production), Felipe Ramírez (photography), Gabriel Arias (graphic design), and Mario Porras S. (effects).
The five friends began the La Tocola project, working together based on Rivers' initial idea. A few videos that went viral made the character catch on fast: the La Tocola Facebook page has 172,599 followers as of this writing, which has catapulted her into the media spotlight.
"The purpose of the character was to give myself exposure as an audiovisual communicator," Rivers told The Tico Times. "I was looking for a way to be able to sustain myself economically without depending on the country's audiovisual companies."
It's important to distinguish between the main character and its creator, especially since many users of social media, and even members of the press, have gotten confused along the way about the fact that Kimberly "La Tocola" Bermúdez is not an actual person. Rivers, 24, lives in Desamparados, south of San José, with her boyfriend and daughter. She studies cinematography at Veritas University and in 2013 participated in the SHNIT International Shortfilm Festival with her submission, "6 de enero." Channel 7 will soon be releasing the TV series "La María," which she wrote.
Rivers created the character of Kimberly Bermúdez when she was in high school.
"Kimberly lives with her grandparents and her sister Yendry, who is epileptic. She's a secretary and studies special education. Kimberly works hard and has a stable job," Rivers told The Tico Times.
"I had various characters, so I had to make up my mind for one of them. All of them were controversial characters who created an upheaval among people," she added. "The characters I had in mind were the nymphomaniac, the single mom, and La Tocola. In the end I had to choose the character for whom I had more material to write about, so I chose La Tocola. Her name is related to the fact that I'm small and use marijuana a lot. The tocola is the small, last nub of the marijuana cigarette, and it has to do a lot with my size."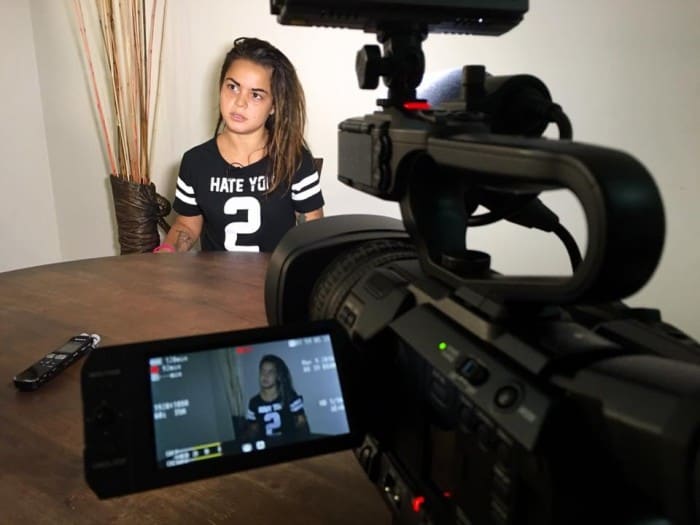 At first glance, La Tocola might seem to be an annoying pothead. However, her character is much more complex, and she has drawn fans by openly addressing marijuana use and legalization. All of her videos have an aesthetic that is pleasing to the eye.
"I tried to see this project as a publicity platform for me and for my teammates. We always wanted to do a good job with it. … We're very careful with the details," Rivers said.
La Tocola has an established script for each of the videos, and she never encourages her audience to use marijuana. She informs the audience about the drug itself and how it works, through humor. However, some of the character's critics have asserted that by using humor, La Tocola is glorifying or making light of drug use.
Her first appearance on social media was on Feb. 5 with a video encouraging people to go out and vote for the municipal elections. Her videos #ElUsoDelFiltro and #QueridosPegatrónicos, released on February 18 and March 13, respectively, then went viral and created a commotion on social media and in the press.
#ElUsoDelFiltro speaks about the use of a filter to roll a joint while smoking marijuana. #QueridosPegatrónicos presents La Tocola mocking her audience with an imitation of a televised address by President Luis Guillermo Solís. In the video, La Tocola criticizes Costa Rican society and communicates the inexistence of La Tocola as a real person. Both of these videos have reached an insane amount of views; #QueridosPegatrónicos has had 1.5 million.
"It was with the filter video that we realized we had to continue doing videos to create an outburst. That's more or less the strategy. The outbursts occur at different times. The page is not growing the same way all the time. Suddenly, you make something that is politically incorrect which creates a polemic discussion. Depending on the content used, people take it more personally. Also, I tell people La Tocola is a fictional character, but they don't notice it. Playing with the media is one of the things that has helped us," Rivers told The Tico Times.
In recent days, La Tocola has been interviewed by Teletica, La Nación, Diario Extra, La Prensa Libre, CRHoy, Noticias RTN, La Teja and many others.
On the live Telenoticias broadcast on March 16. La Tocola spoke about her (fictional) family and the need to legalize marijuana to help her epileptic sister Yendry. Rivers also appeared as herself to describe the benefits of medical marijuana and educating children by speaking to them about drugs.
"The educational purpose behind this project is to learn about drug use, to speak about it, communicate and question it. [Drug use] includes pharmaceutical drugs, caffeine, and many others. It's about understanding that marijuana is treated as a drug within this culture, but it's a medicinal plant," Rivers said.