The Costa Rican street artist known as Gussa has been brightening up Costa Rica one massive, colorful, happy face at a time. Gussa, 28,  studied architecture and has painted around the world, including Spain, the United States and Mexico, experimenting with media such as spray paint, latex paint and cardboard. Today, Gussa is working with the Integrated System of Art Education for Social Inclusion (SIFAIS) in La Carpio, a low-income community in western San José. The private nonprofit organization provides art lessons, music education, sports and more for young people with limited resources.
On a sunny afternoon at the Parque Francia in Barrio Escalante, The Tico Times sat down and spoke Gussa about his life and work.
Excerpts follow.
Why did you choose a happy face as your image?
Actually, the face wasn't going to be a face. At first I thought it would be some rectangles with awesome colors, but once I made the rectangles it was impossible not to make a happy face… The one located at Circunvalación [highway] en route to Escazú will always be the best one. When I try to do something that's not a happy face, I always end up making the happy face. All artists have a line. It's very hard not to continue with that line. It's a happy face that varies: there are 3D faces made with cardboard.
The most unbelievable thing is that everyone understands it; there's nothing to say about it, and I think that's just epic. There's nothing more important than being happy. Being alive is very easy. People complicate their lives. There's too much TV, too many things happening. In the end, you've got stressed-out people who don't know what to do and forget that the most important thing is to be happy. We came to this world to be happy. Complaining is very easy. Crying things out is very easy. The hard part is to find the good side to a bad situation. It's there where art merges perfectly with the street. The places where I paint are always abandoned. It's exactly the same thing.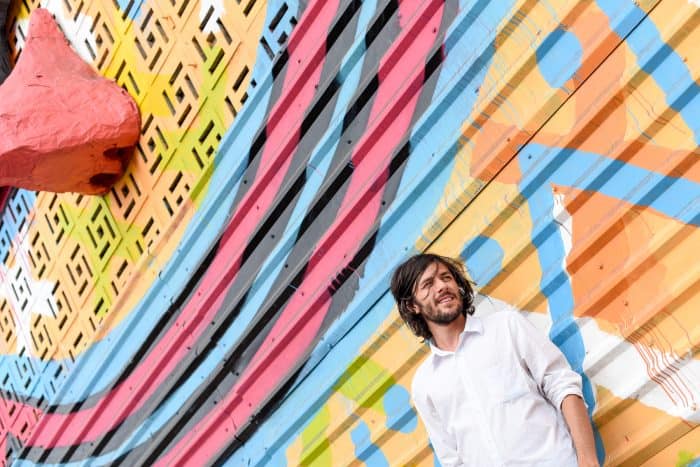 How do you choose your color palette?
The color palette is the most important part. It's about the brightness that light gives to the color. After various years I've noticed that I end up using the same colors. They repeat themselves. I've always liked yellow. After studying it, I realized that it's the color that reflects the most light, but it's also the hardest one to cover. I also like blue and light blue because of how they reflect the light. The only color that represents something to me is pink, because it's super stigmatized by society with the idea that it's for women only. It's important to me because of the anarchy [it can create]: I try to use it so that people are wrong when they emit an opinion about it. If you were told that yellow is a "woman's color," you would've thought that, because you were told so. That's what happens when you don't question things.
Which media do you like to experiment with?
When I started, I always used spray paint because it does what the brush doesn't do. With a brush you take too much time; the spray is immediate. The magic of graffiti or street art is in its velocity. Later on, though, I realized that it didn't have to be so fast. People know that I sometimes take up two weeks to do it. I've lost that technique or capacity to do it fast. I used latex paint for a while, and then began using cardboard. My last pieces have been more 3D. Since I've been using cardboard, the paint has become a base. Something crazy about this type of art is that it only lasts for one day. I don't worry about what's going to happen afterwards. The next day I'm on my way to something new. It's not something that you want it to last forever.
Which is your process and inspiration to create art?
Whenever I do street art, I wander around through the city, observing various things. I study a lot of places: if it's abandoned, and if someone lives there or not. It's a bigger process than just getting there and painting. You wonder whether a wall absorbs paint or not, which colors and lights to use. It's a process of investigating the city, exploring what to do and how to do it. There are places that are better due to location, shape or ease. I've traveled to Mexico, New York and Barcelona to do street art… I decided I would create paintings [to sell] to see what it was like. It took me two years. I made them to take the thought out of my mind. I've always wondered why people buy paintings. They didn't have as much of an impact on my life as the [happy] face paintings on the street.
My biggest inspiration is death. Death makes you act. Today could be your last day, and what are you going to do? I've got to do something productive that fulfills me. We're all going to die. Death comes with a lot of fears. You've got to laugh and not worry so much.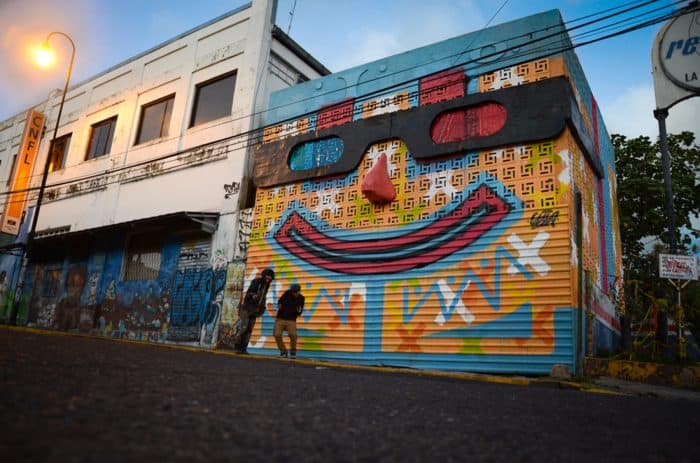 How do you plan to improve Costa Rica with your art?
I'm starting to work with SIFAIS in La Carpio. I have a clear goal to make La Carpio an incredible place. Within these communities, there's a greater possibility of making a change than with what I normally do, painting walls around the city. In these places the potential to overcome adversity is minimal. These people take more advantage of opportunities. I've painted twice in Tirrases [a low-income area in Curridabat, east of San José] and it's amazing to see how the children want to go to painting classes. Everyone wants a better community. I want to stimulate them, support them, and let them know that there's a better life out there.
It's unfair that they don't have an education, that their parents can't educate them well and that they don't have the opportunity to be happy. We're all humans. We've all got a brain. We've all got the capacity to do the same things. It's all in how we're raised. It's not only about paint and colors. There are the education, culture, and love factors. All of those merged together make a change. These people from SIFAIS are making the change. In the end, we need the help from others: we're not individual beings. Nothing is individual.
Our "Weekend Arts Spotlight" presents Sunday interviews with artists who are from, working in, or inspired by Costa Rica, ranging from writers and actors to dancers and musicians. Do you know of an artist we should consider, whether a long-time favorite or an up-and-comer? Email us at kstanley@ticotimes.net.