DOS RÍOS DE UPALA, Alajuela — A new park opened here Saturday, and it's … dino-mite!
We're talking T. rex, velociraptor, brachiosaurus, pterosaur and 22 other dinosaurs. They're life-size. And they move. And they roar. They even blink.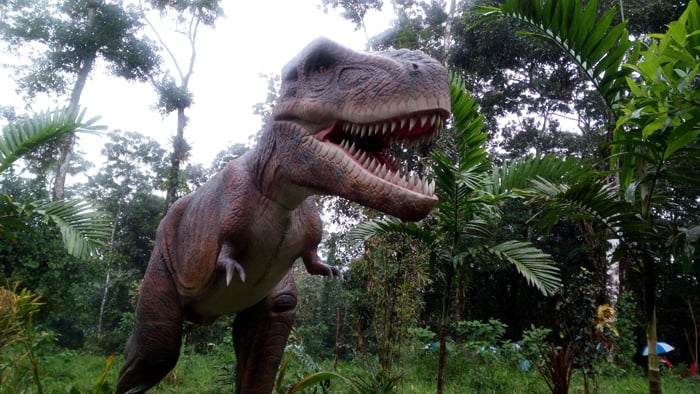 This is the coolest thing ever since the last coolest thing ever.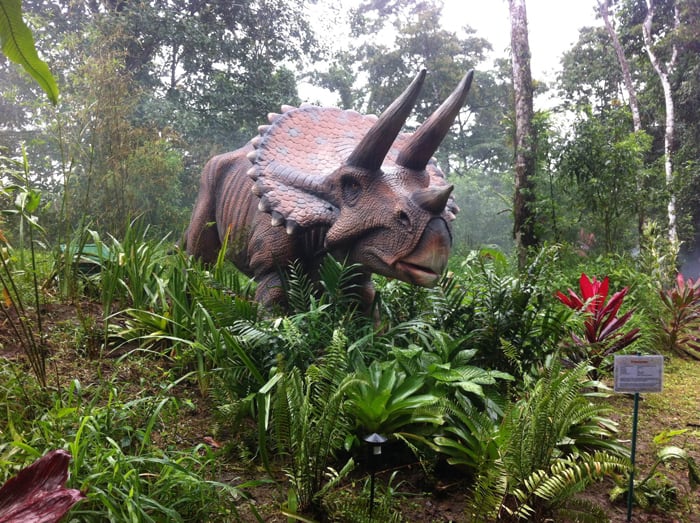 The brainchild of Blue River Resort owner Daniel Apelboim, Dino Park is said to be the only exhibit of its kind in Latin America — actual-size, incredibly lifelike dinosaurs in an open-air jungle environment, all arranged along an easy walking trail with informational exhibits on each. There are even fog machines to create that "Land Before Time" effect.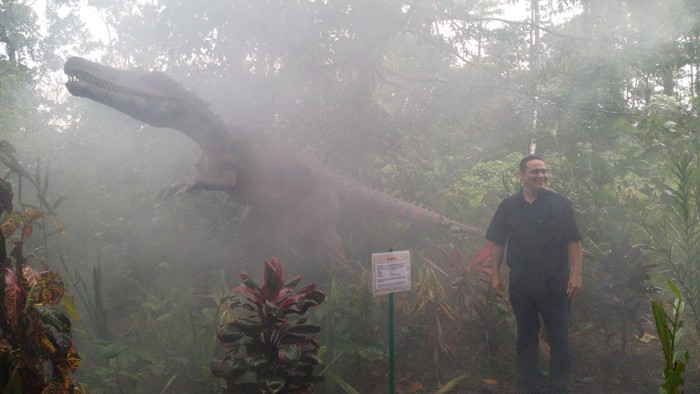 Alberto López Chaves, general manager of the Costa Rican Tourism Board, performed the ribbon-cutting to officially open the park Saturday at a rainy inauguration event overflowing with dignitaries, press and police.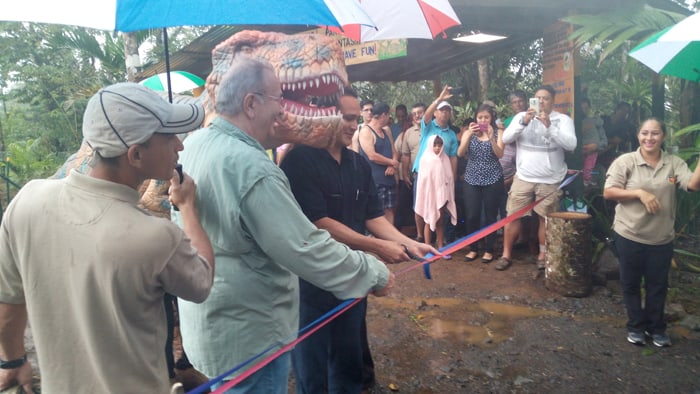 "This park is for Costa Rica, for the children of Costa Rica who are the future of us all," said Apelboim, who hails from Israel, in remarks to attendees. "Thanks to everyone who has come here to share my dream. Pura vida."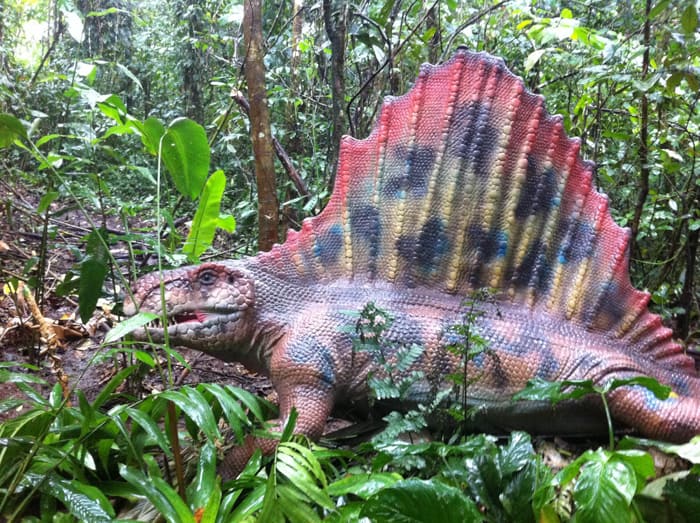 Providing comedic relief at the event, a man in a tyrannosaur suit walked around menacing police, children and officials.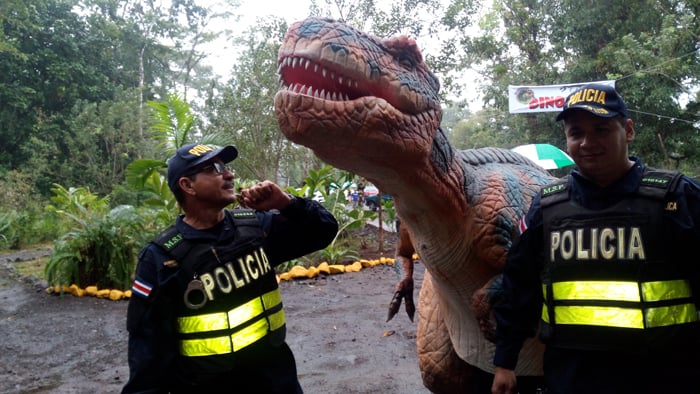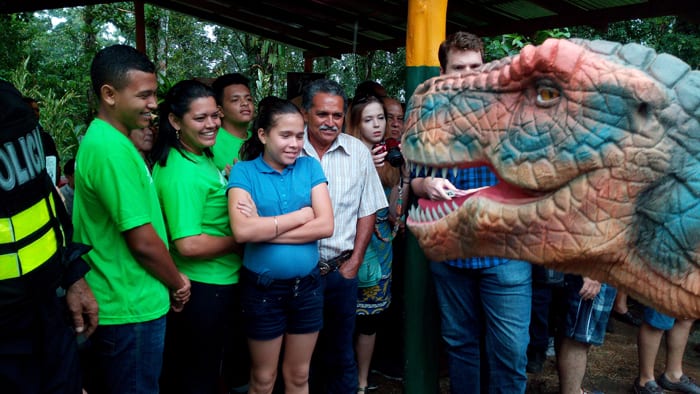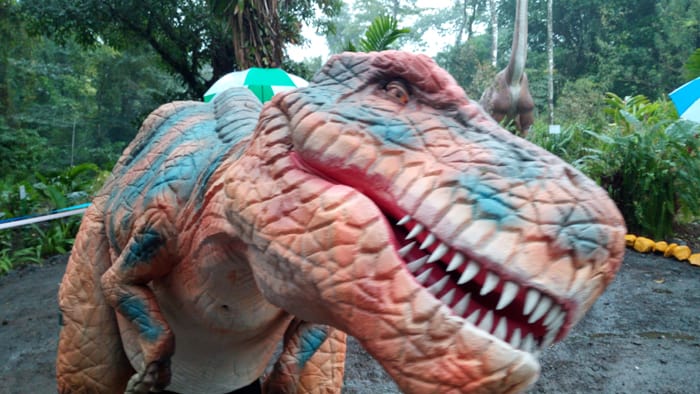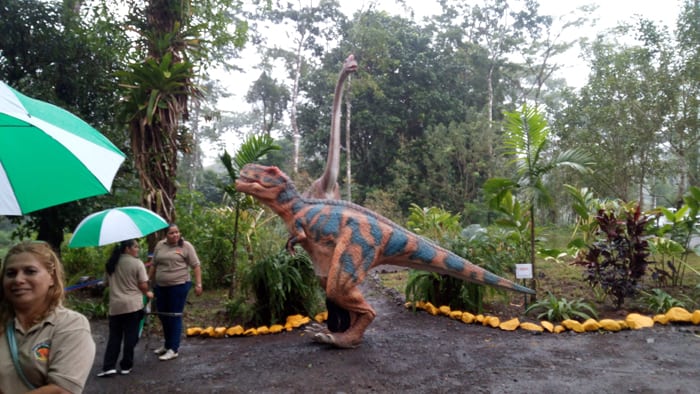 Apelboim, 66, bought the 26 behemoths from a factory in China that makes them, spending hundreds of thousands of dollars (with a loan from Banco Nacional). They were delivered — some assembly required — by sea and truck to his remote property, north of Rincón de la Vieja National Park.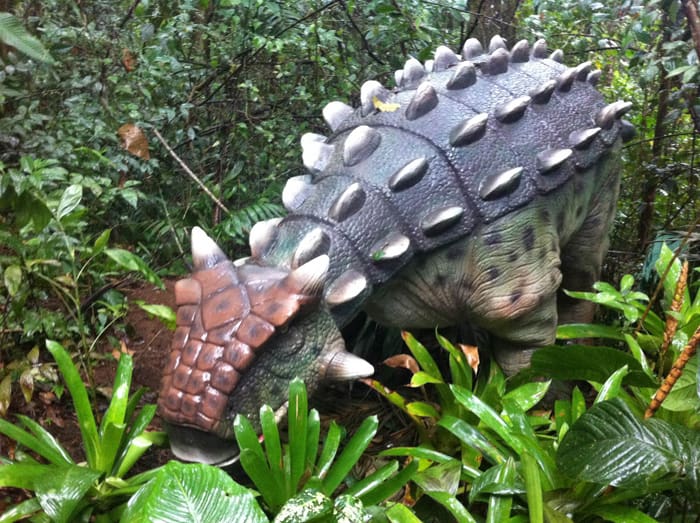 The park was built at a blistering pace in just four months. And not one tree was cut down to make it.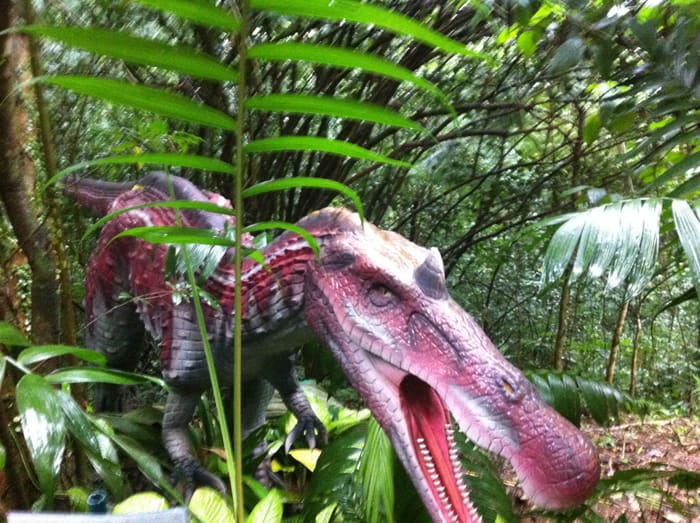 Asked at a news conference after the inauguration how he choose which dinosaurs to include, Apelboim said, "I became a 10-year-old child again to be able to choose and decide which I would like the most."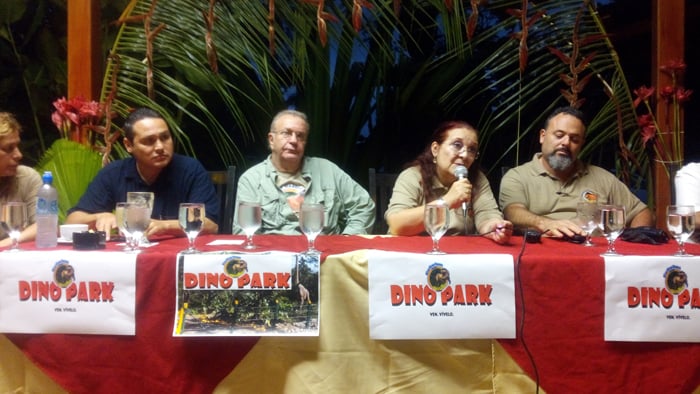 The dinos are made of a water- and fire-resistant foam ideally suited to give them a lifelike appearance, with motors, computers and sound boxes inside that enable them to move their bodies and emit otherworldly roars, moans and chirps.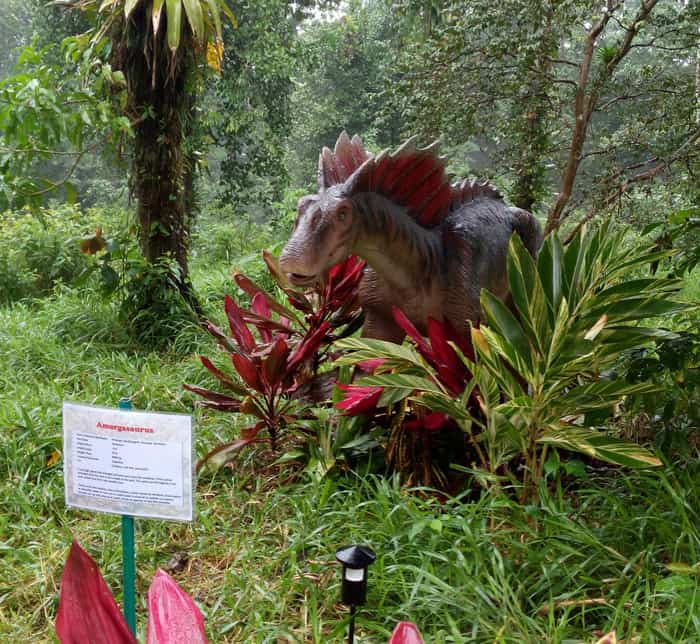 Costa Rica never had real dinosaurs, as it was still underwater when they became extinct. You might say Michael Crichton and Steven Spielberg brought the first dinosaurs to Costa Rica, as the island in "Jurassic Park" was inspired by Isla del Coco.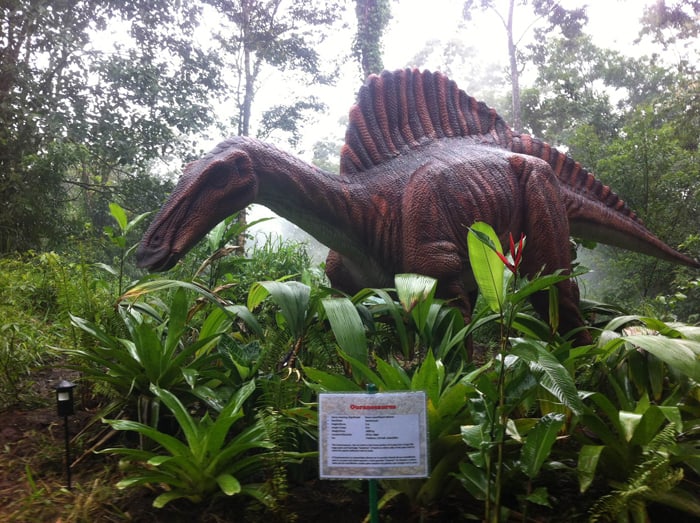 And it's almost impossible not to be reminded of that book and film when you visit Dino Park, starting with the name, the sign with the dinosaur skeleton and the towering brachiosaurus at the entrance.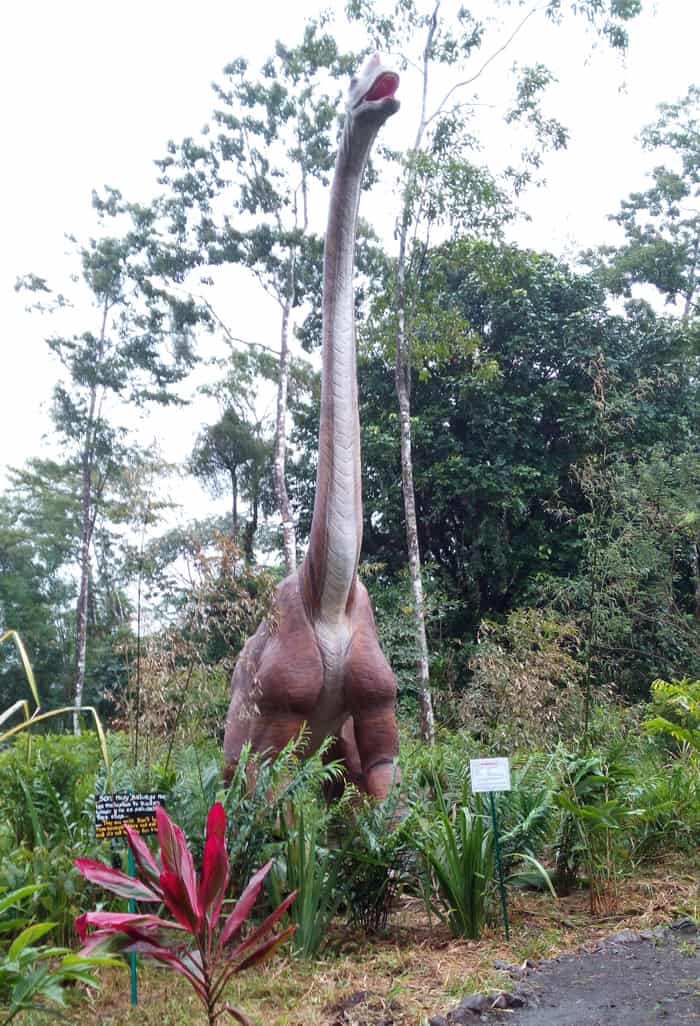 Blue River Resort is a fairly long drive on a rough road from Liberia, but there's a lot waiting for you when you get here. The 25-room resort has a huge, beautiful botanical garden, four hot springs, volcanic mud baths, a swimming pool with waterslide, butterfly and frog exhibits, a spa and a gymnasium.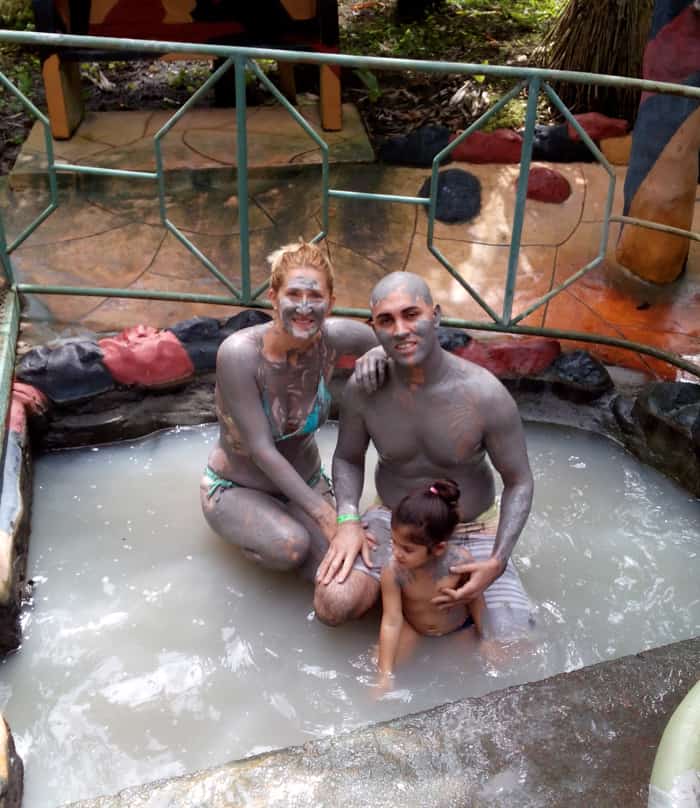 It also offers a canopy tour, horseback riding, whitewater tubing, rafting and snorkeling — and now, Dino Park.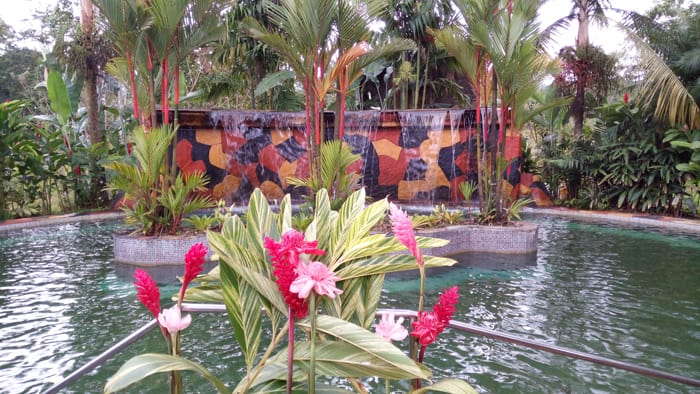 Apelboim, whose boyish energy seems to be boundless, tantalized visitors by saying he was going to open another park right next to here in July.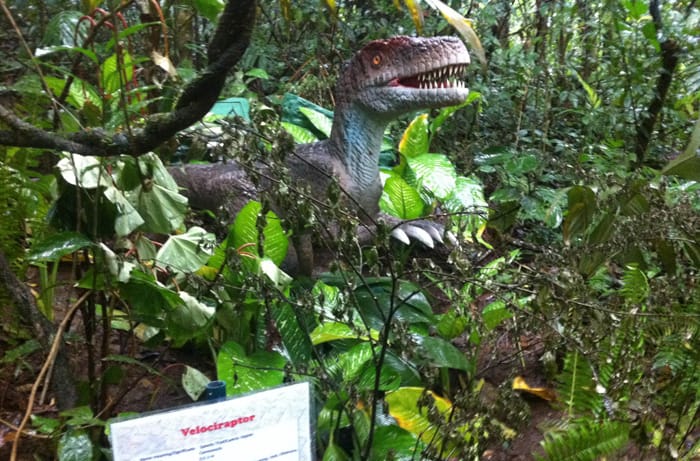 "The next park that we're going to put, right over here next to it, is going to be something like no place in the world."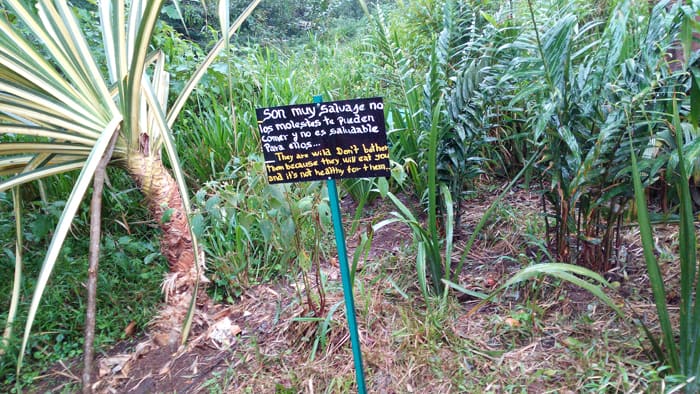 And what kind of park will that be?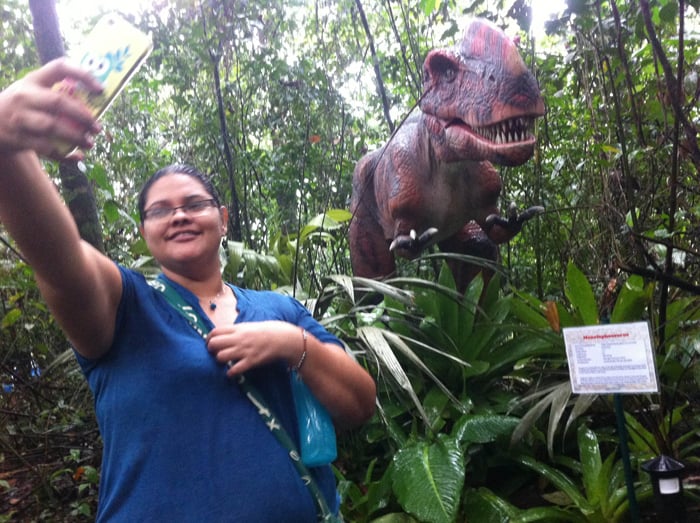 "I can't tell anybody," he said. "I like the fantasy and the secrecy."
IF YOU GO
Getting there: Driving north from Liberia on the Inter-American Highway, turn right toward Quebrada Grande and Dos Ríos. Use the Waze app for turn-by-turn directions to the Blue River Lodge, and Dino Park is a few kilometers away. Four-wheel drive is recommended but not essential.
Admission: $25 adults, $15 children for foreigners, lower for nationals. Dino Park can be combined with other adventures in a one-day package. Staying at the hotel costs $166 a night for 2 adults and 2 children under 10 in the high season.
For more info: http://www.blueriverresort.com
What to bring: Be prepared for rain and chilly nights. And bring your inner child.
Contact Karl Kahler at kkahler@ticotimes.net.