The 2016 National Surf Circuit kicked off this past weekend in Playa Cocles on Costa Rica's Caribbean coast with a panoply of talented young athletes competing on over 8-foot-high waves and in occasional downpours of rain.
Judging from this first event, the circuit, which is in its 16th year, looks set to fulfill its promise of offering young surfers an arena in which to challenge the country's best athletes and rise up in the competitive ranks. Out of the 200 surfers who participated at Playa Cocles, 110 were under 18.
Once these surfers develop the skills to win their age groups, they improve in the national rankings, making them eligible to join Costa Rica's national teams.
In the open category, two young men — who both honed their competitive skills in the National Surf Circuit — ended up battling it out in the finals.
Anthony Fillingim of Malpaís, who is the current Association of Latin American Professional Surfers champion, racked up his 3rd national circuit trophy in four years in Cocles, with a personal best score of 17.33 (9.00 + 8.33). Not an easy feat, mind you, as he faced off against International Surf Association world champion Noe Mar McGonagle of Pavones, just back from his first World Surf League Qualifying Series date in Portugal.
Fillingim and McGonagle traded waves back and forth in a nail-biter that left competitors Anderson Tascon and Enoch Santana behind, and riled up the 1,500 spectators on the beach.
"Here you had a champion and the champion of the world," said Randall Chavis, president of the Costa Rica Surf Federation. "It was important for the young kids to see these champions competing like this, especially since they hope to find themselves in this situation one day."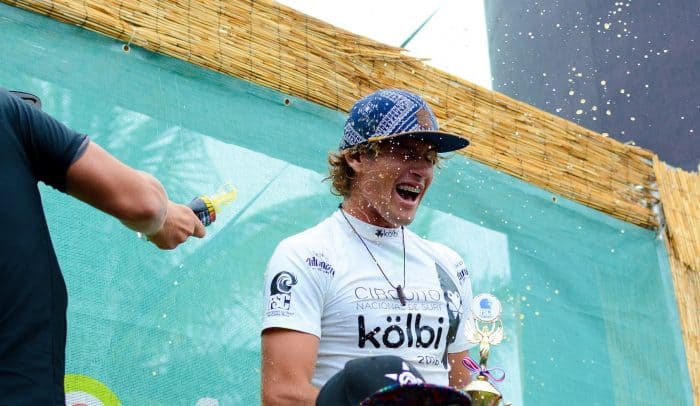 Sixteen-year-old Emily Gussoni, 16, of Jacó used her rapidly improving skills in the final heat of the women's division to beat the legendary 12-time national women's champion Lisbeth Vindas and, at her home break, three-time national women's champion Nataly Bernold.
Gussoni attributed her win to an improved performance in the 2015 National Surf Circuit, as well as participation in additional contests in Costa Rica and around the world. Her agenda has included the Guanacaste Surf Circuit, in its 3rd year in that province, and a handful of World Surf League Qualifying Series events.
"I have been training so hard by surfing in different places, going to the gym, riding bicycles," Gussoni explained. "Also, I will try to do all the circuit dates, and the international Pro Juniors and QS [Qualifying Series]. My surfing has improved because I'm surfing with girls from other countries in these contests. Betty [Vindas] and Nataly [Bernold] are great surfers, but I have good discipline. I want to improve my surfing every day. This is my passion."
Organizers agree that it's the young people surfing in the under 16 categories, including grommets (under 14) and minigrommets (under 12), who need every opportunity to shine. For the second year, the National Surf Circuit has accommodated its rising number of youth by running heats in front of two separate podiums.
"Our level of surfing at all ages is impressive," Chavis said. "The people from other countries say, 'wow, look at the surfers from Costa Rica.' Right now we are the world champions in the [International Surfing Association] open category, and year by year, if we keep this up, we'll have a world champion in the juniors."
The Costa Rica Surf Federation has offered five scholarships this year to surfers who have good grades in school. This way, financially challenged youngsters will have a chance to enter the circuit system, and maybe one day, be a champion as well.
The remaining six dates of the National Surf Circuit include Playa Jacó (Feb. 21-22), Playa Cieneguita (March 12-13), Playa Bejuco (April 16-17), Playa Guiones (May 21-22), Santa Teresa (June 18-19) and the Gran Finals in Jacó (July 15-17).
Information on how to register is at www.SurfingCR.net.
Results    
Men Open
Anthony Fillingim (Santa Teresa)
Noe Mar McGonagle (Pavones)
Enoc Santana (Puntarenas)
Anderson Tascon (Herradura)
Women Open
Emily Gussoni (Jacó)
Nataly Bernold (Playa Cocles)
Lisbeth Vindas (Jacó)
Zulay Martínez (Tamarindo)
Junior
José Joaquín López (Jacó)
Oscar Urbina (Puerto Viejo)
Gabriel Córdoba (Puerto Viejo)
Aldo Chirinos (Playa Negra)
Junior Women
Emily Gussoni (Jacó)
Serena Naca (Playa Grande)
Zulay Martínez (Tamarindo)
Coral Wiggins (Avellanas)
Boys (Under 16)
Oscar Urbina (Puerto Viejo)
Tiago Carrique (Playa Negra)
Gabriel Córdoba (Puerto Viejo)
Kenneth Peralta (Jacó)
Girls (Under 16)
Serena Nava (Playa Grande)
Paulina Summers (Puerto Viejo)
Coral Wiggins (Avellanas)
Lady Meek (Dominical)
Grommets (Under 14)
Dean Vandewalle (Tamarindo)
Samuel Reidy (Dominical)
Aaron Ramirez (Jacó)
Kenneth Peralta (Jacó)
Mini-grommets (Under 12)
Axel Castro (Cieneguita)
Kalani Abrahao (Tamarindo)
Ziggye Mirie (Jacó)
Itan Hollander (Dominical)
Mini-grommets Girls (Under 12)
Lía Díaz (Tamarindo)
Auxiela Ryan (Puerto Viejo)
Katie Herman (Avellanas)
Danielle Guzmán