TAMARINDO, Guanacaste — Watching the man grilling on the barbecue, smiling and running around among 50 or so people, it's hard to believe that just a few weeks ago Juan Diego Evangelista had three broken ribs, a punctured lung, a wrecked spleen and a bruised kidney.
The surfboard shaper was on top of a large shipping container that was being moved by a truck when he fell 4½ meters to the ground. Tamarindo's surfing community was very worried about this popular man as he underwent two operations and then recovered at Clínica Bíblica in San José.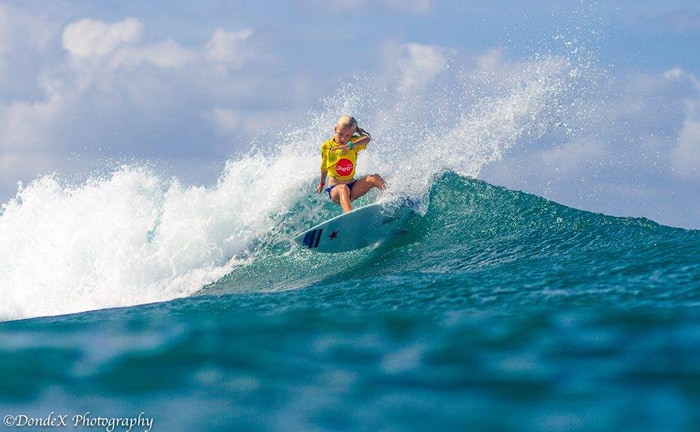 Yet nowadays he's up and greeting everyone who shows up at his new Cheboards factory, just down the road from the center of Tamarindo. Guests include clients who surf on his masterpieces or would like to, sponsored athletes — young and old alike, friends he knows from the lineup — and non-surfers he knows from around town. Also dodging in and out is his pregnant wife, Mareike, and their 1½-year-old son, Emilio.
"I was worried about my family and not having said goodbye to then," Evangelista recalls about his accident. "I was worried I wouldn't have more time to spend with them."
In his 34 years, he's already broken 23 bones, including these latest ones. That's because he's always been into action sports, be it skateboarding, in-line skating, horseback riding, BMX or surfing.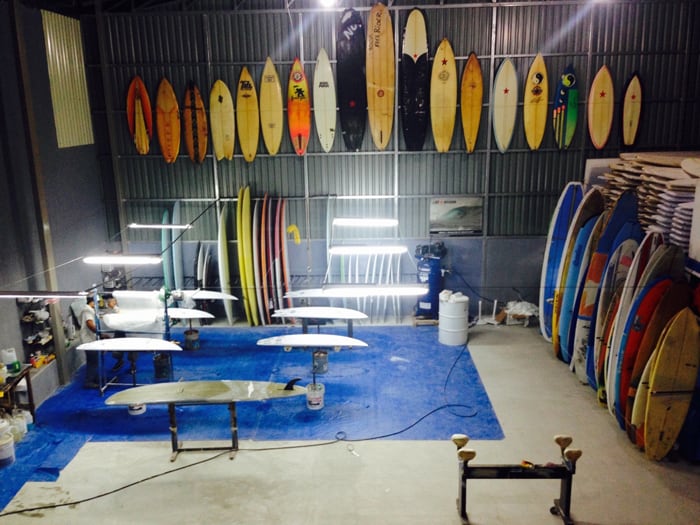 "I can't stop," he says. "With my work, I don't have much time, that's why everything I do must be fast. I wake up early and keep going until the night, when I use the TV to slow down. I never hang out at night. That gives me a lot of time for other things."
Right now, Evangelista is working 60 hours a week inside a huge warehouse with his first-ever Cheboard — a blue and white shortboard — hanging on the back wall. His work ethic explains how his company made between 600 and 900 surfboards last year. And these specialty sticks aren't only being created for those interested in purchasing a Cheboard; he also offers free boards to a lot of young kids from the Villareal, Costa Rica International Academy, Educarte and La Paz schools, as well as needy youngsters from the assistance organizations CEPIA (Culture, Education and Psychology for Infants and Adolescents) and Surf for Youth.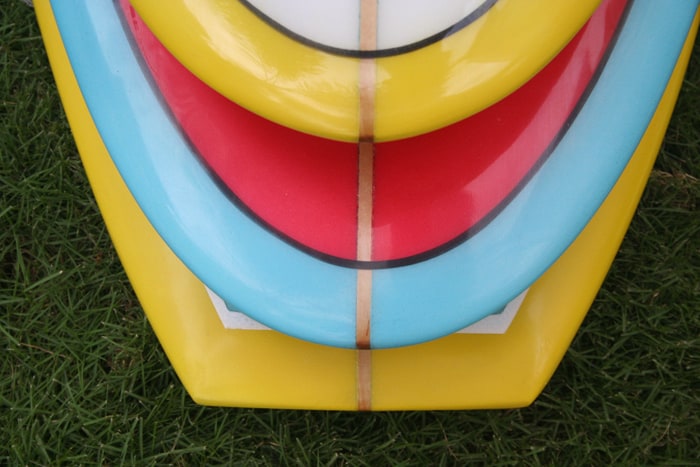 "I try to help as much as I can," he says of all the gifted boards, "but honestly my wife does the numbers and if it wasn't for my wife, we wouldn't be in business."
Juan Diego is an incredibly humble man, as noted by his charitable efforts. Everything he does stems from the passion he has for the sport of surfing.
"I like what I do in the same way I love my family," he says.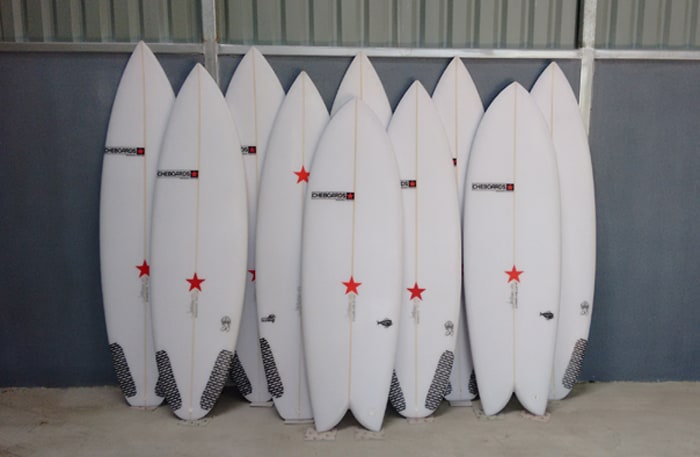 In fact, he believes that surfing is the best thing that ever happened to him. He started when he was 7, and by 11 he was shaping his first board in his home back in Mar del Plata, Argentina. "From the beginning it was love at first sight," he says.
Evangelista's parents weren't too pleased about his new passion, and they refused to buy him a board. So it was up to him to get the money together to buy one himself. Later, he went to a surfboard factory and became entranced with the smells, particularly the resin, as well as the attitude of the long-haired surfers and the craft they performed. The factory visit changed his life.
When the shapers refused to loan him tools, he asked his grandfather if he could borrow his, and he set up a workshop upstairs in his home. There he went about reshaping the blanks of a bunch of '70s boards he got from the father of a friend.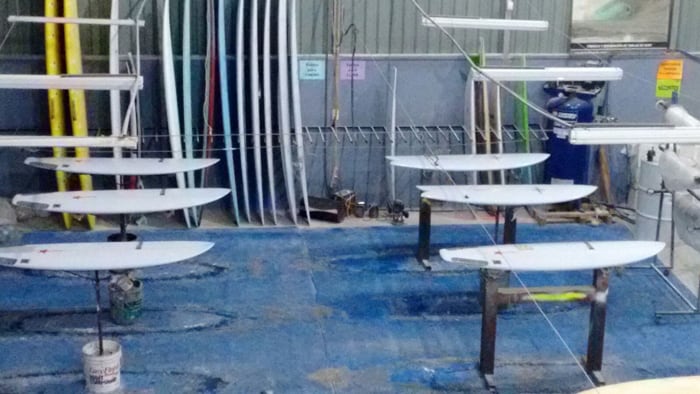 "I made a mess but I thought I was a shaper," he says with a laugh.
By 16, he was already working in a surfboard factory for Camarón Brujo, Extorsion and Doppler, but "most of the work I did was at home at night."
Despite his efforts, his parents were not impressed with his career choice, and they sent him to dental school, where he spent 3½ years. But he finally gave up on teeth, proclaiming: "I'm going back to the beach."
Along the way, he traveled from Brazil to Argentina, back to Brazil, on to Chile and back to Brazil again, looking for waves. He would surf and look for work helping in surfboard factories, cleaning the shaping rooms and shaping the lines himself. After a short stay in 2006 in Costa Rica, where he met his German wife, they headed to the Canary Islands for five years and Cheboards was born. The name has nothing to do with the Argentine revolutionary Che Guevara, but rather was a nickname given to him by friends, the same friends represented by five points on the red star in the Cheboards logo.
"I really like to make shapes," he says. "In the beginning, people bought my boards just to help me out. I always chose a place to live where I could own the area, where there weren't many options for surfboards. That was the same thing I did when I came here (to Tamarindo). I saw a hole and there I was."
When Costa Rica called again four years ago, Juan Diego and Mareike packed everything they had, including all the remaining boards he had made in the Canary Islands, into a 20-foot container and came back to Tamarindo, "a town with amazing waves and a bunch of surfers."
It's an understatement to say that Evangelista found success in his new location. From the day he arrived, he established a reputation for fine wave-riding vehicles. The sheer number of surfers asking for his wares speaks volumes. His team — all trained by Evangelista himself — is always in the process of making boards, whether shaping an epoxy or polyurethane center, coloring it, adding seven different types of glassing to provide the shell that covers the board, or sanding to finish up.
"I want to make people feel happy and confident with a board," Evangelista says. "I like these relationships with everybody. I want to make the best board for you. That's the challenge. Every person is different, and I like to learn their surf habits: For example, do you surf once a day, once a month? It's a lot of things.
"Getting it right, in my heart, I explode with happiness," he adds. "It's like the biggest barrel, or going out and getting the most waves."
Whether the stoke comes from the satisfaction of making the exact right board for a client surfer, or getting the rush out in the waves himself, Juan Diego has found his formula for happiness.
"I like to give all my life to surfing," he says. "Everything I have is what surfing brings me. Thank you. Because of surfing I have my friends. Because of surfing I am an athlete. Because of surfing I met my wife. Surfing supports my family. It's the most important thing in my life. Surfing is everything."
Contact Ellen Zoe Golden at ellenzoe@aol.com.