Next Tuesday is a day many Cuban migrants in Costa Rica have been waiting for ever since they left the island to try to reach the United States and got stuck at the border with Nicaragua. The Costa Rican government announced that the first flight of Cuban migrants will leave on Jan. 12 for El Salvador — the first stop on their journey north — out of Daniel Oduber International Airport in Liberia, Guanacaste.
Under an agreement among Costa Rica, El Salvador, Guatemala, Mexico, and the U.N. International Organization for Migration, Cubans with transit visas in Costa Rica — nearly 8,000 people — will be allowed to buy a $555 ticket that includes transportation from the shelter where they are staying to the airport, a chartered flight to El Salvador, and then non-stop bus transportation with food through Guatemala and into Mexico.
The Costa Rican government had originally announced that families would leave on the first flight but then backtracked. Immigration Administration Director Kathya Rodríguez said that minors would not be allowed on what's being called a "test flight," citing safety concerns for families traveling an untested route.
And untested it is. Authorities involved in the negotiation repeated several times that the situation was "unprecedented" and the "first of its kind."
If all goes well, children between 2 and 12 years old will eventually pay $350 each for the trip. Infants will travel for free.
The first group of migrants out will be determined by the order in which their temporary transit visas were issued.
Once in Mexico, each Cuban migrant will be granted a 20-day temporary transit visa at no cost. But they will be on their own for reaching the U.S. border, said the IOM's Costa Rica director, Roland de Wilde.
"It's important to remember that these migrants left their country voluntarily," de Wilde said during the news conference Wednesday. "In Mexico they will surely find the transportation options that they want. I understand there are many options in Mexico."
Foreign Minister Manuel González stressed that the Jan. 12 airlift will be a "test flight" and would not guarantee any additional flights until regional leaders meet to assess its success sometime before Jan. 18. If all goes well, additional charter flights will be organized out of Daniel Oduber International Airport and Juan Santamaría International Airport in Alajuela.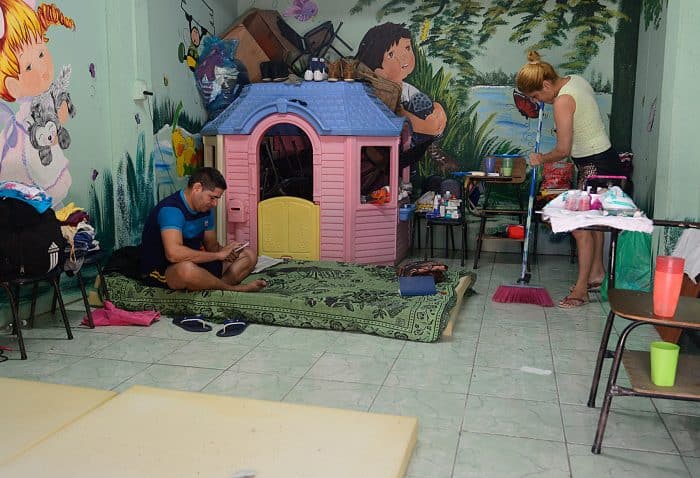 'Having a visa is not the end-all, be-all'
Drug gangs and kidnapping rings make the journey through Mexico to the U.S. one of the most dangerous migrant corridors in the world. Authorities said Wednesday that the temporary legal status granted to the migrants would help keep them out of danger from organized crime and corrupt officials.
But Everard Meade, director of the Trans-Border Institute at the University of San Diego in California, said he was doubtful a Mexican transit visa would offer much protection.
"Just having a visa doesn't make them immune to the same dangers faced by Central American migrants," Meade said.
He called the gap in the airlift's plan once the migrants reach Mexico a "black hole."
Meade said that the visas might offer some protection from shakedowns by corrupt cops or soldiers near the border but not necessarily from organized crime, especially along the route that follows the Gulf of Mexico. Organized crime targets people based on their perceived vulnerability, Meade said, and migrants — regardless of their legal status — are easy targets.
Criminals often kidnap migrants to extort money from family members in the U.S. who have been sending them cash for the trip. Some migrants may also choose to hire smugglers to get them through the perilous border area to U.S. soil, regardless of their immigration status in Mexico, he added.
Still, Meade said that unlike Central American migrants in Mexico, who are often stigmatized on racial or economic grounds, Cubans may enjoy some preferential treatment because of close relations between the island and Mexico and the well established Cuban community in Mexico.
The U.S. Embassy in San José told The Tico Times in an email statement Tuesday that it was aware of the airlift agreement but did not comment further. Foreign Minister Manuel González did not specify any role in the deal played by the U.S. — where the migrants plan to seek asylum under the Cuban Adjustment Act — when asked by The Tico Times during Wednesday's press conference.
González cited U.S. immigration law that gives special privileges to Cuban nationals as one of the reasons why this small country made a herculean effort to house and feed the migrants.
"Whether or not it's just, it's the law," González said of U.S. immigration policy toward Cubans. "That's the way it is."