NUEVO ARENAL, Alajuela — I awoke delightfully late Sunday morning in a deluxe suite at Oceano Hotel in Jacó and found a text on my phone from my brother:
"we have a house in nuevo arenal checking in at sic [sic] today leaving 18th."
"Sweet," I texted back. "How many beds?"
"three beds one cot"
"Let me see if I can join you," I said.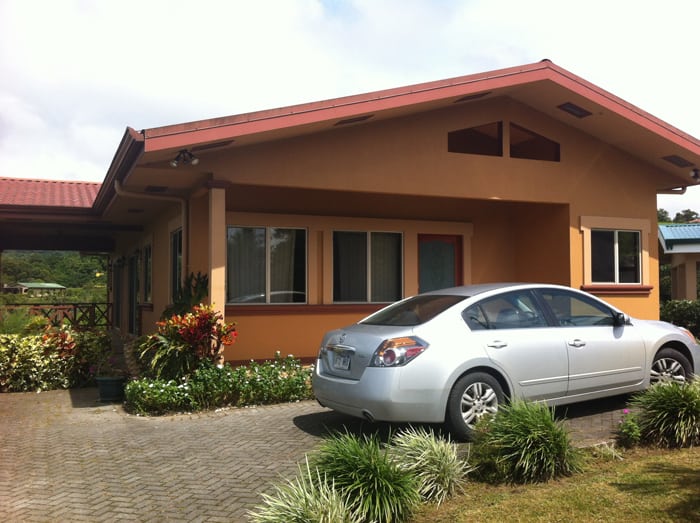 Paul's sons Orpheus and Aladdin, 28 and 26, had just joined him in San José for a two-week vacation, and Paul had invited me to join them. His idea for the first few days was to rent a vacation house in Nuevo Arenal, do our own cooking and explore the area from there.
This was a new idea for me, as I always stay in hotels when on the road. But it's one that's well worth keeping in mind, if you're traveling with a group, as it can save you plenty of plata.
I was looking forward to seeing my nephews on a happy occasion, as the last two times I saw them were for the funerals of their grandparents. We were overdue for a reunion that didn't require grieving.
So I decided hell yeah, I was down for a trip to Arenal.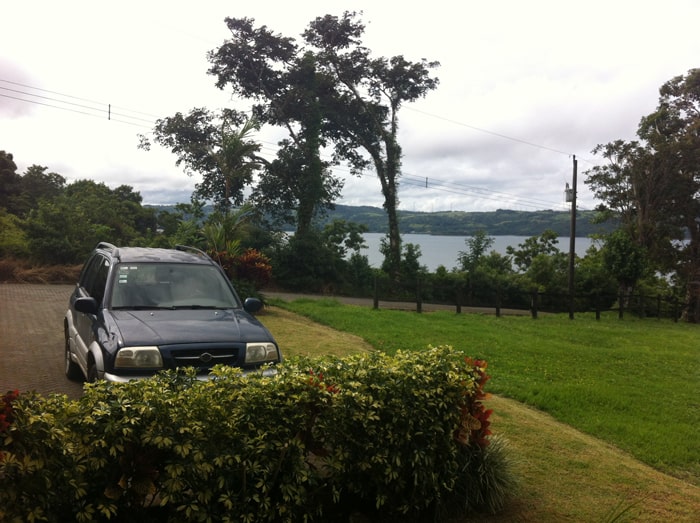 I checked out around 11:30 and headed north. I stopped at a mini-super and found exactly what I was looking for, a Monster energy drink — an auspicious start.
I called Paul, who said I would be arriving long before them because Orpheus, a professional artist, was spending the day drawing six-minute portraits in downtown San José for ₡2,000 ($3.80), so they were giving him time to work and wouldn't be leaving until mid-afternoon.
(Orpheus ended up drawing about 15 portraits in just a few hours, earning ₡30,000 ($56) on his first day in Costa Rica, which is more than a lot of visitors earn their first year.)
Paul texted me the name and number of the lady renting the house, whom he had found on AirBnB, and suggested that I call her, meet her in Tilarán, pick up the key, figure out where the place was and then let him know. Paul also helpfully told me I had to go through Cañas and Tilarán because there was a bridge out the other way, via San Ramón.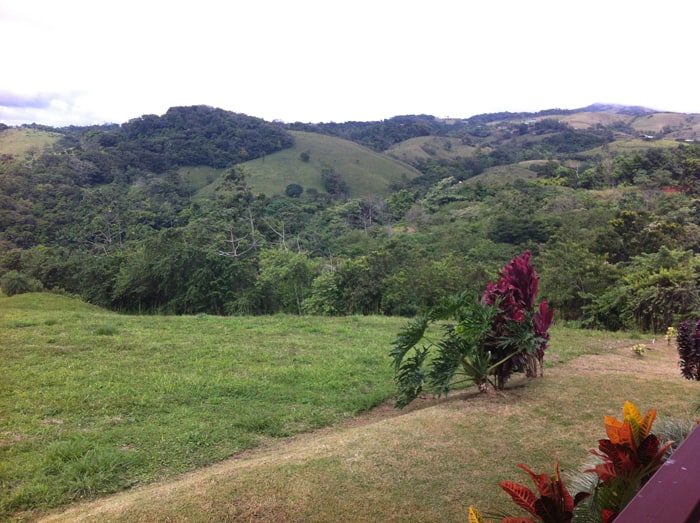 I called Soledad, the proprietor of this property, and she asked if I could meet her at the popular Aroma Tico restaurant in Tilarán. But she wasn't leaving Alajuela for another hour and a half, so I would have some time to kill.
It was a great day for driving. It rained a bit, but only twice did I bother to close the windows.
I turned on the Waze GPS app to get my bearings a few times, but each time it indicated that I didn't have to turn for muchos kilometros, and I turned it off to save on data. Oddly enough, the one time I made a wrong turn was when I was trying to follow Waze's directions but accidentally turned right instead of left on the Pan-American highway. A (possibly illegal) U-turn solved that.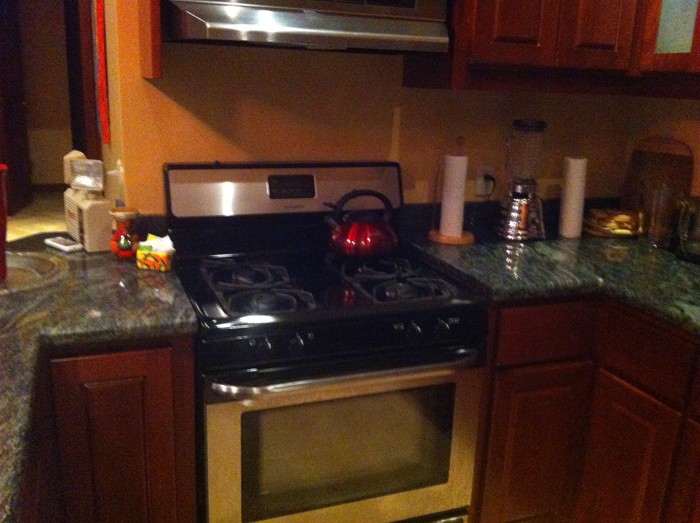 There were two other occasions when I arrived at intersections with too many fast decisions to make, and I quickly lurched to a stop and asked the locals which way it was to Cañas and Tilarán. Both times it turned out I had taken the right road.
When I made it to Cañas, Waze came in useful directing me to the road to Tilarán. And what a road it was — although narrow, it had some of the best pavement I've seen in Costa Rica, and the scenery was drop-dead beautiful.
I saw cows grazing on a picturesque green hillside and thought of the milk ad campaign "Happy cows come from California." That's a bunch of bull, I thought — happy cows come from Costa Rica.
I found the Aroma Tico restaurant and went inside to wait for Soledad. I had so much email and other business to tend to that the time flew. I was surprised close to 4:30 when a woman came up to me and asked if I was Carlos.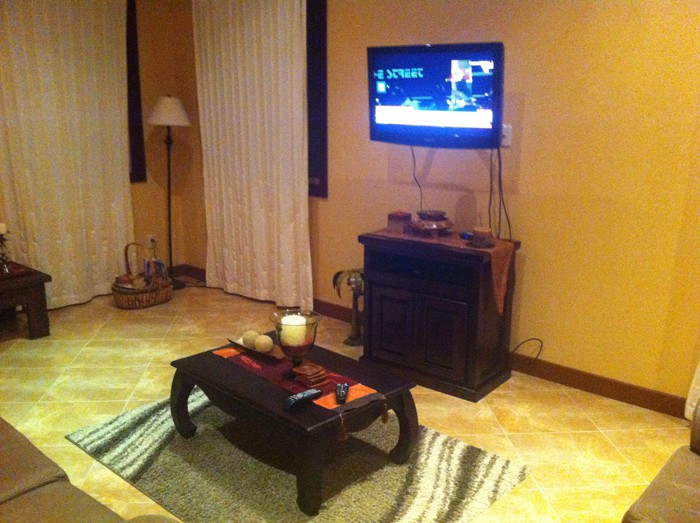 We greeted each other happily, and I agreed to follow her car to the house, which was somewhere between Tilarán and Nuevo Arenal.
As coincidence would have it, her party and I were both driving Suzuki Grand Vitaras, though hers was green and pristine and mine was blue and beat-up. I followed her driver for about 20 minutes at sometimes alarming speeds, though only once did we have to pass another vehicle on the narrow, winding road.
I knew I would have to give Paul good directions to get here, and it occurred to me that it wouldn't be easy. I started reciting out loud the names of signs and other landmarks I saw (including a dead yellow cat in the middle of my lane), hoping to remember them all so I could tell Paul.
Then I realized that was hopeless because I had no idea when we were turning, so I had no idea which landmarks were important.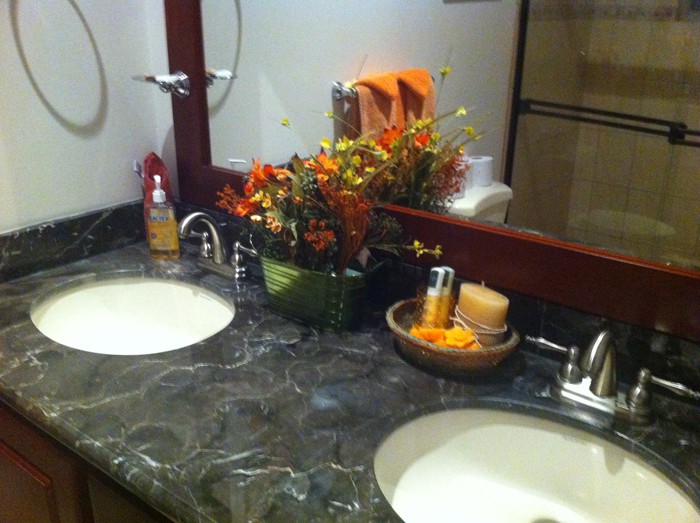 Then I got a brainstorm to turn on my iPhone and record audio of my own narration of all the signs and landmarks. It went like this:
"Dead yellow cat in the road. Río Piedras, little town with an abastecedor. There's a blue sign on the right for Las Peceras Bar. 'Bienvenidos a El Aguacate,' green sign on the right. 'Bar-Restaurante Las Peceras' on the left."
Finally the green Suzuki signaled a right turn, and we turned off the highway onto a brick driveway marked by a sign that said "Turtle Cove Lake Yacht Club."
A mile down a red dirt road, we pulled up in front of the house. It was getting close to dark, but I had time to take in some superb views of the blue Laguna Arenal and the green hills surrounding it.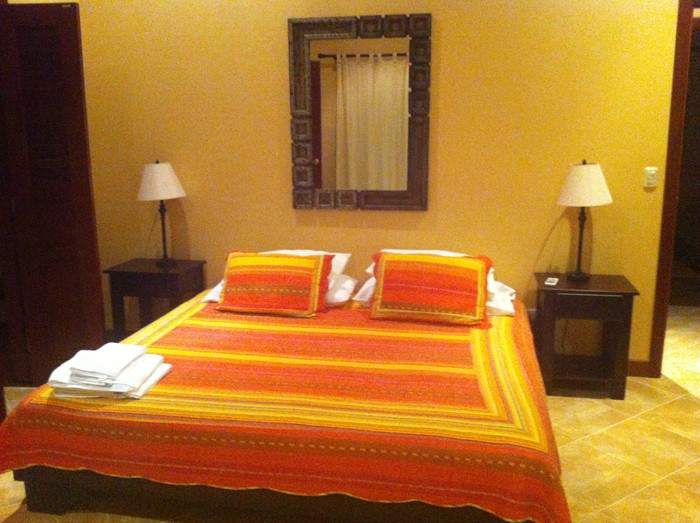 Lake Arenal is a man-made reservoir, the largest lake in Costa Rica, created by an earthen dam in 1979 for hydroelectric power generation. But nothing about it looks unnatural, and in fact it's one of the prettiest lakes you'll ever lay eyes on.
This dam intentionally flooded the village of Arenal, which was moved to higher ground and renamed Nuevo Arenal. The dam is said to generate 12 percent of all electricity used in Costa Rica.
The lake is ringed with marinas, hotels and restaurants, and opportunities abound for fishing, boating and kayaking. Less than an hour away, there's Arenal Volcano National Park, the beautiful Arenal Observatory Lodge, a tough but rewarding hike to the top of a dormant volcano called Cerro Chato, and the must-see La Fortuna Waterfall.
From here you can also pretty easily get to Río Celeste or Monteverde, go whitewater rafting or have an underground adventure at Venado Cave.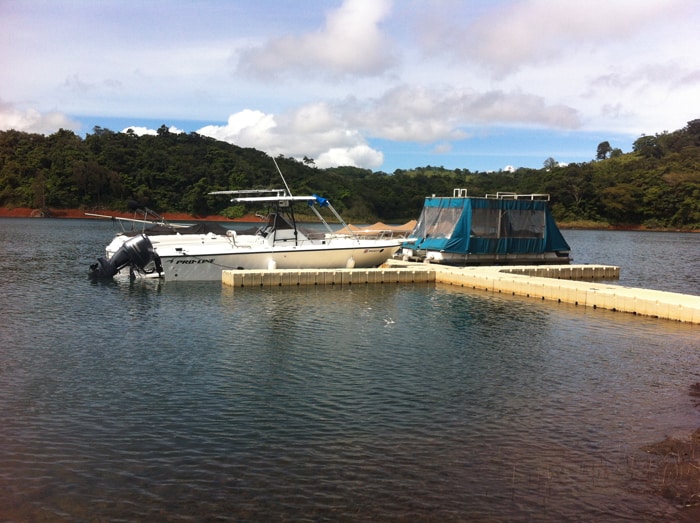 But back to our rental house, which was a stunner — large, immaculate, sumptuously furnished and decorated, with a gas stove, big refrigerator, microwave and dishwasher in a kitchen with gneiss countertops that I knew Paul would love. (Plus a washer and dryer that my clothes would be grateful for after many days on the road in sweaty places.)
How much was this costing? Come to find out it, it was about $133 a night, or $33 per person.
In my former life in Silicon Valley I paid $1,650 a month — $55 a night — to rent a one-bedroom apartment for one person year-round. And they say Costa Rica is expensive.
Soledad made up a cot for the fourth member of the party in this three-bed house. She made sure there were enough towels and toilet paper. She explained how to work the two TV remotes, how to connect to the Wi-Fi and how to set the alarm.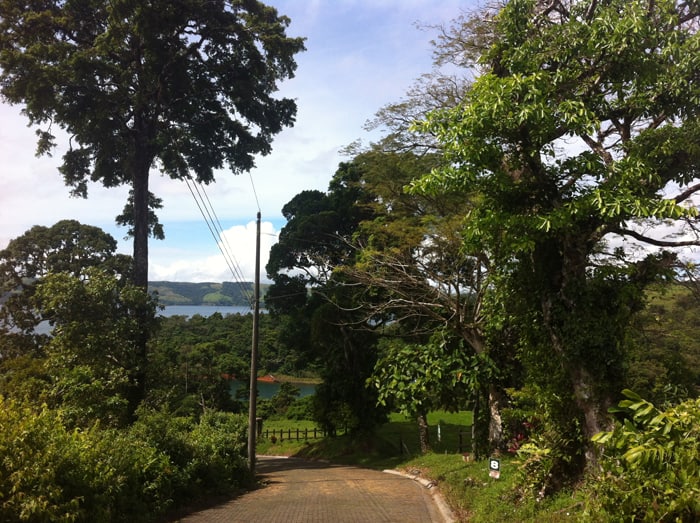 She gave me two keys, one of which opened the front door, and when I asked what the other key was for, she had no idea. This is a common theme in Costa Rica, I have discovered.
Paul called and said he was at least an hour away. I gave him verbal directions and told him I would text him in greater detail. I sat down and transcribed the 7 minutes of directions on my laptop, and then I texted him the following, in part:
"Feel free to call me after the third one-lane bridge past Tilaran. I think it's two miles past that. Look for a little lagoon on your left, then a high place with a panoramic view, then a yellow sign with a squiggly arrow indicating curves ahead. Century 21 sign on right. A strip of white pavement in the opposite lane. Arenal Lake Realty sign on left, big bank of red dirt on right, green ArenalProperties.com sign on right. Then look on your right for a big brick driveway, with a big, dark sign saying Turtle Cove Lake Yacht Club. Turn right and it's about a mile."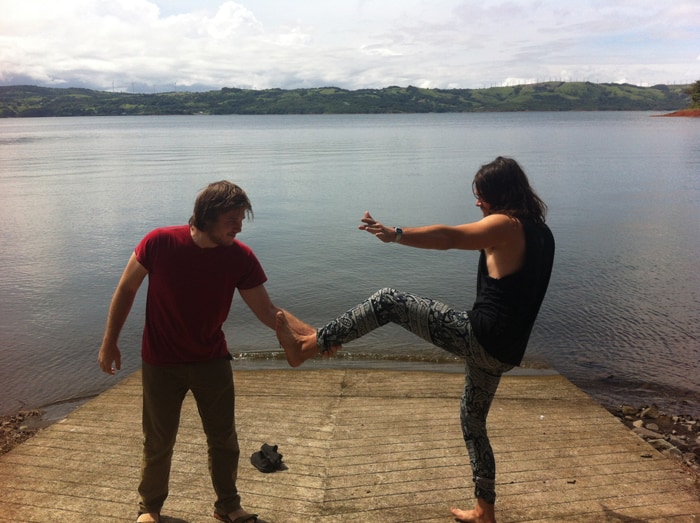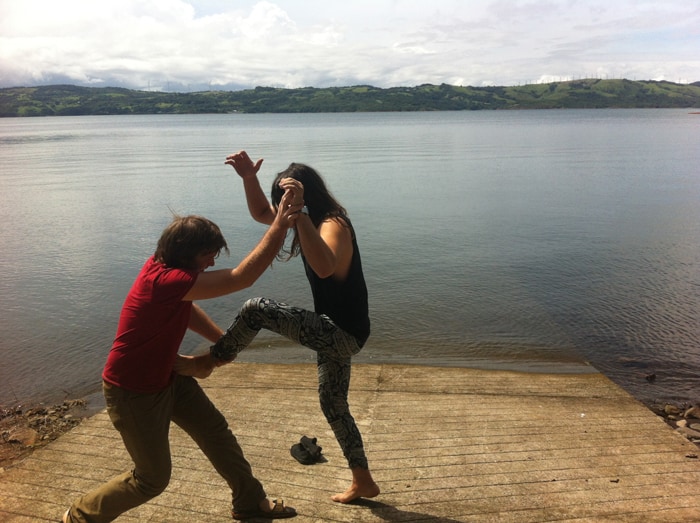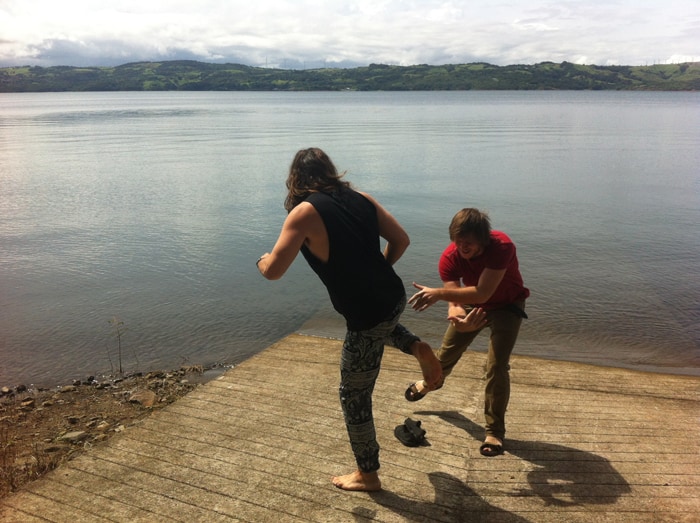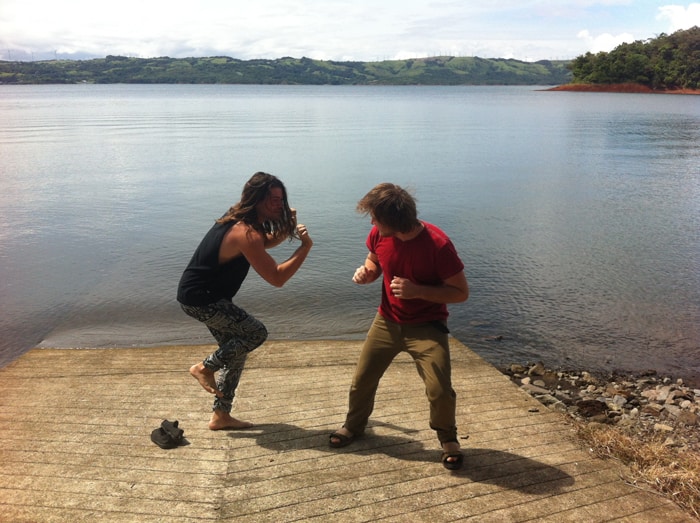 Less than an hour later, Paul drove straight here without even acknowledging my text.
I had a warm reunion with Orpheus and Aladdin, immediately remarking on how the former had pimped himself out with a huge fake gold chain, the better to attract customers on the street.
I asked if they liked my directions. Aladdin recalled that they spotted the "lagoon" on the left and the yellow sign with the "squiggly arrow." Orpheus joked about how detailed the directions were: "I thought, are you trying to track a murderer, or what?"
Everyone was delighted with the house. This vacation rental idea was looking better and better.
Paul cooked hamburgers and french fries, and we feasted.
Orpheus and Aladdin amused themselves after dinner by taking greatly enlarged photographs of nocturnal bugs, including a giant spider that has built an amazing web on the back porch. They also got shots of millipedes, ants, moths and cockroaches.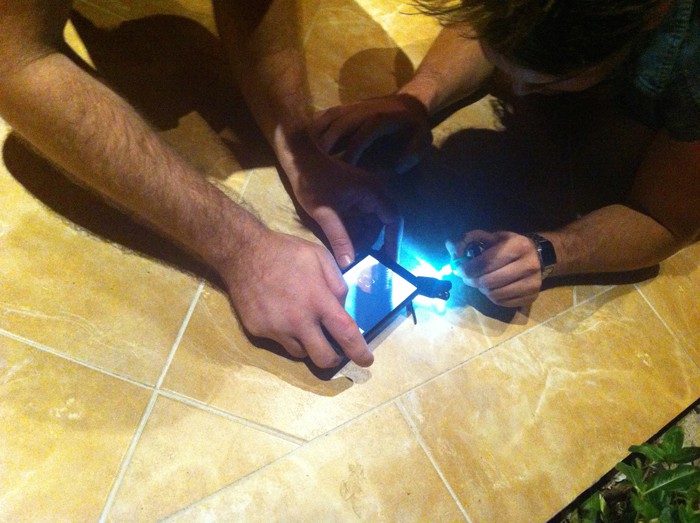 Sadly, our family got smaller in the past year and a half, but I'd say those of us still standing grew closer.
Just past the lagoon, the squiggly arrow and the white strip of pavement on the road in Costa Rica, paradise awaits a family reunited.
Contact Karl Kahler at kkahler@ticotimes.net.