GUATEMALA CITY, Guatemala — Two weeks before the scheduled start date of former dictator Efraín Ríos Montt's retrial for genocide and crimes against humanity, forensic experts have asserted that he is mentally unfit to stand trial, allowing his attorneys to request the case closed.
The report, delivered earlier this week by Guatemala's National Forensic Institute (INACIF), said that Ríos Montt's mental health had deteriorated to the extent that he's unable to understand the charges against him. According to forensic experts, at age 89 his condition is unlikely to improve, making further evaluation unnecessary.
In 2013 Ríos Montt was convicted for genocide and crimes against humanity committed against the Maya Ixil ethnic group during his 1982-1983 de facto rule. His former head of intelligence, Mauricio Rodríguez Sánchez, was acquitted of similar charges.
However, days later, the trial against Ríos Montt ground to a halt after the Constitutional Court reinstated Judge Carol Patricia Flores, who had been recused from the trial in 2012. Flores ruled that all the actions taken since she was forced to step down were null, sending the trial back to square one.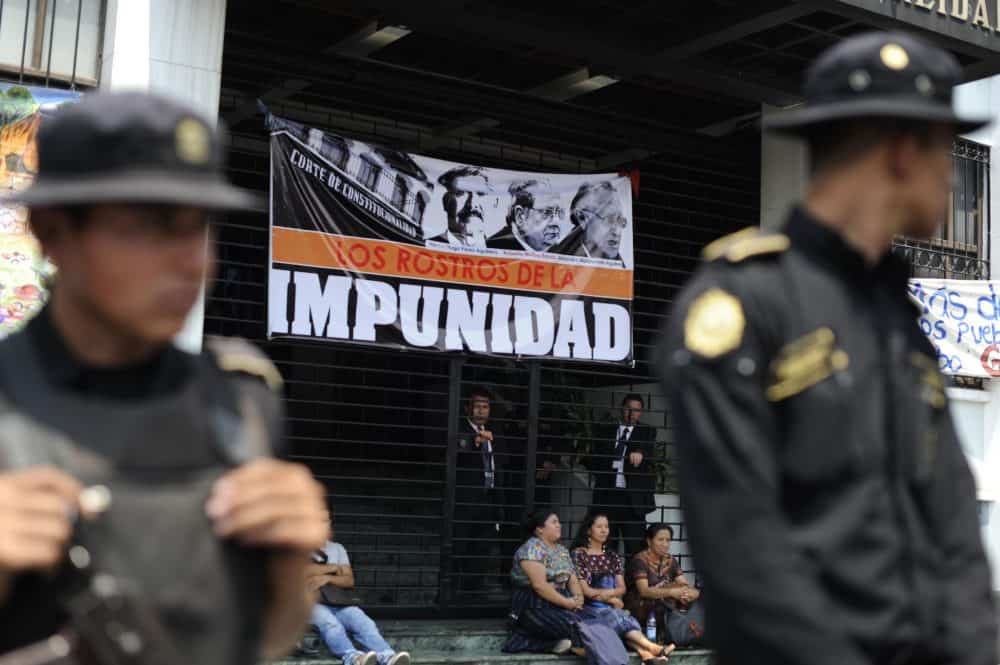 After a seemingly endless series of delays and setbacks, the retrial had been scheduled for July 23. Ríos Montt was supposed to testify from home via videolink and one of the three judges overseeing the trial was meant to follow the proceedings from Ríos Montt's house. Lawyers for the Center for Legal Action in Human Rights (CALDH), which is a joint plaintiff in the case, had welcomed an official assessment of the gravity of the former dictator's alleged illness, hoping it would prove he was fit to stand trial.
Ixil leader Antonio Caba Caba told the Tico Times that the news "has caused great concern in my community."
"The army didn't spare the sick and the elderly when they came here to shoot people and commit atrocities so we must continue to demand justice even if he (Ríos Montt) is sick and bedridden," Caba said.
Family trials 
This week has brought ups and downs for the Ríos Montt family. Two days before the forensic report killed hopes of a retrial for the ageing former dictator, Guatemala's electoral authorities barred Ríos Montt's daughter, Zury Ríos Sosa, from running for president as the candidate for the evangelical Viva party. The Guatemalan constitution prohibits anyone who has staged a coup or their close relatives from seeking office.
Ríos Sosa is appealing the ruling and plans to take her case to the Constitutional Court. Given the court's history of controversial rulings, including its decision to overturn her father's genocide conviction in 2013, it's thought that the court could ultimately allow her to run for office.
Ríos Sosa, who married former U.S. congressman Jerry Weller in 2004, has served in the Guatemalan congress for three terms.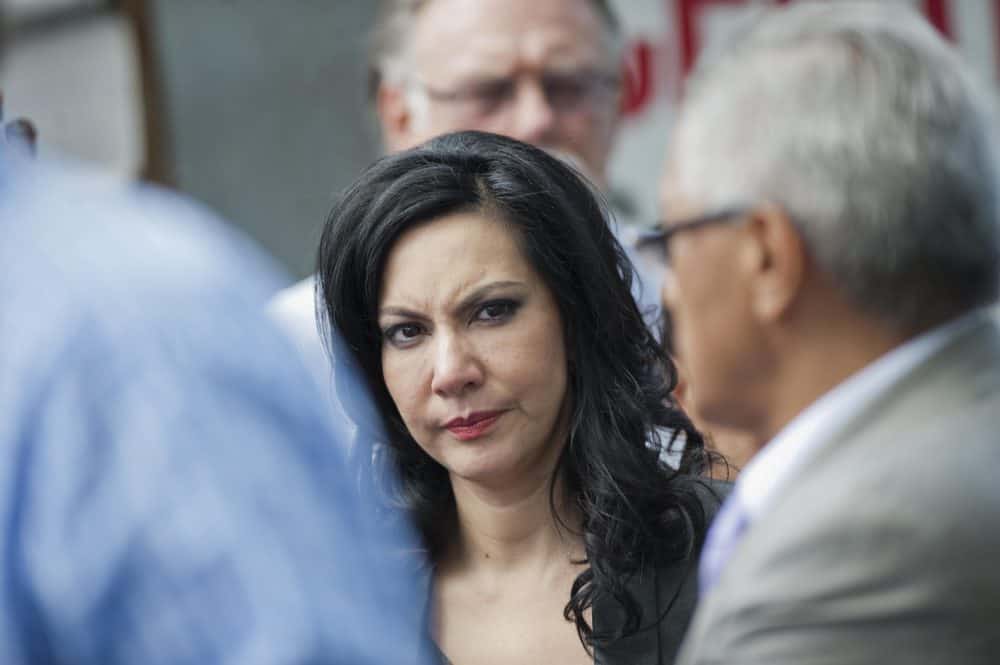 Fraught with obstacles
Efraín Ríos Montt's reported health problems have been a major stumbling block in the planned retrial. When he first appeared in court, in 2013, Ríos Montt chose to stand during the preliminary hearing; he took notes throughout the trial; he was coherent and delivered a long closing speech before being sentenced.
But this year on January 5, when the retrial was originally scheduled to begin, he was wheeled into the courtroom on a gurney, wrapped in blankets and wearing dark glasses. His defense team initially claimed he was suffering from a bone infection that had irreversibly affected his mobility. When forensic experts suggested he testify via videolink from his home or hospital, his attorneys claimed he was intellectually incapacitated and unfit for trial.
The retrial was then suspended after Ríos Montt's attorneys filed a complaint against Judge Jeannette Valdés, arguing that her master's thesis on the crime of genocide meant that she could not deliver an impartial verdict. The complaint was upheld and Judge Valdés was forced to step down.
Judge Jaime Delmar González Marín was appointed as her replacement in April, but a new date for the retrial wasn't announced until June.
Adding to the setbacks, in February Ricardo Méndez Ruíz, son of Ríos Montt's former interior minister and head of the Foundation Against Terrorism, an association of army veterans and military sympathizers, lodged a complaint against Orlando López, who heads the government's human rights prosecution unit.
Méndez Ruíz claimed that during a public debate held by civil society organizations to commemorate the one year anniversary of the historic genocide verdict, López criticized the Constitutional Court's decision to annul Ríos Montt's conviction, showing a lack of impartiality. The complaint was later extended to his entire team, and a judge banned López from traveling while the investigation continued. The ban was ultimately rejected by an appeals court on June 26.
Ill health: a recurrent excuse
Ill health has become a recurrent obstacle hindering the prosecution of Guatemala's accused, now-elderly, human rights violators. Retired general Héctor Mario López Fuentes, 85, who served as army chief of staff under Ríos Montt, was due to face the same charges as Ríos Montt and Rodríguez Sánchez. But the trial was indefinitely postponed because López Fuentes suffers from terminal prostate cancer.
Preliminary hearings for López Fuentes were supposed to take place at the Military Hospital, where he was being treated, but every time a hearing was scheduled, the judge found the defendant had been heavily sedated and was unable to take part in the proceedings.
In May 2012, however, Judge Miguel Ángel Gálvez rejected a motion by López Fuentes' lawyer to close the case on the grounds the defendant was unfit to stand trial.
Similarly, in April this year, the preliminary hearing in the trial of retired lieutenant colonel Francisco Reyes Girón and former military commissioner Heriberto Valdez Asij for crimes of sexual and domestic slavery and forced disappearance committed in the Sepur Zarco military base between 1982 and 1988, was delayed due to Reyes Girón's purported ill health.
"Those accused of human rights violations committed during the armed conflict are seeking impunity," said Héctor Reyes, a human rights lawyer for CALDH, joint plaintiff in the Ríos Montt case. "Their lawyers are engaging in vexatious litigation and are using every possible strategy to prevent these cases from moving forward," Reyes said.
More recently, the defendants in two major corruption cases that prompted an unprecedented wave of protest in Guatemala have unsuccessfully tried to avoid prosecution by feigning sickness. On May 20 forensic experts found that former president of the social security board, Juan De Dios Rodríguez, arrested together with other top government officials on corruption charges involving a $14.5 million dialysis contract, was falsely claiming to be suffering from depression, anxiety and acid reflux in order to avoid appearing in court.
On June 5 disgraced former vice president Roxana Baldetti, who was forced to step down due to her alleged involvement in a massive customs fraud scandal, claimed she was suffering from a gastric ulcer and remained in hospital for 10 days. Critics accused her of feigning illness in order to avoid being arrested in connection to the case. She has yet to charged.