The next time your smartphone shakes it might be because the earth did too. The University of Costa Rica's National Seismological Network (RSN) released a free smartphone app this month to alert people about earthquakes and volcanic activity in Costa Rica.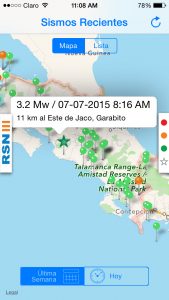 RSN'S app provides confirmed magnitude, depth and location information about earthquakes. The app is available for download at Google Play and Apple's App Store. Besides basic information about place and intensity, the app also provides access to news alerts from the National Seismological Network.
The app's streamlined design makes it easy to use, customizing the earthquake map for temblors that have happened today or during the last week.
The RSN app also allows users to customize alerts — an advantage over other currently-available earthquake alerts. Getting Twitter alerts from RSN or OVSICORI, Costa Rica's other earthquake and volcano authority, can be overwhelming as bells ring throughout the day signalling tiny tremors.
RSN's app sends push notifications if there are earthquakes above a certain magnitud, ranging in increasing strength from magnitud 3 to 7.
Recent volcanic activity at Turrialba Volcano during the last year has made social media a go-to source for information about seismological activity in Costa Rica. RSN and OVSICORI, among others, have built strong followings on Facebook and Twitter.
Read The Tico Times recent volcano coverage
"People have been coming to our social media looking for fast, accurate information," RSN geologist María Cristina Araya said. "This way they don't have to look for it," it comes straight to their smartphone.
Araya said that the popularity of social networks has reinforced the public mission of the seismology institute. People were contacting them after reports of earthquakes looking for information about its strength and location.
"It's a way to put people at ease," Araya said.
Social networks have also helped RSN better do its job, Araya said. The public receives information about earthquakes through Facebook or Twitter and can then report back to RSN whether or not they felt it, crowdsourcing intensity maps of the seismic event.
The app has been a long time coming. It has been in development since late 2012 and RSN's servers had to be updated to handle the additional traffic and location data, Araya said.
The app uses public information, Araya said, and will remain free.