FIFA Women's World Cup: US beats Germany, 2-0, to advance to final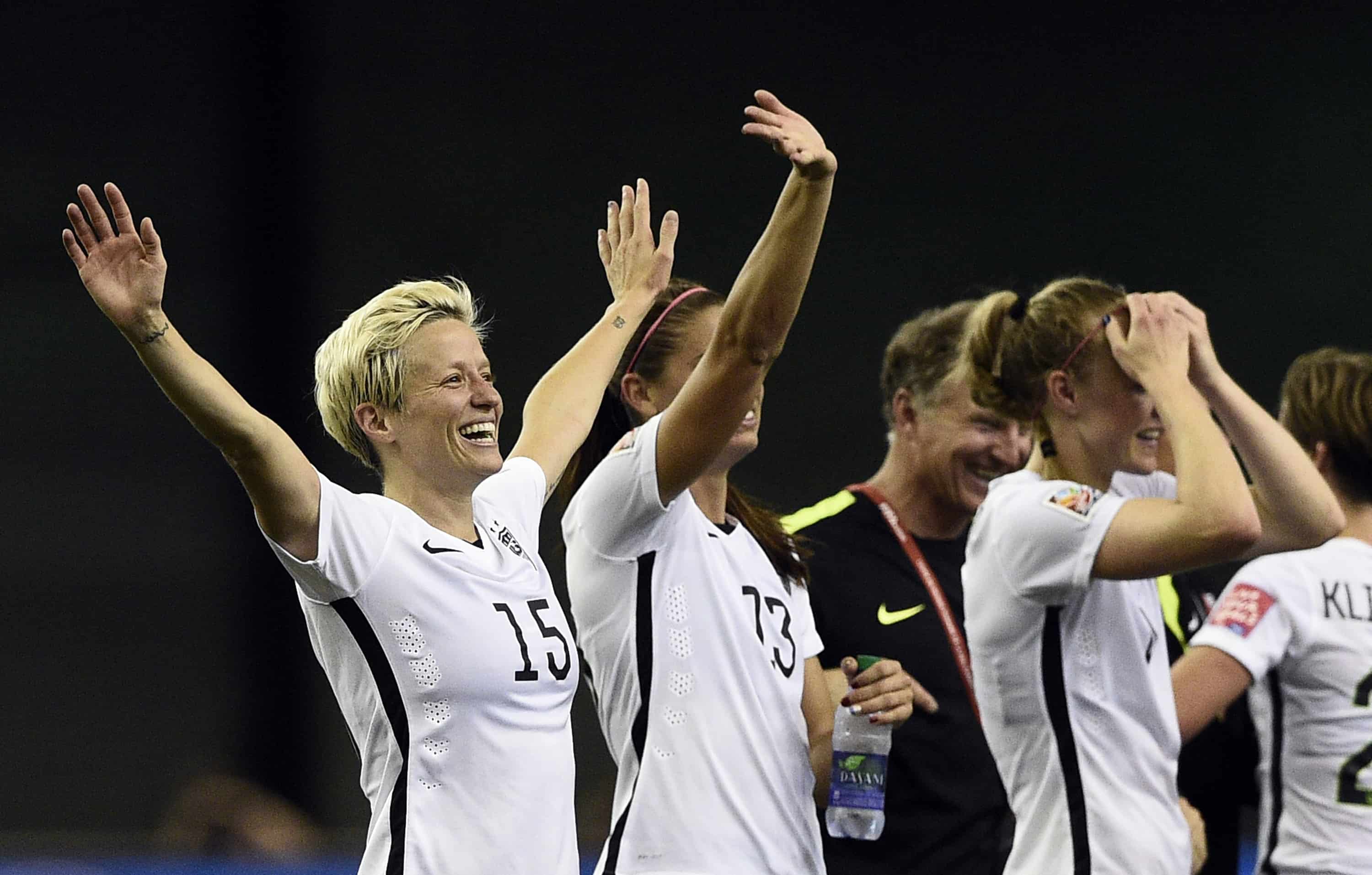 MONTREAL — During its rough start to this World Cup, the U.S. women's national football team promised that brighter days were ahead, that the sputtering attack and grinding style would give way to the beauty and prosperity that has defined the program for most of 25 years.
On Tuesday night, the second-ranked U.S. continued their ascension, defeating No. 1 Germany, 2-0, to book a place in Sunday's championship game in Vancouver.
Carli Lloyd converted a penalty kick in the 69th minute after a questionable call, and substitute Kelley O'Hara stabbed in the clincher 15 minutes later as the United States reached the final for the second consecutive tournament and continued its quest for a first world title since 1999.
Japan, the reigning champion, and England will play in the other semifinal Wednesday in Edmonton.
The opponent "doesn't matter," said U.S. Coach Jill Ellis, who has been on the job since spring 2014. "One opponent stands in our way."
With the roars of 51,176 spectators, most backing the U.S. team, reverberating inside the domed Olympic Stadium, the U.S. gave their best performance since arriving in Canada a month ago. And perhaps their best display of the year.
https://www.youtube.com/watch?v=QrBYVOlwGAk
A superb first half did not translate into a lead, but they overcame a penalty kick call against them, took advantage of one awarded to them and closed down a vaunted German attack for their fifth consecutive shutout.
"We've been building into the tournament, and obviously this is our best performance by far in a lot of different ways," midfielder Megan Rapinoe said. "We stuck to our game plan and stuck to what our coaches were telling us. We always stayed true to what we were doing and felt it was going to come together, and it felt like it did tonight."
Until O'Hara's goal, assisted by Lloyd, it appeared the match would be decided by a pair of second-half penalty kicks.
The U.S. defense did not yield any clear opportunities until Julie Johnston, in her only misstep of the tournament, misplayed a ball into the box and yanked down Alexandra Popp by the shoulder in the 59th minute.
"I wish," Johnston said, "I could've had that moment back."
Up stepped Celia Sasic, the World Cup's leading scorer with six goals. Hope Solo was going to make her think about it, conversing with referee Teodura Albon and fidgeting beyond the goal line. By the time Albon placed the ball on the spot, Sasic did not look like a confident shooter.
Solo dived one way. The shot went the other way . . . and wide of the left post.
About eight minutes later, Albon awarded a penalty to the U.S. team, but this one was not as clear cut as the previous infraction. Alex Morgan surged toward the penalty area. Annike Krahn blocked her path. Morgan rode up Krahn's back and tumbled.
A foul? Maybe. But the contact had occurred before Morgan penetrated the box.
"It was clearly outside the area," German Coach Silvia Neid said. It wasn't Neid's only complaint: She believed Johnston should have received a red card for denying what she thought was a clear goal-scoring opportunity on the earlier penalty call.
Unlike Sasic, Lloyd made no mistakes, striking the ball with authority into the upper right side as Nadine Angerer sprawled in the other direction for her third goal in three knockout-round matches.
To that point, Angerer was stellar. In the first 15 minutes, she made left-footed kick saves on Johnston's header and Morgan's breakaway.
The U.S. had done everything right in the first half, except finish their chances.
The match had taken a frightening turn when, on a German free kick, Popp drove her head into Morgan Brian's, leaving both players in need of medical care. Popp bled profusely, while Brian was dazed for several minutes. Both returned.
The match swung back and forth on the penalty kick decisions, and the U.S. persevered.
After taking the lead, the U.S. defense repelled every German foray. Solo did not have to make a difficult save.
O'Hara sealed the outcome — and the Americans' fourth trip to a World Cup final in seven tries — with her first international goal.
Lloyd took the ball deep into the box before crossing to O'Hara for a leaping one-timer from close range.
"Kelley was full-steam comin', " Lloyd said.
"The second goal made it that much more rewarding because it's not like we skipped by on the PK everyone can argue about," defender Ali Krieger said. "No, we won, 2-0. We deserved it."
Despite their history of success, the U.S. entered the match as a decided underdog. They had muddled through the group stage, struggled to put away Colombia, then made marked improvement in beating China in the quarterfinals.
"We knew we had this in us," Ellis said. "This team had a lot of confidence. We had every belief we could win this game, and that is part of the spirit of the American player."
© 2015, The Washington Post
You may be interested