Hundreds of farmers and pork producers on Tuesday demonstrated in front of Casa Presidencial to demand President Luis Guillermo Solís' administration better manage the country's free trade agreements. Currently a disparity in measures applied by countries that export to Costa Rica is hurting sales of local products, they claim.
Renato Alvarado, leader of the Costa Rican Pork Producers' Chamber, said "the stability of 14,000 jobs in the sector is at stake, as most farmers currently are close to bankruptcy."
An unbalanced implementation of the conditions of free trade agreements is forcing the government to import more while Costa Rican farmers are unable to either sell their products here or send them to foreign markets, Alvarado said.
President Solís agreed to meet with eight representatives of the demonstrators, including pork, potato, cooking oil, avocado and egg producers. The ministers of agriculture, economy, trade, communications and the presidency also participated in the nearly five-hour meeting.
Pork farmers were the most vocal protesters yesterday, using several trucks — some loaded with pigs — to block roads near the Casa Presidencial for several hours. They also delivered Solís a piglet when the president approached the crowd to announce he was listening.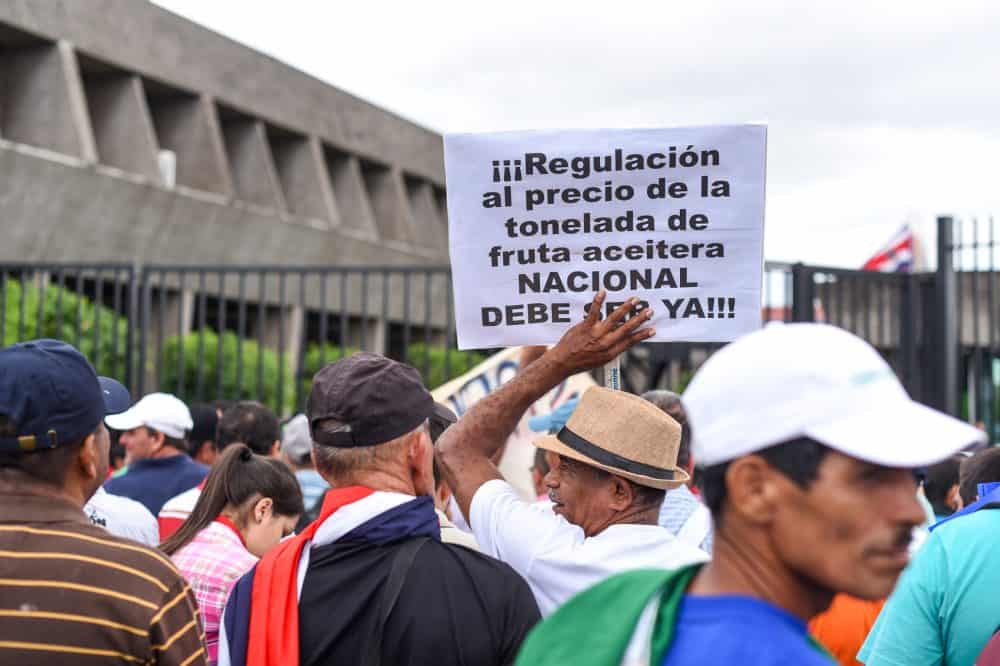 The administration pledged to deliver farmers a proposal to address their requests by Wednesday at 3 p.m.
Pork farmers mostly are seeking for more efficient implementation of trade agreement regulations, especially relating to sanitary measures and labeling on imported pork from Chile.
Juan Rafael Lizano, president of the National Chamber of Agriculture and Agribusiness, said Costa Rica should implement the same controls Costa Rican exporters face. For example, Lizano said Costa Rican animal health officials should be able to inspect and certify all Chilean meat processing plants currently shipping products to Costa Rica. According to Lizano, Chile currently does not buy pork from Costa Rica, arguing that Tico producers "have yet to approve inspection by Chilean health officials."
Imports of pork from Chile are hurting sales of local meat, and farmers have been forced to lower per-kilo prices by up to ₡300 ($0.60) below operating costs, he said.
Following the meeting, Casa Presidencial issued a statement saying "this administration understands the situation of local pork producers and understands the need to promote measures to ensure their businesses' sustainability while maintaining strict adherence to international trade agreements signed by the country."
Presidency Minister Sergio Alfaro said the situation will be addressed comprehensively, and he believes there are many options that could benefit local producers. Alfaro did not disclose details of the proposal, but said it would respect international trade agreements signed by Costa Rica.
Demonstrators on Wednesday said they would not leave Casa Presidencial, in the southeastern San José district of Zapote, without a response from the president:
https://www.facebook.com/porcicultorescr/videos/996740760345510/