CHARLESTON, South Carolina – A website appearing to belong to accused Charleston church shooter Dylann Roof contains white supremacist writings and dozens of photographs in which he is seen holding firearms.
It also offers a motive for the heinous crime, one of the most shocking multiple murders of recent years, in a nation familiar with mass shootings.
"I chose Charleston because it is most historic city in my state, and at one time had the highest ratio of blacks to Whites in the country," a text on the website reads.
U.S. media became aware of the online manifesto only on Saturday, although it appears to have been in existence before the horrific massacre that has stunned the nation.
It was unclear who wrote the unsigned text filled with spelling mistakes, or who took the pictures of Roof, who has been charged with fatally shooting nine African Americans at a church in Charleston.
However, U.S. media said the website was registered in February under Dylann Roof's name.
The website showed dozens of photographs of the Charleston shooter holding weapons, burning an American flag and visiting plantations and other sites that appeared to harken back to the slavery era U.S. South.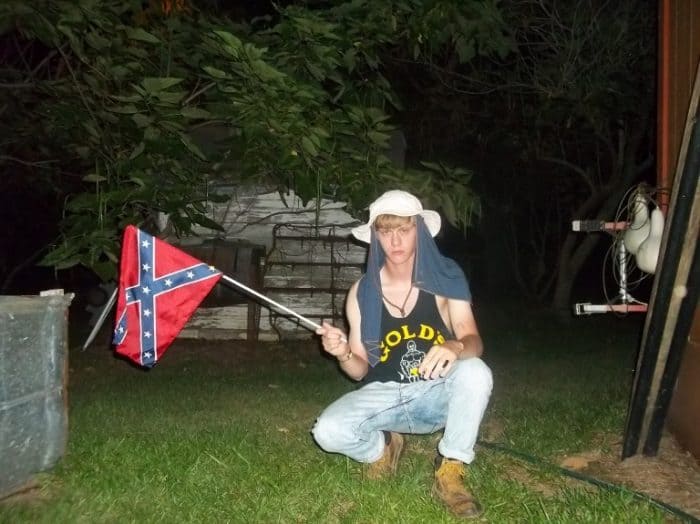 A section of the manifesto, entitled "an explanation" reads: "I have no choice. I am not in the position to, alone, go into the ghetto and fight."
It went on: "We have no skinheads, no real KKK, no one doing anything but talking on the internet. Well someone has to have the bravery to take it to the real world, and I guess that has to be me."
The text was referring to the right-wing extremist group Ku Klux Klan.
In the photographs, Roof is shown wearing a black jacket with flags from apartheid-era South Africa and Rhodesia (which includes the region now known as Zimbabwe), some of the most oppressive governments of modern times.
The website, entitled "The Last Rhodesian," can be found at lastrhodesian.com.
Roof also is seen posing with wax reproductions of slaves in other photographs, holding a 19th century-era Confederate flag from southern states where slavery was practiced, standing at the site of a slave plantation and pointing a handgun at the camera.
In all of the pictures, Roof appears alone.
Among the racist rants on the website, Hispanics are described as "our enemies," while "Negroes" are described as having a lower IQ and impulse control.
Recommended: Shooting evokes some of the darkest days from the United States' past