WASHINGTON, D.C. – Costa Rica's Embassy in Washington became a mini-tourist attraction of sorts Saturday when it flung open its doors to the public for "Passport DC" – a colorful annual event involving 42 diplomatic missions from Azerbaijan to Venezuela.
Balloon-making, face painting, handicrafts, typical Costa Rican food and free beer helped lure the crowds on a beautiful spring day. By noon, some 2,000 people had checked in – each of them having gotten their "passports" symbolically stamped at the entrance by Alejandra Solano, the embassy's deputy chief of mission.
And by the time Passport DC's "Around the World Embassy Tour" was over, at 5 p.m., exactly 3,832 people had officially visited, up from 2,500 last year.
Among them were Shelly McGinnis, who's been to Costa Rica three times, and Jessica Sahota, who was visiting McGinnis from California.
"This is the best one so far," Sahota said as she consulted a Passport DC pamphlet listing the day's events. "We passed by the Guatemalan Embassy, but the line to get in was over a block long."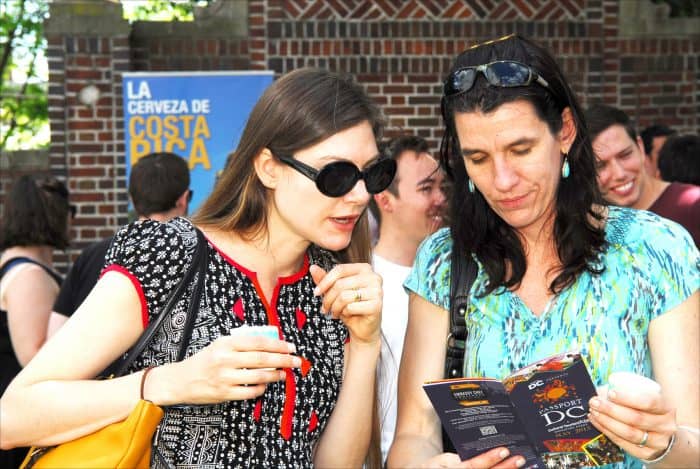 Because the Costa Rican Embassy is located on quiet, tree-lined S Street and not on Massachusetts Avenue – Washington's so-called "Embassy Row" – foot traffic moved along fairly quickly here.
Besides the 42 embassy open houses, Passport DC also includes street fairs, exhibitions, performances and workshops. Last year, 288,000 people took part in the May 1-31 celebration, which coincides with International Cultural Awareness Month.
"This is a great idea," said Costa Rican Ambassador Ramón Macaya as he proudly wore his official red La Sele jersey. "Passport DC is a fun way for families to get a flavor for many different countries in a single afternoon."
He added: "Many visitors today were Ticos living in the Washington area who came here out of nostalgia," he said. "We also had Americans who have gone to Costa Rica and others who've never been there, but have heard good things about our country."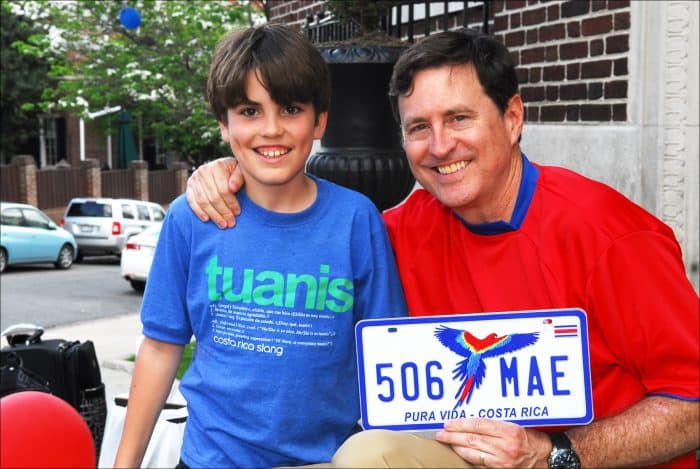 As people entered the embassy, they were greeted with a video extolling Costa Rica's natural beauty – its volcanoes, rain forests and beaches. Souvenirs for sale ranged from T-shirts to "Pura Vida" replica license plates. For the kids, there were also animal-shaped balloons, Instaprints and face painting by Congolese artist Aurelie Nsoki.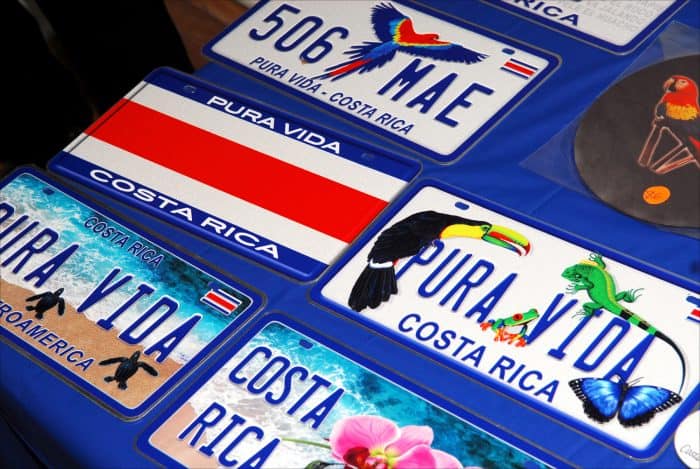 Throughout the day, hundreds of visitors congregated in the embassy's enormous backyard. But a food stand set up by María Rivera and Keylah García – owners of Pura Vida, a northern Virginia catering company – quickly ran out of tamales, picadillo de papaya, gallo pinto, rice, beans and other typical Costa Rican fare.
"We had 60 pounds of tilapia from Puntarenas, but so many people came that the ceviche was gone by 1 p.m.," said Erick Marín, who with his buddies Javier Gómez and Tatiana Zelaya, was busy serving Imperial beer and 25-year aged Centenario rum to thirsty tourists.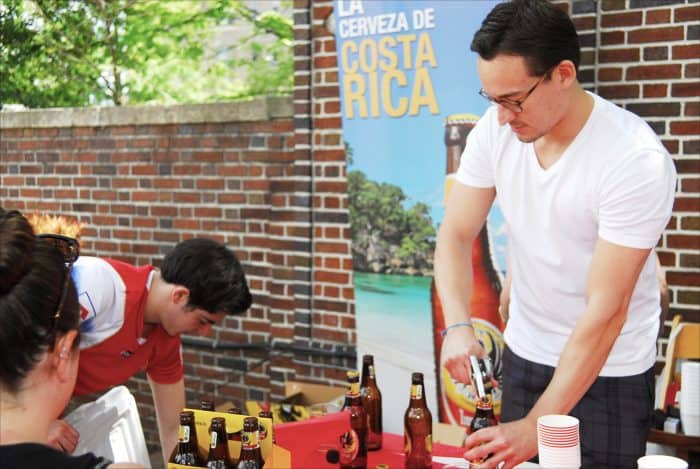 Costa Rica's participation in Passport DC was a joint effort between the embassy and the Costa Rican Tourism Board (ICT).
"This is a one-day event where embassies open their doors to show people things they could discover if they took a trip to that country," said Cecilia Luján, an executive with Miami-based Cheryl Andrews Marketing, which handles ICT's PR campaign.
"Some people think Costa Rica's an island. There's a lot of misinformation out there," said Luján. "Often, one of their first questions is about safety and security. They also ask why Costa Rica doesn't have an army."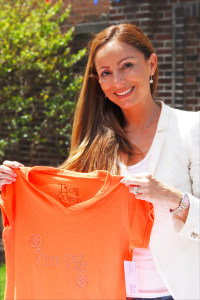 Several visitors mistakenly assume that Costa Rica is in South America rather than Central America, said Carol Arias Castellón, owner of the Tica Queen boutique, who came up from Boca Raton, Florida, for the one-day event.
"The embassy invited me here to sell my products," she said. Castellón studied international business in Costa Rica, Brazil and the United States, but didn't want to be stuck in a nine-to-five job, so she started Tica Queen online. Her colorful creations – mainly girls' T-shirts and tank tops with tiny crystals that make up typical Tico designs – sell for $15 to $25 and seemed to be quite popular with the crowd.
Minister-counselor Beatríz Serrano said she's thrilled with the turnout.
"It was a complete success. This is the second year we've participated in Passport DC. According to our survey, 40 to 45 percent of the people who came either plan to visit Costa Rica or already did," she said. "So this is a way to ensure they'll be coming back."