"Here is your key," said the young woman at the front desk. "And if you're interested, there is a concert tonight. Música de plancha." She smiled at me knowingly. For a second I thought she might wink.
"Oh," I said, not having any idea what "ironing music" referred to. "Well, I hope I can come. I always love a good concert."
I tossed my backpack in my room and washed my greasy face, then headed outside. The shadows were long in downtown Turrialba, and the streets were filled with cars, rigs, motorcycles, and clouds of diesel exhaust. I climbed a steep incline, following a narrow road, toward a hilltop hospital. From the sidewalk, I could see the town spread out below, the cream-colored bell tower of its central church, and a row of palm trees at the bottom of rolling hills.
But it was hard to see the mountain in the center of this landscape. Despite its height and girth, the mountain was obscured by buildings, palm fronds, and electric lines. The mountain loomed over the town, a powerful presence, but it was frustrating to photograph. The mountain surged upward and plateaued, appearing wide and flat in the middle. The mountain looked gluttonous and antisocial.
Still, Turrialba is a volcano. An active volcano. Throughout the week, Turrialba had exploded several times. It had gushed ash into the troposphere. At any moment, the volcano could blow again – and if it did, I wanted to photograph it.
Now that I was here, I had only to wait. But for how long?
*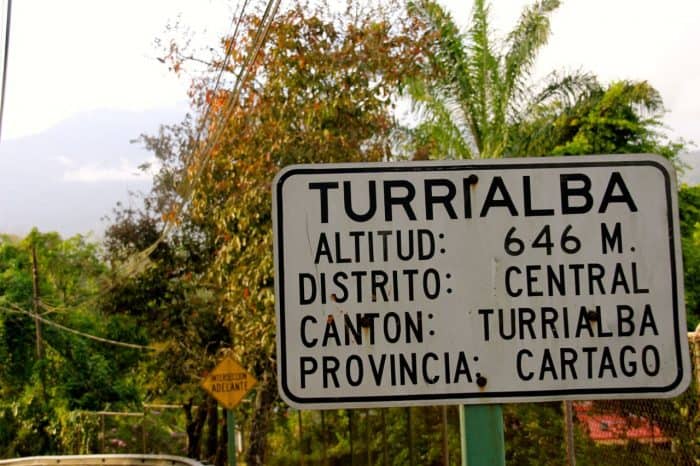 To me, a New Englander who grew up among well-worn Appalachian ranges, volcanoes are the most exotic geologic form I could imagine. Gushing molten rock out of the Earth is by far the most dramatic kind of mountain-building, and until I moved to Costa Rica I had difficulty imagining a volcano up close. The fact that volcanoes actually erupt rivals solar eclipses and the aurora borealis for mythic natural wonder. It is something I never dreamed of seeing – until reports came to The Tico Times office that Turrialba Volcano was vomiting 1,000-meter-high geysers of smoke into the sky. At last, I had the chance to see this event firsthand.
As the bus zigzagged through the Cartago foothills, I watched unfamiliar farmland pass the windows. I had never visited Turrialba before, and my knowledge of the area was vague. I knew the town was small and nestled in a valley. I knew the people were famously friendly and industrious. I often buy blocks of Turrialba cheese from my local supermercado, thanks to the cantón's many dairy farms. But I had never ventured out that way. Indeed, I had never seen so much as a postcard of Turrialba.
I stopped into a local tour agency and was greeted by a gregarious young man named Massi Devoto. He invited me to sit down and said he was happy to talk about the volcano, as he had led many trips into its upper reaches.
"A lot of people in San José think that Turrialba is a disaster area," I said.
He stifled a laugh. "Yes," he said.
"But it's not."
"No."
"It seems very quiet here, actually."
"Yes, it's very nice right now."
"So the volcano isn't impacting the town?"
"No."
"Does it ever affect the town?"
"No, not really."
Devoto brandished his laptop and uploaded a digital map of the region. He pointed to one corner of the screen and said, "This is the town of Turrialba." He pointed to the exact opposite side of the map, a point nearly 20 km away. "This is the volcano. Now look – ninety percent of the wind flows west. The smoke is blowing into the Central Valley. But none of the ash comes here."
For the next couple hours, I talked with more locals, asking them about their experience with the volcano. They said that Turrialba had blown a plume of smoke into the air the previous afternoon. People had stopped in the street, whipped out their smartphones, and taken pictures of the event. They had laughed delightedly and pointed at the colossal black form rising out of the mountain. But then the smoke dissipated in the sky, tumbling down the opposite side of the mountain. The sky's composition returned to its usual streaks of blue and gray. Everything was normal again.
In many ways, this was a relief. The town that shared Turrialba's namesake was not suffering. Local people found their volcano amusing, a spectacle to enjoy. This was no Pompeii. They would not be subsumed in a blanket of toxic gases.
Yet the volcano had also quieted since my arrival, and I realized I might not see anything. As the sunlight faded and headlights switched on in the darkening thoroughfares, I headed toward my hotel, taking one final glance at the horizon. Still no eruption. The volcano was nondescript, like any other mount. And soon, I wouldn't be able to see anything. I entered my room, tossed my camera back in its bag, and sighed.
*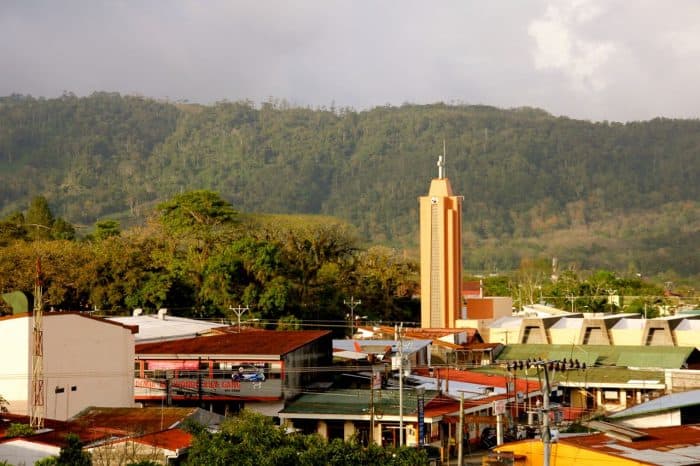 Late that night, my hotel room practically vibrated with music. Below it, the hotel's restaurant, which I had awkwardly meandered through an hour earlier looking for a place to sit down and order a drink, was jammed with twenty-somethings, and the chairs and tables were dressed in white satin, as if for a wedding. Two young women shared a stage at the front of the dining room, and they were singing their hearts out. They looked ordinary, like girls I might have known in high school, but they belted Latin pop songs from their diaphragms, harmonizing into their microphones with practiced vibratos. I couldn't help but listen. The amplification was so loud that they might as well have been singing at the foot of my bed.
I didn't mind. Indeed, I wanted to join them. But there wasn't a single chair or stool available in the entire restaurant. I didn't know at the time that "música de plancha" was a genre of romantic ballad – the kind of tunes you might belt out at home while ironing, thus the name – and the form has recently exploded in popularity across Costa Rica. Plancha parties are like high-end karaoke, where performers sing (mostly Mexican) pop tunes about relationships gone awry. I would later learn that música de plancha is like a Country Western song performed by Christina Aguilera – the vocals are big and powerful, but the subject matter is pure blue-collar drama.
My head sank deeper into my pillow, and my eyelids fluttered with exhaustion. My trip to Turrialba had been so spontaneous that I hadn't expected to spend the night in this hotel, much less pound the pavement in search of volcano-spotters. And then, just as I was about to fall asleep, my iPhone emitted a single ding.
It was a text message from my editor: "Turrialba's erupting lava."
I grabbed my camera and raced outside. I strode into the hotel's central court, a grassy lawn surrounded by sloped roofs. I looked at where the volcano had been, and I could see specs of light, signifying the scattered houses that dotted it slopes. But the volcano's summit was lost in darkness and overcast. The lights dimmed and then vanished into that all-consuming umbra.
Now I was awake, excited, and I knew that I wouldn't be able to sleep. It was 11:15 p.m., and a nearby volcano was spewing lava. Of course it wasn't lava – I would later learn it was only "incandescent material," most likely white-hot rock from Turrialba's fiery epiglottis. Still, incandescent material – that was enough for me. I bolted into the dining room, where the aural wave of music and conversation washed over me, making me feeling heady. A stool had opened up at the bar.
"Is this one free?" I asked a woman in the next set over.
"Yes!" she said, gesturing. "Please."
I had already started sipping my bottle of Pilsen when I noticed the TV set. It was hanging on the wall directly behind me. The screen showed grainy black-and-white footage of the erupting volcano. At first there was only a trickle of flame, but then it ejected a blinding light, which billowed into smoke and debris. I surged with excitement; the other partygoers murmured and traded commentary. The eruption was happening at that moment, only 20 km away. News anchors as far away as Texas were frantically updated their viewers about this very volcano.
"I've lived here my whole life," said the woman next to me. "It's erupted many times. I don't even remember how many. It doesn't bother us in Turrialba. I like to see the eruptions. I took some pictures yesterday and shared them on Facebook."
The music continued to swell. The singers' voices sounded more robust than ever. The alcohol worked its way into my head, and I ordered another. The footage played over and over, the same long clip of pseudo-lava shooting into the sky. We could feel no tremor, hear no rumble, but the entire town sensed the eruption. We all knew what was happening. We were all sharing this monumental event, harmless but spectacular. It was like a meteor shower, a double rainbow, a four-leaf clover. It was a beneficent reminder of the hugeness of the natural world. I felt infinitesimal compared to this mountain, and also privileged to be so close.
When I finally melted into my mattress, I felt warm and giddy. I wouldn't snap my picture of the volcano, but that didn't matter anymore. I had been near enough. I had sensed the metamorphic exhilaration in the valley. Happy, mollified, I drifted into smoky dreams.
*
Robert Isenberg is a staff writer for The Tico Times. Keep an eye out for his book, "The Green Season," coming out soon. Visit him at robertisenberg.net.