I find no better way to spend my Saturday mornings that going to a local farmer's market (feria del agricultor). Because I'm still getting settled into my new digs, I don't have a lot in the way of foodstuffs in my empty pad. So this morning I set out to the feria en Guadalupe, just outside of San Jose, to see what 10,000 ($18.50) would get me.
In the supermarket, 10,000 doesn't get you a lot. The longer you're in Costa Rica, the more you'll hear people complain about how expensive it is. And it can be, if you don't know where to go. If you eat in touristy restaurants, shop as you would in your home country, or don't know any Spanish, it can be economically taxing. But if you're a bit adventurous, and don't mind trying out a few words of Spanish, you can not only save a lot of money, you can garner a deeper cultural experience.
They say that the best produce is available early in the morning, but I simply do not have the ability nor desire to rise at dawn in order to secure slightly nicer peppers. Second-tier produce is fine enough for my bachelor crapulence, thank you very much. I took my 10K bill, hailed a cab and made it to the market, located behind the Pilar Jimenez school. The ride cost me 1,500 colones ($2.75).
Because I've learned that shopping on an empty stomach is a bad idea, I made a beeline to the comedor, a covered section with some food stalls. I had a delicious plate of gallo pinto, eggs, and tortillas, with coffee. That was 1,800 colones ($3.30).
Then it was to the market. The chaos and sheer variety of fresh fruits and vegetables, many of which I have never seen in my native U.S., can be overwhelming. It can also be beautiful. You hear individual vendors barking out the prices of their wares, and the haggling provides a soundtrack to the tropical shades of green, red, yellow, and brown that festoon the tables. You can get fresh cheese, chicken, pork. You can buy clothes, goldfish, and toys. I opted only for the basics on this trip, as I'm just getting settled, but a more savvy chef can find all kinds of locally grown ingredients for damn near anything.
And without hipster pretensions or New Age jargon, everything in the feria is locally produced. Each stall is operated by a small farmer who makes the trek into town once a week share his bounty with the masses in town. You won't find avocados from Chile, or lettuce from Mexico. The avocados are from Orotina, the lettuce from Tierra Blanca. Shop at the feria and not only do you get inexpensive, healthful produce at a good price, but you're also supporting local farmers.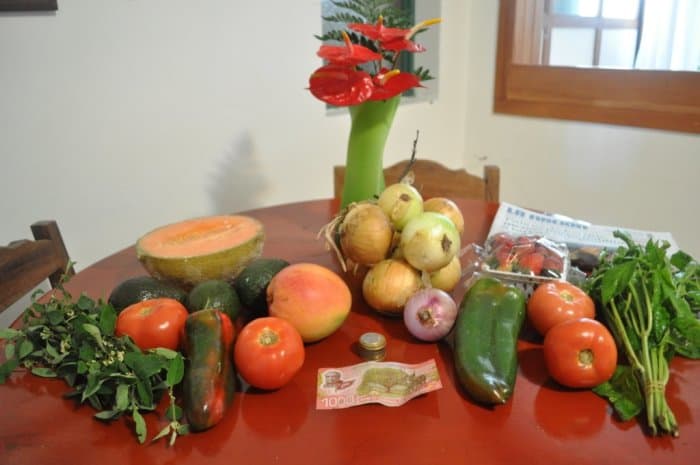 I took another cab home (1,500 colones, or $2.75) and took a look at my booty. I got avocados, tomatoes, peppers, a woven bunch of onions, fresh bundles of oregano and basil, strawberries, a mango, a cantaloupe, newspaper, and fresh-cut anthuriums for the vase. I also returned with 1,810 colones ($3.35). That means that everything on the table cost 3,590 colones ($6.60). Not bad.
And this will provide a base to grow upon for next week's feria, and the one after that. Even if you don't plan on buying broccoli or squash, it's worth making a trip if only to see how many Costa Ricans shop. It's a tradition. It's cheap. And it's fun.
There are over 70 ferias across the country, and they take place mainly on Saturdays or Sundays, from around 5am until 1pm in most towns of consequence. Ask around for the one nearest you, and at least go for breakfast. I guarantee you'll return home satisfied.