A bad month keeps getting worse for Bill Cosby. As recently as a week ago, 16 women had accused the veteran comedian of sexual assault. Now, that number stands at 20 — and the fallout is mounting.
On Wednesday, the Berklee School of Music and Cosby's alma mater, the University of Massachusetts at Amherst, became the latest institutions to cut ties with the 77-year-old comedian as more women stepped forward with accusations.
Cosby, who was awarded a Ph.D. in education from UMass-Amherst in 1977, had been an honorary co-chair of the university's $300 million fundraising campaign and one of its most distinguished alumni. He has donated between $250,000 and $499,999 to the school over the years and raised $1.5 million during a benefit performance in 2004, according to the Boston Globe.
Now, he is alumnus non grata.
"He no longer has any affiliation with the campaign nor does he serve in any other capacity for the university," university spokesman Edward Blaguszewski told The Washington Post.
The decision to break with Cosby came shortly after Berklee College of Music — which had given Cosby an honorary degree a decade ago — announced that it would no longer award a scholarship in the besieged entertainer's name. High Point University in North Carolina also announced that it has removed Cosby from its national board of advisers, the Globe reported.
And Freed-Hardeman University in Tennesseee canceled Cosby's scheduled appearance at a December benefit dinner for student scholarships, according to the Tennessean. "As important as this event is to our students, we know that names we have seen in the media represent real people who will be affected long after FHU's dinner has passed," Freed-Hardeman President Joe Wiley said. "Please join us in praying for healing and peace for those involved."
Cosby continues to serve on the Board of Trustees at Temple University, though NewsWorks.com reported that the school is under pressure to drop him as a member.
Cosby has been "publicly accused of raping, drugging, coercing or sexually assaulting 19 different women since 1965," according to a tally published by the Wrap. A 20th accuser came forward on Wednesday, when 73-year-old Donna Motsinger claimed that Cosby had drugged and raped her while she was working as a waitress in Sausalito, Calif. in 1971, according to the New York Post.
Other recent accusers include a 44-year-old Florida woman who has identified herself as "Jena T." and claims that Cosby forced her to engage in a sexual act when she was a teenage model in 1989. Also new to the list: Jewell Allison, another former model who claims Cosby drugged and sexually assaulted her after inviting her over for dinner in his New York home.
"We may be looking at America's greatest serial rapist that ever got away with this for the longest amount of time," Allison told the New York Daily News. "He got away with it because he was hiding behind the image of Cliff Huxtable."
According the Associated Press:
Cosby testified under oath in 2005 that he gave the National Enquirer an exclusive interview about looming sexual-assault accusations by a Canadian woman against him in exchange for the tabloid spiking a second accuser's story.

Excerpts released Wednesday of Cosby's deposition from a civil lawsuit filed by Andrea Constand quote Cosby as saying he feared the public would believe her sexual-assault accusations if the Enquirer published similar claims by Beth Ferrier. Both women accused Cosby of drugging and molesting them.

"Did you ever think that if Beth Ferrier's story was printed in the National Enquirer, that that would make the public believe that maybe Andrea was also telling the truth?" Cosby was asked.

"Exactly," Cosby replied, according to court motions initially filed under seal and made available from archived federal court records.

Cosby, in the deposition, said he had a contract with the Enquirer.

"I would give them an exclusive story, my words," Cosby said in the Sept. 29, 2005, deposition. In return, "they would not print the story of — print Beth's story."

The release of the documents comes after Cosby this month was shown on an Associated Press video trying to persuade the news cooperative not to use his response when asked this month about sexual-abuse allegations.

"I would appreciate if it was scuttled," Cosby said in a videotaped exchange with the AP on Nov. 6.
Cosby is also accused of leaking a story to the National Enquirer about his daughter Erinn's struggle with drug and alcohol abuse in order to suppress a different story, about his own behavior, in the tabloid, according to the New York Post.
With the accusations mounting, Cosby's career has been crumbling: NBC dropped plans to develop a new Cosby sitcom, Netflix canceled a planned Cosby special, and TVLand said it would stop airing "Cosby Show" re-runs. Cosby's comedy performances in at least two states have been canceled, David Letterman and Queen Latifah dumped him as a TV guest, and Comedy Central decided not to air a day-after-Thanksgiving rerun of a previously recorded Cosby special.
Cosby has plummeted from No. 3 to No. 2,615 on Marketing Arm's list of most trusted celebrities, according to the Wall Street Journal.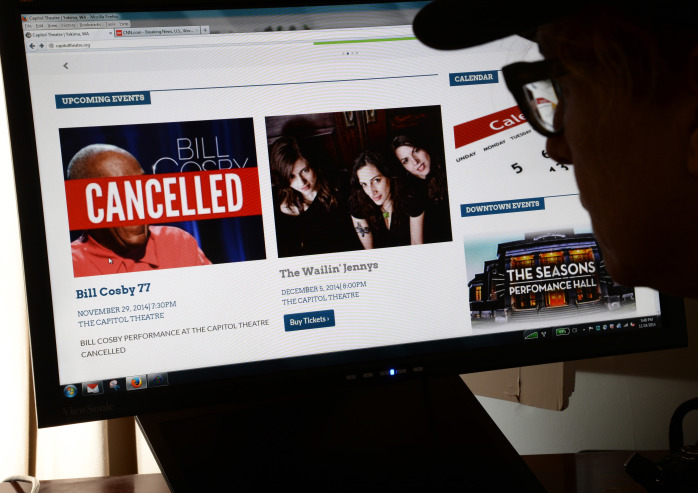 As the number of alleged victims grows, Cosby is not without his defenders. In an interview with Farrahgray.com, Cosby's nephew, Braxton A. Cosby, who serves as the CEO of Cosby Media Productions, expressed support for his uncle and said the allegations are part of a larger effort to destroy the positive content produced by his company.
"I believe he is innocent and unless the judicial system can prove otherwise, I stand behind him and his contributions," he told the site.
"I know people are tired of me not saying anything, but a guy doesn't have to answer to innuendos," Cosby told Florida Today on Nov. 21 before performing a show in Melbourne, Florida. "People should fact-check. People shouldn't have to go through that and shouldn't answer to innuendos."
One of Cosby's attorneys, Martin D. Singer, issued a written statement last week denying the claims.
"The new, never-before-heard claims from women who have come forward in the past two weeks with unsubstantiated, fantastical stories about things they say occurred 30, 40, or even 50 years ago have escalated far past the point of absurdity," Singer wrote. "These brand new claims about alleged decades-old events are becoming increasingly ridiculous, and it is completely illogical that so many people would have said nothing, done nothing, and made no reports to law enforcement or asserted civil claims if they thought they had been assaulted over a span of so many years.
"Lawsuits are filed against people in the public eye every day. There has never been a shortage of lawyers willing to represent people with claims against rich, powerful men, so it makes no sense that not one of these new women who just came forward for the first time now ever asserted a legal claim back at the time they allege they had been sexually assaulted.
"This situation is an unprecedented example of the media's breakneck rush to run stories without any corroboration or adherence to traditional journalistic standards. Over and over again, we have refuted these new unsubstantiated stories with documentary evidence, only to have a new uncorroborated story crop up out of the woodwork. When will it end? It is long past time for this media vilification of Mr. Cosby to stop."
© 2014, The Washington Post