WASHINGTON, D.C. – Costa Rica has displaced Panama as the best-prepared country in Central America for climate change, according to data released last Wednesday by the University of Notre Dame Global Adaptation Index (ND-GAIN).
ND-GAIN is the world's leading annual index that ranks 178 nations based on their vulnerability to climate change and their readiness to adapt to the droughts, superstorms and natural disasters that climate change can cause.
Leading this year's index is Norway, with a score of 82.7 out of 100, followed by New Zealand, Sweden, Finland, Denmark, Australia, the United Kingdom, the United States, Germany and Iceland.
The world's least-prepared country is the landlocked African nation of Chad, with a score of 31.6. Other countries ranking toward the bottom of the ND-GAIN index were Burundi, Eritrea, Central African Republic, Congo, Sudan, Niger, Afghanistan and Haiti.
Central America ranks somewhere in the middle, with Costa Rica at 69th place and a score of 58.2, followed by Panama (56.6), Belize (50.3), El Salvador (49.5), Nicaragua (49.1), Guatemala (48.5) and Honduras (45.3).
In 2012, Panama ranked highest in the region, with a score of 67.2 – followed closely by El Salvador, Belize, Honduras, Nicaragua and Guatemala.
"This 2014 index captures the latest in vulnerability and readiness data and research," said Jessica Hellmann, ND-GAIN's research director. "In Norway and other members of the ND-GAIN leaderboard, we see role models in countries positioned to adapt to climate change. We also see a need for improvement. Not even the most developed countries are risk-free and completely prepared to deal with climate change."
Hellmann was one of several speakers to address ND-GAIN's annual meeting Nov. 5, hosted by the Wilson Center, a nonpartisan global public policy institution. She noted that three of the seven countries declining most in rank from 2013 to 2014 are in Central America: Guatemala (-26), El Salvador (-30) and Belize (-39).
"ND-GAIN continues to be an open, transparent and actionable index, which has been conceived with the aid of open-source, state-of-the-art data and analysis tools," said Nitesh Chawla, the organization's index director. "ND-GAIN also is preparing a scenario-analysis tool for users to conduct 'what-if' analyses and evaluate the impact of different possible action plans. This actionable nature of the index, and the tools we have, allows us to provide customized products to partners and other interested parties."
Although Central America accounts for only 0.5 percent of global greenhouse gas emissions, scientists consider the region a "hotspot" for climate-related damages in the future, along with sub-Saharan Africa, Bangladesh and the Maldives. Central America's seven countries also suffer a disproportionate share of the consequences of global warming, including floods, hurricanes and other natural disasters.
"Central America is not as prepared as it could be, and part of that is directly linked to the lack of public policies in place," said Juan José Daboub, founding CEO of Notre Dame's Global Adaptation Institute and a member of the ND-GAIN advisory board. "The other reason has to do with the inability to attract more local and foreign direct investment to these areas that represent vulnerabilities."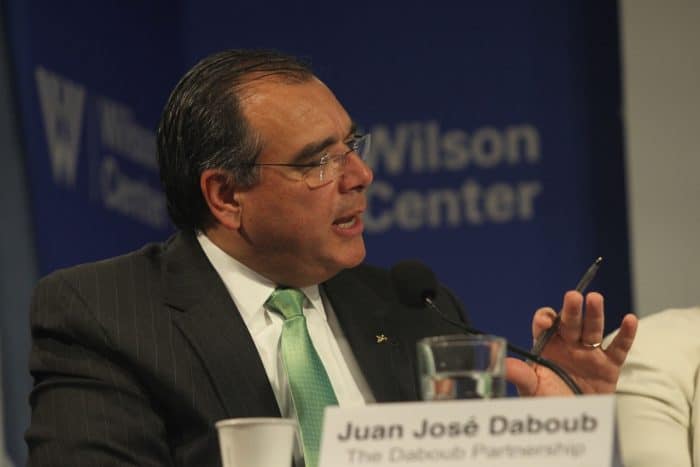 Related: Drought hits Central America's crops, cattle
Daboub is a former finance minister of his native El Salvador, and is also former managing director of the World Bank. He said the world must spend $30 billion to $100 billion annually for the next 25 years just on adaptation. That doesn't even include mitigating the effects of climate change. Of that total, Central America will need to spend around $1 billion a year.
Since no government can possibly cover that cost, the answer can only come through private-sector investment – especially since it doesn't appear likely that the world will come to an agreement on reversing climate change anytime soon.
"My country, El Salvador, went literally from hardship to investment-grade in a relatively short period of time," Daboub said. "We used to use indicators very similar to the ND-GAIN to persuade, convince and encourage policymakers to adapt the right, proven policies to change the future of our country. This means opening up the economy and investing in health and education."
He added: "The different matrixes used in ND-GAIN allows any decision-maker to dive in and see, for example, how come Costa Rica is doing better than El Salvador in access to clean water. We use tools like that to help move the needle and attract investments. When you implement the right public policies, you'll open the eyes of private investors."
For example, he said that in El Salvador, municipalities operate the water system much more efficiently than at the federal level, and that privately owned coffee plantations do a better job than most municipios at running waste treatment plants.
"Most of our countries have done nothing or very little to improve efficiency," he said. "If you want to fix the problem, you need a public policy that allows for private-sector investment."
Asked how climate change can be a major concern to Central American governments already overwhelmed by gang violence, drug trafficking and corruption, Daboub said the region can't afford not to deal with it.
"Politicians all over the world are always thinking about the next election, not the next generation," he told The Tico Times. "Of course, the issue of security has to be addressed. You can't ignore it when the homicide rate is 70 or 80 per 100,000. The problem is that advocates of climate change on the mitigation side talk about something that can happen 30 years from now – whereas we are talking about something that's happening now. It cannot be ignored."