Pamela Moffet Ferris was about to fly from the United States to Daniel Oduber Airport in Liberia, in the northwestern province of Guanacaste, when suddenly she remembered: She would have to hire a taxi to her rented home on Lake Arenal. After all, there is no public bus that goes directly from Liberia to Arenal, and she would be arriving late. But when she ran an Internet search for taxistas in the region, she struggled to find a single listing, or even a phone number.
"I thought, 'This is ridiculous,'" Ferris remembers. "There are at least four cab drivers in town, and none of them are online. And that's where the idea came from."
Ferris and her husband Ron made a plan: They would create a website that listed local businesses in the Arenal area, which would help visitors to the region find them. The result is Lake Arenal Businesses, a simple site that aggregates numbers and addresses for local companies. The directory includes a wide variety of organizations and services, from hotels and pharmacies to construction and veterinarians.
The Ferrises' project addresses a common problem in Costa Rica, especially outside the Central Valley: Small businesses are often hard for foreigners to find online, even businesses geared toward tourists and travelers. While an enormous number of companies have a presence on Facebook, such listings are often hard to find on a regular search engine like Google or Bing. Phone numbers are often outdated, and in a country that generally lacks street addresses, precise physical directions can be a headache.
Pamela Ferris works as a freelance copywriter and Ron works in the aerospace industry. After nine years in San Diego, California, the couple experienced some professional hiccups and wanted to try somewhere new. They sold their house and moved to Ecuador for three months. After they ultimately decided it wasn't the ideal setting for the expat life they wanted, they moved to Costa Rica, making their home in the Lake Arenal region and meeting a variety of local people. "We really tried to immerse ourselves," says Ferris. "We wanted to help. We thought, 'How can we help them get online, so that the rest of us can find them?'"
The task proved to be more challenging than they expected. In many cases, owners simply logged into the site, submitted their listing, and waited for manual approval from either Pamela or Ron. But in order to make the site comprehensive, the Ferrises decided to reach out to the community as well. They visited businesses on foot, carrying a GPS-equipped tablet with them in order to trace exact coordinates. Together they have indexed 54 businesses so far, covering a large swath of land from Nuevo Arenal on the north side of the lake to the western town of Tilarán.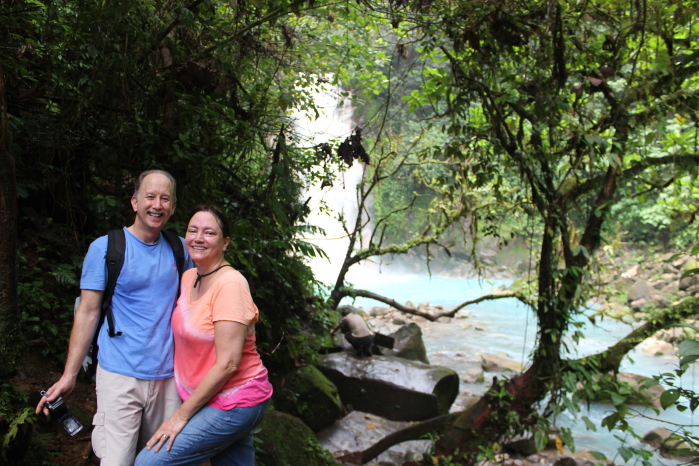 Their project is young, and success has been modest. Pamela says the site has attracted between 200 and 350 page views per month, with virtual visitors from Costa Rica, the United States, and even Chile and Russia.
The irony of their venture is that the Ferrises needed to rebuild their finances and recently moved back to San Diego to earn money. They continue to monitor the site from afar, as they hope to return to Arenal in fall of 2015.
"We're too young to retire, so we call it pre-tiring," quips Pamela with a laugh. "We seriously thought, if [the site] takes off, we could add a page for different parts [of Costa Rica]. I think it would be an amazing service for the local communities."
"I absolutely love Costa Rica," she added. "We'll definitely be back."