WASHINGTON, D.C. – The New York Times called for the legalization of marijuana on Saturday, in a bold editorial comparing the federal ban on cannabis to Prohibition.
The prestigious publication said pot laws disproportionately impact young black men and that addiction and dependence are "relatively minor problems" — especially when compared with alcohol and tobacco.
"It took 13 years for the United States to come to its senses and end Prohibition, 13 years in which people kept drinking, otherwise law-abiding citizens became criminals and crime syndicates arose and flourished," the newspaper said.
"It has been more than 40 years since Congress passed the current ban on marijuana, inflicting great harm on society just to prohibit a substance far less dangerous than alcohol. The federal government should repeal the ban on marijuana."
Noting that the editorial board reached its conclusion after much discussion, The Times described the social costs of marijuana laws as "vast."
Citing FBI figures showing there were 658,000 arrests for marijuana possession in 2012 — far higher than for cocaine, heroin and their derivatives — it said "the result is racist, falling disproportionately on young black men, ruining their lives and creating new generations of career criminals."
While advocating for a ban on marijuana sales to those under 21, the paper also said the "moderate use of marijuana does not appear to pose a risk for otherwise healthy adults."
The call comes just weeks after recreational pot sales began in the western U.S. state of Washington, which followed Colorado's decision to let people buy marijuana with no medical prescription.
And earlier this month, Governor Andrew Cuomo signed a bill making New York the 23rd state to legalize marijuana for medical use.
In another recent move reflecting growing public support for easing marijuana laws, the House of Representatives voted in May to bar federal authorities from raiding medical marijuana facilities or growers in states that have legalized its use.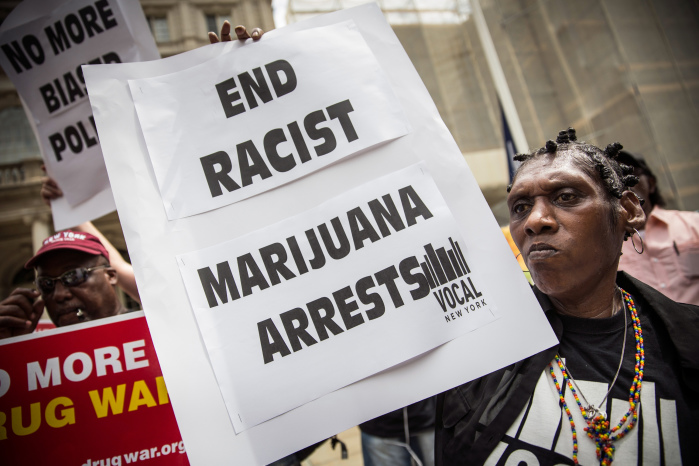 Call sparks reader reaction 
The Times editorial, titled "Repeal Prohibition, Again," kicks off a series of pieces on the issue by members of the editorial board and invites readers to weigh in.
The first have already done so, with their views posted on the newspaper's website.
E.S. Lawrence, a self-described 20-year veteran high school teacher, expressed concern about children getting access to the substance, describing it as a "gateway drug" with detrimental effects on memory and learning.
"It's NOT a benign drug. As long as there's a danger of pot being acquired by children, I'm against legality," Lawrence posted.
But Emmett Hoops argued that legalization would allow for both taxation and regulation, adding that "mere decriminalization keeps profits in the hands of criminal gangs."
"It is beyond ridiculous to keep marijuana illegal while tobacco and alcohol kill scores every day in our state," Hoops, from New York, posted.
In January, President Barack Obama made headlines when he said smoking pot was no more dangerous than drinking, though he called the practice a "bad idea."
In comments to The New Yorker magazine, the U.S. leader also noted that poor minority youths were more likely to get prison time for using marijuana than their richer counterparts.
However, he stopped short of calling for legalizing the drug at the federal level.