BERLIN — Investigators are still far from an official judgment of what brought down a Malaysia Airlines flight in eastern Ukraine, killing all 298 passengers and crew onboard. But in the global court of public opinion, the verdict appears to be rendered.
Vladimir Putin is guilty.
The Russian president could once claim a semblance of a role as a global statesman. But with the downing of a commercial airliner by what U.S. and Ukrainian officials suggest was a Russian missile, supplied to pro-Moscow rebels, Putin was facing a personal barrage of worldwide condemnation that threatened to result in further sanctions on Russia if it did not rapidly change course in Ukraine.
Australia has raised the prospect of banning Putin from a meeting of the Group of 20, the world's most powerful nations, in November if he did not exert more pressure on the rebels who left corpses strewn on the ground for days, contaminated the crash site and hampered an international investigation. Britain, meanwhile, openly accused the Russian leader of sponsoring "terrorism." U.S. Secretary of State John Kerry, appearing on multiple political talk shows Sunday, called this a "moment of truth" for Russia.
Particularly in Europe — a continent long leery of going too far to pressure Moscow over its support of separatists in Ukraine — initial shock was quickly gathering into outrage and action.
On Sunday, German Chancellor Angela Merkel, French President Francois Hollande and British Prime Minister David Cameron held a joint phone call on Russia. A Downing Street spokesman said the three leaders agreed that the European Union "must reconsider its approach to Russia and that foreign ministers should be ready to impose further sanctions on Russia when they meet on Tuesday."
It suggested a possible turning point in the way Europe — the region with the most economic leverage over Russia — has tactically managed Putin to date.
"Russia did it and Mr. Putin must pay, politically and economically," demanded The Sunday Times of London.
Perhaps nowhere was the mood shifting more than in Holland — a liberal land of legalized marijuana and the origin of the downed flight that cost 192 Dutch citizens their lives. Prime Minister Mark Rutte joined in the drumbeat for a shift in Europe's relationship with Moscow. Rutte on Saturday said he had a "very intense telephone conversation" with Putin, telling him "the opportunity is fading to quickly show the world that he is serious about wanting to help. He has to take responsibility now."
His comments came as the deep sadness that seemed to consume many Dutch at first began to gradually give way to anger.
The change was spurred by horrific scenes of dead bodies left uncollected at the crash site, and, later, by the unceremonious loading of corpses onto trains. As of late Sunday, the rebels had allowed hundreds of volunteers to comb the wreckage but were still refusing to cede authority of the crash site to the Ukrainian government.
"Now, we are more angry because of the disrespectful way [the pro-Russian rebels] are treating us, the way they are treating the bodies," Marjolein Pel, 60, of Amsterdam, said Sunday as she prepared to leave on vacation with her family from Amsterdam Airport Schiphol.
Pel criticized Rutte for at first seeming too calm. But, she said, "I saw yesterday he was angry, too."
"But not enough," added her son, Immanuel Bulo, a 19-year-old student.
"Not enough," Pel agreed.
Recommended: Passengers on downed jet span cross-section of life, experience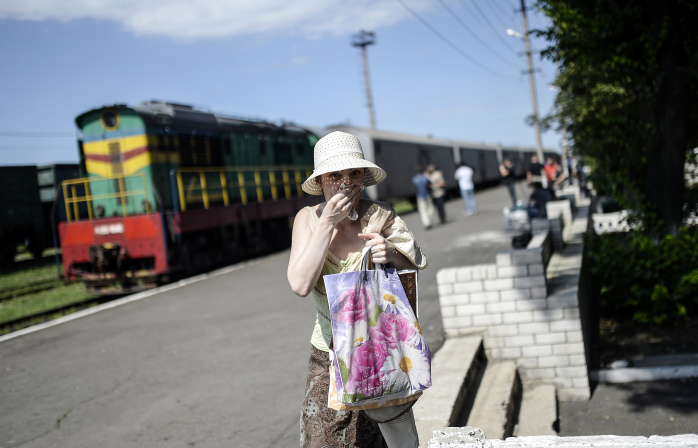 Europe's strong economic ties to Russia offer it the greatest leverage against Moscow in the bid to force Putin to abandon support for the rebels who for months have staged a bloody insurgency in Ukraine's east in opposition of the new pro-Western government in Kiev.
But the E.U. has thus far enacted several rounds of sanctions that have had limited impact and have not gone as far as those slapped on Moscow by the United States. In addition, the region is known for painstaking and lengthy rounds of consensus diplomacy before taking action. And despite the surge in anger, it remained unclear whether pressure would ultimately increase to the point of triggering the kind of powerful sanctions that could severely damage sectors of the Russian economy.
Confrontation could carry huge risks for Europe, which relies on Russia for 30 percent of its oil and natural gas, and fears that Putin could respond by cutting off energy supplies. Europe is also reluctant to jeopardize the Russian cash that flows into everything, from London bank accounts and luxury apartments to the high-end hotels and boutiques of Paris and Rome.
In some E.U. countries that have resisted strict sanctions, there was little immediate indication of a fresh willingness to get tough. In Italy — a country with strong economic ties to Russia and where Foreign Minister Federica Mogherini has been accused by some of being too pro-Moscow — the government had yet to signal a shift.
Italian Prime Minister Matteo Renzi "never admits he is wrong," said Lucia Annunziata, a Rome-based journalist and political analyst. "He is going to face a difficult position now because I don't think they are ready to take any major steps."
But across the continent, the anger aimed at Putin was palpable, perhaps giving political leaders more room to maneuver.
"Russian Responsibility," declared El Pais, the leading newspaper in Spain, one of several nations in Europe that had previously offered tepid support for tough Russian sanctions. "What happened in European skies last Thursday . . . was a flagrant transgression of the status quo that has guaranteed the security of the continent since the end of World War II."
After accusing Putin of sponsoring terror, Britain's Defense Secretary Michael Fallon bluntly demanded in an interview with the Mail on Sunday that Russia "get out of east Ukraine and leave it to the Ukrainians."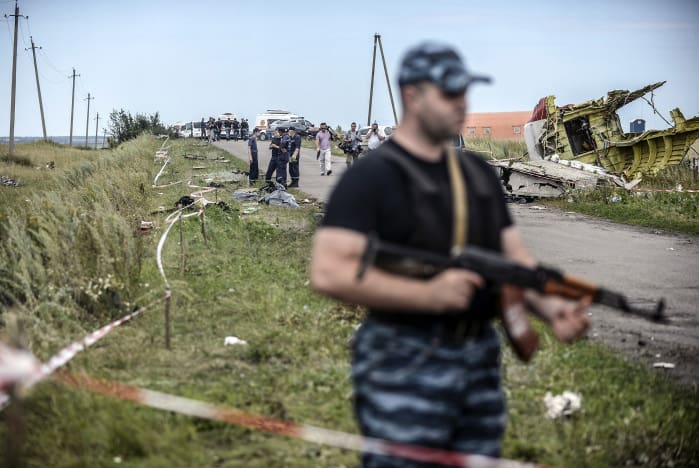 Taking a swipe at European countries that have thus far demurred on a harder line, Cameron penned a Sunday Times op-ed piece saying "it is time to make our power, influence and resources count."
"Many Europeans believe that conflicts can always be solved with good will and lots of diplomacy," said Germany's center-left newspaper Suddeutsche Zeitung. "The Russian president should make them think again. Putin isn't seeking compromise. He wants to disintegrate Ukraine so it doesn't go West."
Pivotal to calculations is the position of Germany, which has traditionally maintained the strongest ties to Russia of the major European powers, and where Merkel has increasingly taken a hard line with Putin. Merkel went to lengths on Friday to underscore the difference between Putin and the rebels, but the German line has since appeared to get tougher.
In an interview with the Bild tabloid on Sunday, Foreign Minister Frank-Walter Steinmeier called on Russia to force an immediate cease-fire on the rebels.
"It might be Moscow's last chance now to show that it really is seriously interested in a solution," he said.
Washington Post staffers Todd Frankel and Ferry Biedermann in Amsterdam, Karla Adam in London and Stephanie Kirchner in Berlin contributed to this report.
© 2014, The Washington Post