GAZA CITY, Gaza Strip — All night, the people of Gaza heard rumors of what was happening in Shijaiyah, the town glowing orange on the horizon, the scene of the most intense Israeli bombardment of the 13-day-old conflict.
Then, during a brief cease-fire Sunday, they got a closer look.
After a few hundred yards, Shijaiyah's main boulevard became impassable for vehicles because of shredded trees and downed power lines. House after house showed signs of heavy damage and raging fires from sustained shelling by tanks and artillery.
Shattered glass and household belongings — a stuffed animal, a pair of undershorts, a bag of mangos — were strewn on the sidewalks. Charred automobiles and at least two abandoned ambulances blocked the way.
The earliest responders found bodies in the streets.
The Gaza Health Ministry, run by Hamas, says that at least 70 Palestinians died in the Shijaiyah offensive, including at least 17 children and 14 women. Thirteen Israeli soldiers were also slain, seven of them when a mine blew up under their armored vehicle, military officials said.
Reporters who arrived in the midafternoon during the cease-fire, arranged by the Red Crescent humanitarian organization, witnessed chaotic scenes of ambulance drivers struggling to fill their bays with wounded. On one street, seven stretchers were carried out of the rubble in 10 minutes. Some of the injured looked near death. Armed militants dashed down the street, their faces covered by checkered scarves.
Journalists who arrived a little later were turned back by a man firing an automatic rifle into the air and screaming, "Only ambulances!"
Israeli military officials said that Shijaiyah was an important and legitimate target — a stronghold for militants and a launchpad for constant rocket fire at Israel, with a dense urban population living atop a warren of tunnels used by militant wings of Hamas and Islamic Jihad.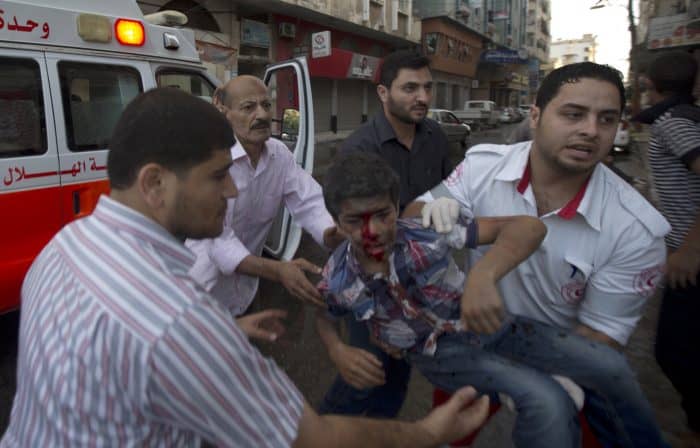 Capt. Eytan Buchman, a spokesman for the Israel Defense Forces, said the assault on Shijaiyah was intended to destroy Hamas tunnels and was not part of an effort by Israeli troops to move into the urban core or reoccupy the Gaza Strip.
The district is less than a mile from the Israeli border, he said, and many of Hamas's tunnels are that long. The militants, he added, were fighting back fiercely.
Sami Abu Zohri, a Hamas spokesman, called the Israeli offensive in Shijaiyah "a massacre against civilians and a war crime." He promised that "it will not break the people's will. The resistance will continue."
In the early morning, thousands of panicked residents were fleeing the overcrowded community of shops and homes and heading into Gaza City.
"I saw dead and injured on the street. I couldn't help them. I couldn't carry them. I had my arms full with my own children," said Jalal Ghoula, an unemployed police officer who sat slumped in the shade of a brick wall outside the Shifa Hospital, Gaza's largest medical center.
Ghoula said that residents had been warned by the Israelis to evacuate but that many would leave the area briefly and then return. The United Nations is offering refuge in 60 vacant schools but provides the barest minimum — temporary safety, potable water and a floor to sleep on.
"One of our neighbors ran out of his house and left behind his son," a 4-year-old, Ghoula said, explaining that the man was confused and terrified. "He forgot him!"
Ghoula left on foot with 32 relatives, including 19 children. "Only God saved our souls," he said.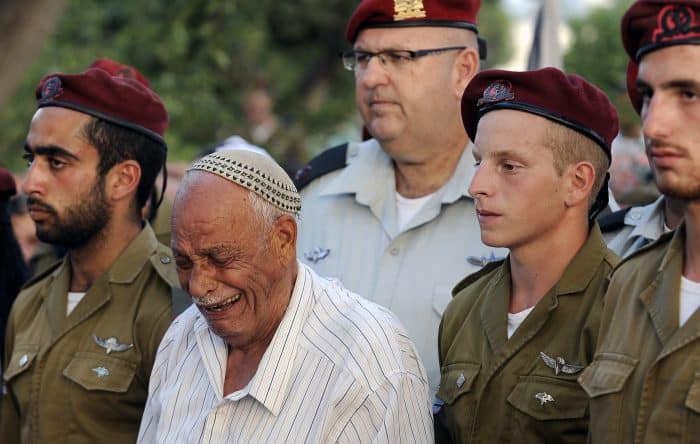 Inside the hospital, emergency rooms were overflowing with patients.
"We're completely full," said Sohbi Skaik, a surgeon and medical director. "We are operating in the corridors."
Asked what kind of injuries he was seeing, Skaik said, "All kinds! Everything. Every way they are dying."
"This is the worst I have ever seen," the physician said. "They are targeting whole families. Killing whole families. The number of children, the number of women. This is against life. This is inhumane."
In Gaza City, evacuees who arrived from Shijaiyah were being allowed to shelter in the lobbies of buildings, in corridors. They were exhausted, desperate, afraid and asking for food.
Washington Post staff writer Ruth Eglash in Kfar Aza, Israel, contributed to this report.
© 2014, The Washington Post