SÃO PAULO – Visions of a World Cup punctuated by protests and violence in Brazil are fading as the highest scoring tournament in a half century wins over fans in the first four days of matches.
The first 12 games of the 2014 World Cup included five come-from-behind wins, upsets of defending champion Spain and No. 7-ranked Uruguay and no ties. The 41-goal spectacle took the edge off of public outrage over white elephant stadiums burdening public coffers and failed urban infrastructure projects, concerns that fueled Brazil's biggest demonstrations in two decades last June.
While protesters have continued to denounce the event's $11 billion cost, unrest was eclipsed by celebrations in São Paulo's Vila Madelena neighborhood after the national team came back to beat Croatia 3-1. Argentines flooded into Rio de Janeiro's Copacabana beach to watch Lionel Messi play at the Maracana stadium. The momentum even prompted a rebuttal by President Dilma Rousseff three days after she was jeered by Brazil fans at the opener, warning World Cup naysayers not to confuse politics with soccer.
"Four days before the World Cup, there was an enormous concern over protests in the streets, but the atmosphere is changing," said Marcos Troyjo, an adjunct professor at Columbia University's School of International and Public Affairs, in a telephone interview from Rio de Janeiro. "We're north of 30 goals scored and there have been a number of surprises. The matches are good, the stadiums look great on TV, and the level of discontent voiced on the streets at least in the past two days has been toned down. The World Cup is landing."
There have been 3.4 goals per match since the World Cup began on June 12. If the ratio is sustained throughout the month-long tournament, it'd be the highest average since the 1958 event in Sweden.
Highlights include a diving header by Netherlands forward Robin van Persie to help defeat Spain, which beat the Dutch in the 2010 final in South Africa, and Costa Rica's three goals to upset higher-ranked Uruguay.
Teachers demanding better salaries were among 150 protesters that marched on Mane Garrincha stadium in Brasilia Sunday, chanting songs against Rousseff's handling of the World Cup. They were outnumbered by police monitoring the march.
A few hundred protesters marching on Rio's Maracana stadium with signs reading "FIFA Go Home" were met by military police officers, who responded to protesters throwing molotov cocktails by deploying pepper spray, tear gas, and rubber bullets, the state security secretariat's press office said in an email statement.
The Associated Press reported it has a video allegedly showing a Brazilian police officer firing what appears to be a live pistol round at protesters near the stadium.
The officer who fired his weapon has been removed from policing protests and will give a deposition for an internal affairs investigation to determine if there was any "irregularity" in his conduct, the Military Police's press office said in an emailed statement. It is not yet clear whether he was firing at protesters, the press office said.
Saint Clair Milesi, spokesman for World Cup organizing committee, told reporters in Rio Monday morning that the incident occurred outside the stadium and is the responsibility of local law enforcement officials.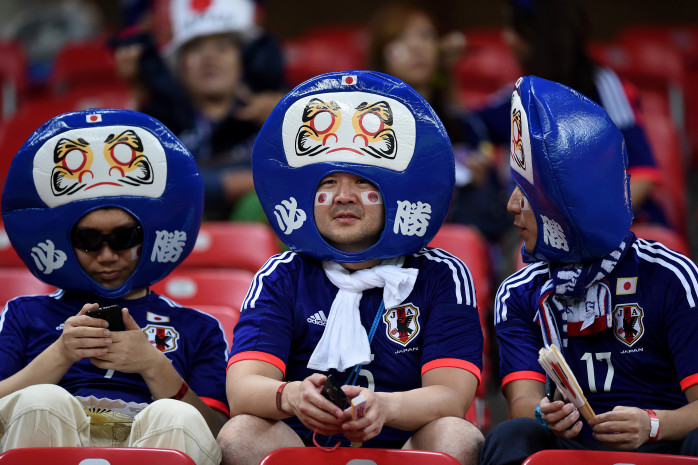 In the beach-front city of Fortaleza, taxi driver Josivan Freitas, 46, waited for customers at the seafront near a group of Mexico fans. The city hosted the Costa Rica-Uruguay game and will hold Brazil's match against Mexico on June 17.
"There has been some mindless violence with the protests," he said. "But now it's time to enjoy soccer."
While work on Brazil's airports remained unfinished as the World Cup started, that hasn't yet caused problems for fans crisscrossing the country to attend games in 12 cities from Manaus, the capital of northern state of Amazonas, to Porte Alegre, in Brazil's South. Yesterday, a group of Chilean fans chanted for their team as they waited at a luggage carousel in Rio's Galeao airport. Nearby Argentines responded with songs of their own.
"There's a predominant climate of fraternization," Rousseff told reporters in Brasilia late Sunday.
Rousseff said the mood shift reminded her of when she watched the 1970 World Cup while imprisoned by Brazil's military dictatorship. The advance of Brazil's national team in that event began winning over fellow inmates who had refused to support the squad because they expected victory would only strengthen the military regime, she said.
"Brazil's team represents our nationality," she said in an emailed statement. "It is above governments, political parties and interests of any groups."
With assistance from Alex Duff in Salvador, Brazil, Juan Pablo Spinetto, Tariq Panja and David Biller in Rio de Janeiro and Mario Sergio Lima and Raymond Colitt in Brasilia Newsroom.
© 2014, Bloomberg News