Johnny Araya never fails to surprise me. Like most Costa Ricans, about a year ago I thought it inevitable that he would become President Laura Chinchilla's successor, and that the opposition had little or no chance of beating him. But sometimes politics is unpredictable.
Araya's resounding descent in popularity among voters is surprising in itself, but even more jarring are the campaign decisions made by the candidate and his group of close advisers, who not only have made him more unpopular, but who also appear to be accelerating the process.
Here are some of the biggest errors committed by Araya and his campaign managers in just a few months:
1. Patronage. Wife Sandra León's failed health care caravans, instead of harvesting votes from the humblest sectors, threw Araya into the eye of the hurricane at an early stage in the campaign.
It seems that little by little something is changing in Costa Rica. This time around, this type of populist and insolent campaign to which we were so accustomed for many decades, and which always was an indispensible ingredient for electoral processes in the era of bipartisanship, was vehemently condemned.
Araya bet on continuity and a traditional form of politics, and by all appearances, he lost.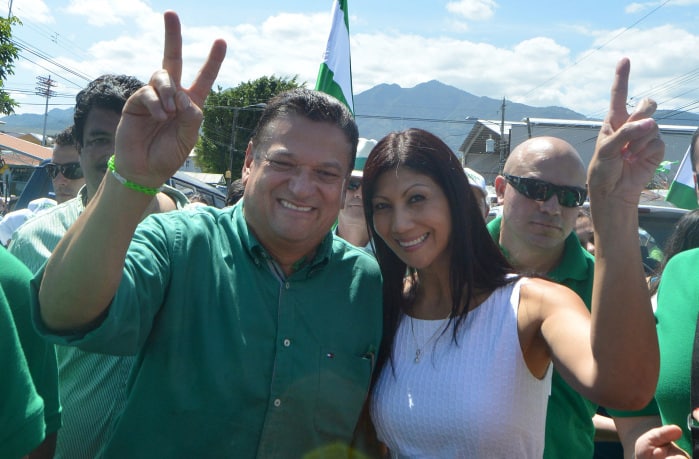 2. The absent candidate. Johnny Araya was overly confident about his advantage in the polls, and he afforded himself a luxury that is highly unusual in politics. He skipped several debates, particularly at the start of the campaign. The image of the "absent candidate" unwilling to defend his ideas and face questions gained momentum as the days passed, and voters began to question why the ruling-party candidate didn't show his face – a tactic that had served him well in two decades as San José mayor.
3. "Hire me." "Hire me" is the worst campaign slogan we have seen in a long time in Costa Rica (except for Luis Fishman's famous "least bad option").
¡Usted me conoce! #contráteme https://t.co/GGwEVbrZb7

— Johnny Araya (@Johnny_Araya) October 31, 2013
Not only is it a bad concept, but it also refers to a candidate who served as mayor of the capital city for 22 years in an administration that offered more shadows than light; the argument is simply ridiculous. The result of this "creative" publicity: Araya was ridiculed for weeks until he came to his senses and withdrew the campaign.
4. Firing shots at the wrong target. Araya and the National Liberation Party aimed their political artillery at the Broad Front Party and José María Villalta, reviving in the process the ghosts of communism in Costa Rica. They promoted a campaign of fear – of which they are well versed – but they targeted the wrong rival. Villalta wasn't the greatest threat to Liberation's dream of a third consecutive term, and in their zeal to destroy him, they neglected another candidate who struck a powerful right hook that knocked Araya out in the first round.
5. Araya and the PLN seem desperate and reckless. Araya's Feb. 2 speech had a bitter tone of defeat to it. It seemed haphazardly thrown together, with a poorly worded message of gratitude for supporters, and a weak rally call for a second-round comeback. Araya seemed incapable of inspiring Liberationists to double their efforts heading to April 6. Since then, the actions PLN operators have taken have seemed poorly calculated.
The most recent example of clumsy campaign politics by the PLN occurred when Araya was paid a visit by a Tax Administration official accompanied by members of the press who asked Araya for information about supposed purchases. Araya appeared to respond with instinct instead of political calculation, admitting in a press conference that he had personally telephoned Finance Minister Edgar Ayales to demand an explanation.
He admitted doing this without a hint of remorse, as if it were normal for citizens with pending tax issues to directly telephone and interrogate a government minister.
Araya also failed to take into account that on several occasions he publicly stated he would keep Ayales on his Cabinet should he be elected president. In other words, the future boss was calling the future employee to hold him accountable.
We all know the accurate term to describe this practice, and we all know that it is something that occurs daily. What doesn't occur daily is a presidential candidate confessing to the press that he has just exercised an inelegant form of influence peddling.
As a citizen and voter, Araya constantly surprises me. The capacity for error in political strategy that his campaign has shown is astounding, and I don't see any evidence that they will change course and straighten the ship. In a few weeks, we'll see at which port the PLN ship arrives. But I doubt there's any water left at Zapote.
Nancy De Lemos is a journalist and former director in Costa Rica for the news agency EFE. A graduate of the University of Costa Rica, she now works in communication for global environmental NGOs.