MEXICO CITY – Joaquín "El Chapo" Guzmán, the man who supplied more illegal drugs to the United States than anyone else on Earth, was captured by the Mexican military without a shot Saturday morning in the Pacific coast town resort of Mazatlán, according to U.S. and Mexican authorities.
The arrest of the world's most wanted drug lord was electrifying news in Mexico and a major political victory for its president, Enrique Peña Nieto. On Saturday afternoon, Peña Nieto confirmed the capture in a tweet and thanked his security forces. "Congratulations to all," he wrote.
Reconozco la labor de las instituciones de seguridad del Estado mexicano, para lograr la aprehensión de Joaquín Guzmán Loera en Mazatlán.

— Enrique Peña Nieto (@EPN) February 22, 2014
Guzmán runs an organized crime empire that spans several continents and earns billions of dollars. Guzmán built a shipping and transport empire that plied air, sea and roads to sate the world's demand for cocaine, heroin and marijuana. From Los Angeles warehouses to Chicago barrios, his employees criss-crossed America to supply their customers.
His Sinaloa cartel is the grandfather of Mexican drug-running organizations, the wealthiest and most powerful corporation in the business, whose riches have corrupted generations of Mexican politicians and corroded the nation's democracy.
"He's a legend," said security analyst Jorge Chabat in Mexico City. "He is the jewel of the crown."
Mexican television broadcast photographs of a shirtless, mustachioed Guzmán looking down at the ground. News reports said he had been captured by members of the Mexican military on Friday night in a building known as "Miramar" in the resort town of Mazatlán.
Guzmán separated himself from other drug lords due to his longevity and ability to evade the law for years. Captured in Guatemala in 1993, he was sent to Mexico's high-security Puente Grande prison only to escape in 2001 on the eve of his extradition to the United States. Legend has it that he sneaked out in a laundry cart.
Guzmán has been on the run ever since, periodically surfacing in Mexican beach resorts, Central American villages, even South America, only to vanish before authorities arrived. With each passing year he became wealthier and more powerful – Mexico's mythical outlaw – with a reputation comparable only to fallen Colombia drug lord Pablo Escobar. He had a beauty queen wife and a reputation for generosity among his followers that elevated him to folk-hero status. Under Mexico's previous president, Felipe Calderón, the appetite to capture Guzmán was so ravenous that Mexico ran at least three full-time kill-capture units dedicated solely to pursuing him.
Dicen que fue @SEMAR_mx la que capturó a Guzmán Loera. Felicidades al Presidente Peña, al Srio. @AlmSoberon y a los marinos por este golpe.

— Felipe Calderón (@FelipeCalderon) February 22, 2014
Yet Guzmán was not flashy or flamboyant, quietly building his billion-dollar narcotics empire through well-placed bribes and overwhelming firepower. He directed an army of hit men who murdered thousands. His strong-armed push to take control of the border city of Ciudad Juárez produced the drug war's biggest bloodbath.
Unlike Mexico's widely-despised, upstart crime syndicates like Los Zetas or The Knights Templar, his Sinaloa cartel largely eschewed extortion and kidnapping. Instead, it focused on the lucrative business of delivering vast quantities of marijuana, cocaine, heroin and methamphetamine into the United States.
Guzmán was born into the trade. The son of a dirt-poor peasant farmer, he grew up in the "Golden Triangle" region of Mexico's Sierra Madre mountains that is the heart of North American marijuana and opium poppy production. He didn't make it past third grade but was mentored by the local drug lords of the era and set himself apart as a smart operator and fearless gunman.
The same remote mountain communities and tight-lipped locals have helped him elude capture for so long, despite costly, all-out efforts by U.S. and Mexican authorities to catch him. He was said to move between a network of ranches and hideouts high in the mountains, where local farmers referred to the 5-foot-6 Guzmán in hushed voices as "El Señor," meaning "The Boss," or "The Lord," and not by his popular nickname "Chapo," meaning "Shorty."
No one could have expected him to be taken so easily.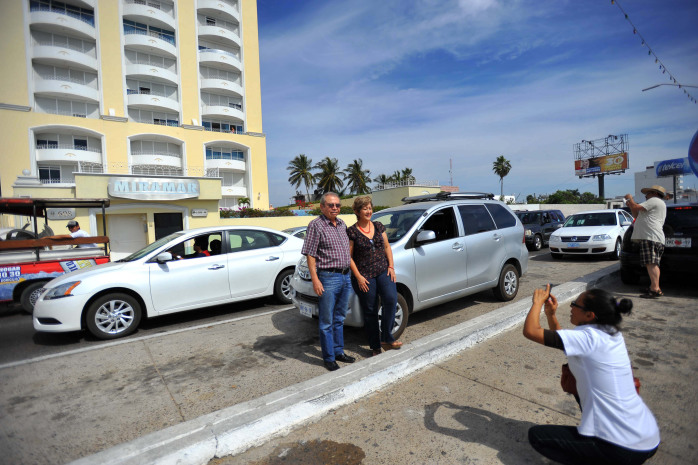 In 2009, Mexico's defense secretary, Guillermo Galván, told Dennis Blair, then the Obama administration's director of national intelligence, that "Chapo commands the support of a large network of informers and has security circles of up to 300 men that make launching capture operations difficult," according to a secret diplomatic cable released by WikiLeaks.
That Guzmán was captured without a shot and apparently without much security detail remains one of the biggest questions about his arrest. Authorities had been ratcheting up pressure on the Sinaloa cartel in recent weeks by busting several mid-level members. The Mexican Navy and other authorities have conducted operations in Sinaloa state, a sliver of Pacific coast territory long known as a drug-cartel bastion. The son of Guzmán's partner, Ismael "El Mayo" Zambada, was arrested in November in Arizona when he tried to meet government officials to talk about his wife's immigration status. Last month, Mexican Marines had raided the house of Grisela Pérez López, an ex-wife of the mob boss. That operation netted Jesús Peña González, a deputy known as "El 20" and others, the newspaper Reforma reported.
The Sinaloa cartel, which has dominated drug routes into the U.S. through cities such as Tijuana and Ciudad Juárez, has other prominent leaders, and security analysts expected their lucrative business empire would rumble on. Leadership of his Sinaloa cartel has long been shared with Zambada, who has proven himself capable of running the organization in the past.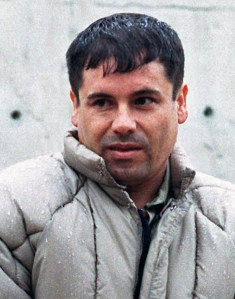 "During El Chapo's imprisonment [between 1993 and 2001], El Mayo helped keep the Sinaloa cartel together," said George Grayson, a drug war expert at the College of William and Mary who has written several books about Mexican cartels. "He will step into Chapo's boots."
Zambada's son, Vicente, is facing a federal grand jury indictment in Chicago, where prosecutors have named Guzmán "public enemy number one" — a title last held by Al Capone. It's not clear if information gleaned from the younger Zambada, who claims that he was working as a Drug Enforcement Administration informant at the time of his 2009 arrest in Mexico City, was used to track down Guzmán.
Guzmán's arrest has the potential to bolster Peña Nieto's image as a tough-on-crime leader. Since taking over more than a year ago, his administration sought to distance itself from the belligerent rhetoric of Calderón. Peña Nieto said reducing violence, rather than capturing drug lords, should be the priority. Some political observers speculated this meant some type of accommodation with certain drug gangs would follow.
And yet, Peña Nieto has captured some of the biggest players in the game, including the Miguel Ángel Treviño Morales, known as Z-40, who ran the exceptionally violent Zetas cartel. Calderón congratulated Peña Nieto and leaders of the armed forces for the arrest in a tweet Saturday.
"This is one of the most important achievements of the Peña Nieto administration in terms of the fight against organized crime," Chabat said.
Washington Post staff writer Ernesto Londoño in Washington contributed to this report.
© 2014, The Washington Post