Anxious not to miss this year's Palmares Festival, some Ticos are buying bogus doctor's notes to take a sick day. The scam has prompted the Social Security System (Caja) to launch an investigation into the selling of counterfeit documents.
Caja officials even detected a Facebook post promoting a special package deal for Palmares that included transportation, alcohol, snacks and a doctor's note.
The Caja's Head of Investigations Manuel González Carranza confirmed that they started following these cases last year, after similar complaints were observed during the 2013 Palmares Festival. González said there is a possibility that the same counterfeiting network is behind the fraudulent documentation. Under Costa Rica law, when a worker is absent from work due to illness and receives medical care, the hospital or medical facility must issue a document called a "Sickness Notice for the Employer."
Workers present the certificate to their employer's HR department, so they can collect salary for the sick days.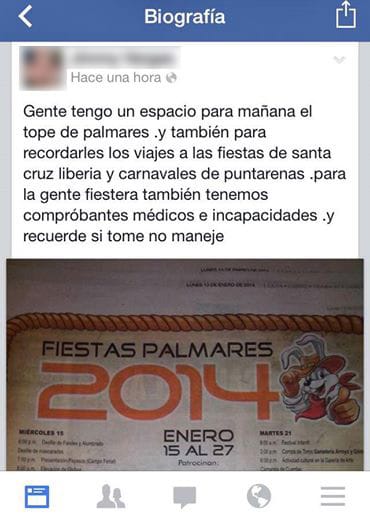 Rodrigo Bartels, the doctor leading a committee evaluating sick notices, explained that two Caja employees traveling to Palmares last year witnessed people offering fraudulent doctor's notes.
"They detected a group selling fake notices inside a rented mini-bus transporting people to Palmares," he said.
According to their report the fakes were being sold in prices ranging from ₡5,000 – ₡15,000 ($10-30).
"Those cases were reported to the Prosecutor's Office, and currently there are people facing charges of fraud and using counterfeit documents," he added.
Reports of stolen notice forms have declined in the past year as the Caja has implemented ways to verify their authenticity.
"However workers are still able to deceive some employers," Bartels added.
Still, he said  "the Caja has not been financially affected" due to safeguards in place.
Employers can verify the authenticity of doctor's notes since every notice issued has a unique number that can be verified online.
"Most fake notices are of very poor quality, some people try the scam with scanned or photocopied ones and even photographs of authentic notices. So far this year we have not detected any cases of people attempting to collect from the Caja. Most of the time people just want to use the fakes to deceive their employers and not necessarily to collect their salary," Bartels explained.
"If an irregularity is detected, the employer should take all appropriate measures, and if necessary, file a fraud complaint with the Prosecutor's Office," Bartels added.