Peering at the monitor, beer in hand, all Zach Boyd can see is a small cottage, a pick up truck and clusters of trees. He is playing the game GeoGuessr, which shows players a street view image from Google Maps, then has them guess its location. Boyd and the other owners of Brewha Costa Rica in the Orosi Valley play it often.
In this scene, the truck is a Ford, the trees are pines and Boyd is certain the location is in the northern U.S. When he notices road sign with kilometers, that's it.
"Canada," he says, dropping a pin in the middle of the country. The game draws a line between his dot and the actual location. Amazingly, he's come within 200 miles of the place.
It was impressive. But glancing around at the books on the hostel's shelves and the travel relics on the walls, it's not all that surprising.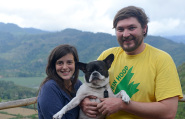 Boyd is from Portland and his girlfriend Jaclyn Weintraub from Toronto. They met while studying abroad at the University of Amsterdam, and traveled together all over Europe and later moved to South Korea to teach English.
"Ever since we have known each other, we have been travel buddies," Weintraub said.
The pair joined up with another travel buddy, Peter Miller, and bought Brewha, hoping to use their combined hostel knowledge to create the ultimate backpacker experience. With Miller back in the U.S., Weintraub and Boyd now run the daily operations, and they do so in a way that is all their own.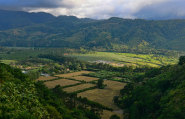 On a cliff overlooking the lush Orosi Valley, Brewha boasts killer views of the nearby El Salto waterfall and Ujarras ruins. Hammocks dangle and bamboo lookout platforms perch beneath a blue flag emblazoned with the Brewha logo, which features a tapir inscribed in a bottle cap (Weintraub thinks the sloth gets too much attention).
The building looks more like a young boy's dream treehouse than a hostel, a style supported by its owners' constant stream of projects.
"Zach is a little bit ADD, so we like to call him the idea machine," Weintraub said.
A potato gun, a sling shot and a trebuchet (a type of catapult) are on Boyd's list for future projects. The hostel is also planning less violent improvements, Weintraub said.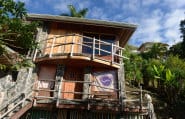 The duo excels at the crafts one usually only finds on Pinterest. Fueled in part by a weekly craft idea email from Boyd's mother, they are constantly improving on the mountainside home. An outdoor shower, new bamboo decks, a sun-warmed hot tub and a floor entirely covered in colones are among current projects, while hand tie-dyed sheets and sign poles featuring the names of guest's hometowns have already been completed.
Like many hotel owners in Costa Rica, Brewha's wanted to feature the country's animals on its walls. But instead of your typical jungle scene, Weintraub sprinkled pop-culture references into her murals, creating a superman sloth and a Ché Guevara parrot, among others.

"Even if I was living in a crappy basement apartment in Toronto, I would still probably be painting murals," Weintraub said. "We do it because it's nice, but we also do it because we want to. That's just our personalities."
As their hostel's name would suggest, Brewha's owners have a strong commitment to having a good time, and also to beer.
Before heading back to the states, Miller started a home brewing tradition at the hostel. Even in his absence, Boyd continues to serve up the hostels signature beers. Treefrog Jefe, Tapir Beer and Ziggy Kitty IPA are just a few of the brews that frequent the beer whiteboard.
When not hanging out at the hostel, the Brewha crew makes the most of the surrounding area. The nearest town, Paraíso, doesn't have much of a bar scene, but Brewha's owners won't shy away from a night on the town (as evidenced by the hostel's recent Santacon). If the outdoors are more your speed, Weintraub is quick to pick up a machete on a trek out to the nearby waterfall or down to the Ujarras church ruins.
The point of doing things with their guests, Weintraub said, is to be sure they have a good time.
Meanwhile, she and Boyd seem to have a good time doing just about everything, whether it's lounging in a hammock with a good book, hanging out over beers, or drunkenly slingshotting projectiles off a balcony. "We live here," she said. "We don't want to be bored either."
Going there: Brewha gives detailed directions on the website along with a video tutorial, but the hostel is located about two hours from San José. Take the Inter-American highway east from San José towards Cartago, from there follow signs to Paraíso. Brewha is located off a dirt road after the Mirador de Ujarras.
Rooms range from $12 a night for a dorm bed to $45 for a private room with a private bathroom. Breakfast is included.