Transit Law Stalled
Steep fines for traffic violations likely will go into effect on Monday without the reductions legislators had hoped to apply.
The fines, which climb as high as $415 for attempting to bribe an officer and $300 for talking on a cell phone while driving, were first included in the law in November 2008 as a means to help deter reckless and drunk driving.
But as September 2009 approached – when the fines were to go into effect – legislators began to question whether they were excessive. They agreed to delay the law's effective date until March 2010 to allow themselves more time to review the sanctions and a handful of other inconsistencies in the law.
"Today, the parties who proposed all of this are looking for an exit," said Luis Antonio Barrantes, legislator for the Libertarian Movement Party. "We've said from the beginning that the fines and sanctions were disproportionate and it included unnecessary requirements, such as first aid kits."
Speaking on the floor of the Legislative Assembly early last week, independent legislator Andrea Marcela Morales said, "This is the hour to vindicate these mistakes, to give the Costa Rican people a better quality law, traffic legislation that is the law not lenient, but also doesn't smother people."
But when the law returned to the floor of the assembly, legislators threw motions at it, handcuffing any forward progress.
Some factions wanted to lower the blood alcohol level for drunk drivers. Others looked to take out the requirement of a psychological exam on applications for driver's licenses. And others simply pushed for lower fines for traffic violations.
"I presented a few (motions) to try to lower the fines to a reasonable amount, to eliminate the point system, and to modify the law so the medical exam doesn't just need to be done by a doctor in order to obtain a license," Barrantes said. "Together, they are a series of motions that would make the Transit Law more reasonable for our country. If this doesn't happen, I can't support it."
Barrantes and dozens of his colleagues presented a total of 220 motions to modify the law.
As a result, the Transit Law likely will take effect Monday without any of the changes the legislators proposed.
At this point, the only way the existing law could be changed is via an agreement reached through an expedited legislative process. If legislators were to follow such a path, the agreement would be signed after this newspaper's deadline.
The administration of President Oscar Arias presented the law early in Arias' four-year term and is pushing for its passage before Arias leaves office on May 8.
"It has been and will continue to be a priority for the government," Rodrigo Arias, minister to the president, said in a statement last week. "We hope that … legislators will be ready to arrive at the necessary consensus and, once and for all, pass a transit law that is rational, that punishes those who insist on driving after drinking excessively, and who recklessly inflict death and pain on many families."
For Saturnino Fonseca of the National Liberation Party, the situation with the Transit Law is just one more sign that the Legislative Assembly needs to consider reforming its procedures.
"Clearly, there is a level of frustration," he said. "Because each legislator has the ability to present motions of opposition or support for bills, much time is consumed – and many resources wasted – on discussing each one."
For instance, the last piece of legislation needed to implement the Central American Free Trade Agreement (CAFTA) has been weighted down with more than 100 motions.
Meanwhile, sugar producers are being barred from entering the United States market due to high tariffs that were implemented by the U.S. when CAFTA was not approved on time.
Despite the sluggish progress of the Transit Law and CAFTA, legislators remain hopeful they can pass their individual pet projects before the entire 57-seat Legislative Assembly changes hands in May.
At the top of Barrantes' list are reforms affecting the country's police forces and passage of a law designed to counter Internet fraud.
"I am optimistic we'll pass something," he said. "We are coordinating with the minister to the president to make these a reality."
Fines in New Transit
Law as of Feb. 24
Ignoring a stop sign:                                           $300
Driving without a license:                                   $415
Toll evasion:                                                          $42
Attempting to bribe a traffic officer:                  $415
Talking on a cell phone while driving:              $300
Making an illegal U-Turn:                                    $399
Driving without appropriate papers:                  $83
Blocking the road:                                                 $165
You may be interested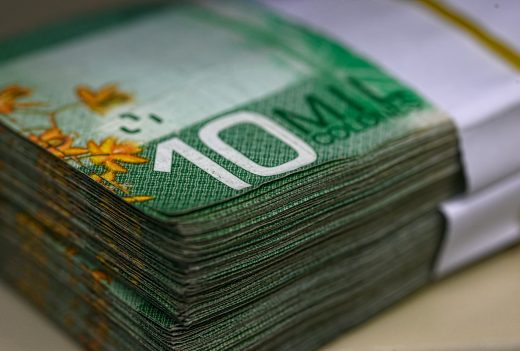 Costa Rica
2537 views
Costa Rica unemployment rate drops to 19%
The Tico Times
-
March 4, 2021
Unemployment in Costa Rica fell to 19.1% in the moving quarter from November to January. This maintained a downward trend…