Ticos Join Metrosexual Revolution
IF you're a man, chances are you have manly questions on your mind, such as "Where can I get a really good manicure?" Well, fellas, Maritza Souki has the answer for you.Souki and her partner Jahissy Morao are the Venezuelan owners of La Barbería, a new salon in Santa Ana, southwest of San José, that caters exclusively to men and was designed with a masculine aesthetic. In this small but sleek space, silver trays of mints and issues of Men's Health, Vogue Hombre, and Popular Mechanics fan out across a low-slung table; a large TV is mounted above three haircutting stations with invitingly plush leather barber chairs; and water burbles, Zen-like, from a fountain bordering the front window.Between treatments, clients can sip coffee, surf the Net or smoke cigars selected from a wooden glass-topped display case. Perhaps the only concessions to femininity are the aromatherapy candles and the bouquets of phallic-looking calla lilies.SOUKI, who traveled between Costa Rica and Venezuela for two years, settled here in April. She and Morao opened the salon June 1, after eight months of planning. Though men's salons are common in Venezuela, she said, "I noticed Costa Rica doesn't have this type of business. There are barbershops, but not a place like this, a small spa."Though she hadn't run a salon before ("I was a clothing designer – I had not been involved in beauty," she said), Souki felt that Costa Rica was ready to join the metrosexual movement that has already swept many foreign capitals."We have developed the barbershop idea – for shaving and hair – further and further," she said. "It's for men who have a little time to care for themselves."CLIENTS include businessmen, married and single men, young and retired men; 90%, Souki said, are Ticos, confirming her suspicion that locals are ready to submit to a beauty regimen. The remaining clientele are from North America, Europe and South America.Souki credits the success of men's salons to celebrity culture and advertising that targets male vanity."Men are taking care of themselves in every aspect now," she said. "They are thinking, 'I deserve it. Why not?'" The most popular services are haircuts, massages and facials, although the salon also does color, highlights, shaving and wax depilation for the chest, back, legs and even ears."When we try something new with men, they may resist and say, 'What are you doing to me?'" Souki said. "But when they see the results, they are happy."The greatest resistance thus far has been to the waxing, though most clients have undergone it without audible complaint. Men can also experience the joys of a manicure and pedicure – basically, it's the same as for women, although attendants hydrate the men's hands more, and use only a clear polish."If they want color," Souki said, "they have to bring it themselves."BEHIND the hair station, in a small room partitioned by a white curtain, is a padded massage table and wax machine. Massage options include a regular one-hour session, a sports massage and the lymphatic drain, which releases excess fluid by touching pressure points. "It's good for men who stand all day, or who have been out all night drinking and dancing," Souki said.Facials are done on the other side of the partition, with a vaporizer and the SkinMate machine settings "brush," "vacuum spray" and the somewhat alarming "galvanize." The salon uses a Spanish men's skin care line that includes exfoliation and detox masks. These treatments aren't merely to make pretty boys prettier, though: clients have included a skin-cancer patient whose skin needed special care.ACCORDING to Souki, La Barbería's prices are comparable to what women's salons charge, and sometimes women can be found here, waiting for husbands, boyfriends or young sons. The ladies can watch TV or read, but they cannot receive treatments because of the gents-only rule. And that, Souki said, is why men feel comfortable here: it's an environment just for them.The hardest part, Souki said, was not finding clients but hiring well-qualified people from training institutes recognized by the government. Eventually they found people they were satisfied with and submitted to governmental health inspections.In the first month, the salon rang up 104 facturas, and if La Barbería ultimately succeeds, Souki and Morao are looking to add services – including wine and chocolate massage wraps – and open a second location in Curridabat, east of San José, perhaps next year. Souki is optimistic."I would say that the men here were waiting for this," she said. "We get a lot of compliments – people say, 'Finally!'" La Barbería is located in the Vía Lindora commercial center in Santa Ana. For more information, call 282-0242.
You may be interested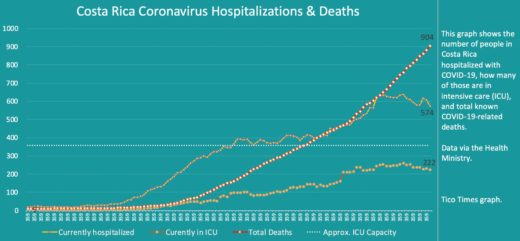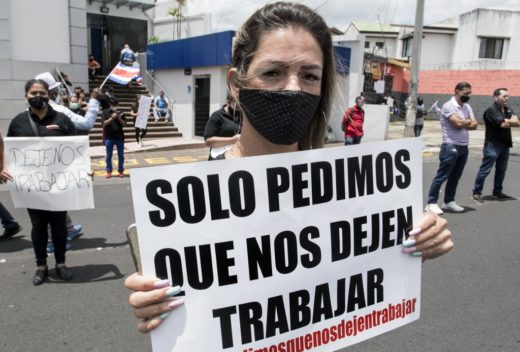 Business
3340 views
Some 34 million jobs lost in Latin America due to pandemic
Carlos MANDUJANO / AFP
-
September 30, 2020
The two aspirers for the presidency of Costa Rica, the evangelical preacher Fabricio Alvarado and the former minister Carlos Alvarado, reach the closing of the electoral campaign for April 1st with a technical draw, according to a poll disclosed this Friday.