Donation Makes Space in Overcrowded School
During the early morning hours of an otherwise normal school day, hundreds of Alajuela-area youngsters stomped off to their classes last week at Escuela California public school in the Las Candelas neighborhood of Belén, northwest of San José.However, philanthropists Barry Schwartz and Gail Nystrom had a twist in store for the students and their teachers: just before 11 a.m., with Escuela California's students gathered in the school's common area, they unveiled three new classrooms for first- and secondgraders, made possible by a donation from Schwartz's private foundation, "Do the Right Thing," to the Costa Rican Humanitarian Fund (CRHF).The classrooms are designed to alleviate the acute shortage of space at the school, where skyrocketing enrollment has forced students to attend classes in shifts.SCHWARTZ, a former insurance salesman from the U.S. city of Boston, now living in Escazú, west of San José, met Nystrom, a former Peace Corps trainer and founder of the CRHF, in February.At the time, Nystrom was working to install volunteer teachers from North America and elsewhere at the school to teach the students English. It was then that she noticed the very cramped quarters and overflowing classes.It wasn't hard to figure out the cause. Before the construction of the new addition, Escuela California had only nine classrooms.The school, originally built for 250 students, has an enrollment of 650 kids ranging in age from four to 16, who have to take turns attending classes in separate morning and afternoon groups, according to school director Virgita Elizondo."We expect as many as 700 or 750 students next year," Elizondo said."EVERY day out front we see more and more students coming to look (for education). There is always more matriculation," she said. "We're going to need more classrooms for the children who will be coming next year so that we have the ability to teach them in a more independent and singular way."The Public Education Ministry (MEP) is often overwhelmed by the constant need for new school constructions throughout the country, according to Elizondo. Although she has asked the ministry for aid in constructing the needed classrooms, she said she has no idea if and when the assistance will ever come through.Once Nystrom became aware of the situation, she began trying to find a donor to increase the number of classrooms."We had this leap of faith and we knew somehow that (the assistance) would be provided and it worked," Nystrom said. "(Our donor) had an ethical, tangible and concrete finished product that he could see."SCHWARTZ, 67, is no stranger to donating money to schools, having funded a school in the impoverished Boston neighborhood of Mattapan.He first heard of Nystrom and the CRHF in January, when The Tico Times reported the organization's work to deliver donated food to victims of the Caribbean flood (TT, Jan. 21).Schwartz struck up a dialogue with Nystrom, which led to the donation of the funds for the construction of the new classrooms, carried out by workers and volunteers of the CRHF and the McMath Secondary School in Vancouver, Canada.The three classrooms, measuring approximately 175 square feet apiece, have brand new dark brown ceramic tile floors, wooden desks donated by the British School in the western San José suburb of Rohrmoser, and large, nearly room-length blackboards.FIRST-GRADE teacher Gradely Salazar said she was looking forward to teaching in the new classrooms."We can be more comfortable," she said. "We're farther apart from the older students and that gives us a more specific and independent environment (for the younger students).""It's really nice," said 9-year-oldJefferson López, a second-grade studentwhose favorite subject is English. "I'mreally excited because now I'll be able tohave more room to move around."After the inauguration, Schwartz and Nystrom cut the ribbon across the walkway that led to the new classrooms as dozens of young students shouted in English, "Thank you, Señor Schwartz!"ASK Schwartz why he got involved in philanthropy and his answer is a simple "beats me.""I'm happy to know that they have a better opportunity today than a few months ago," Schwartz said. "This allows the teachers and students some more space."(Nystrom) was the spearhead of this project and she and her workers deserve the most credit," he added. "If I can set a good example for Gringos and Europeans who move here to lend a hand, then I'm happy."Those interested in participating in future Costa Rican Humanitarian Fund projects should contact Gail Nystrom at gnystrom@racsa.co.cr.
You may be interested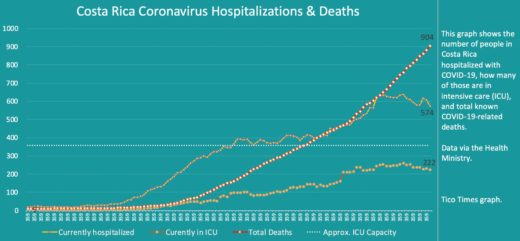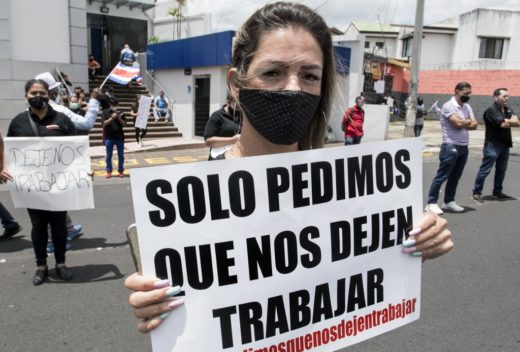 Business
3341 views
Some 34 million jobs lost in Latin America due to pandemic
Carlos MANDUJANO / AFP
-
September 30, 2020
The two aspirers for the presidency of Costa Rica, the evangelical preacher Fabricio Alvarado and the former minister Carlos Alvarado, reach the closing of the electoral campaign for April 1st with a technical draw, according to a poll disclosed this Friday.