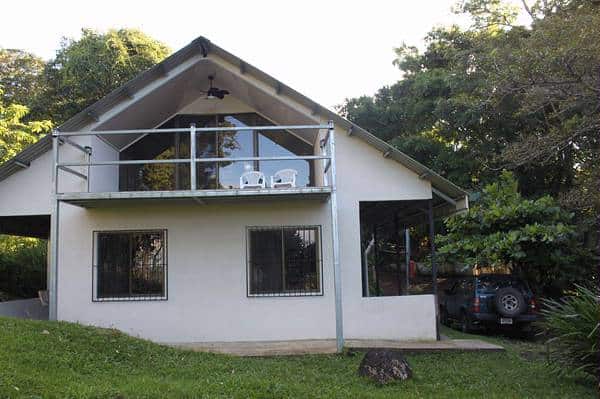 Lake view two bedroom, two bathroom house is near the end of a quiet lane off a paved road through San Luis.
Spectacular Lake Arenal views from a remodeled loft master suite.
Has been fully renovated in 2014 with a loft master suite addition with spectacular lake views
New Construction during remodeling
New construction is all steel framing. All previous wood has been removed from the structure to ensure all termites, bugs, rot, etc. are gone. Even the kitchen cabinets are new.
Photos and details of all work will be available to the purchaser so there are no surprises, and to ensure the quality of work that has been done.
Included
Washer/dryer, fridge, stove, microwave, coffee maker, shop vac, single bed, table and chairs, 3 shelving units, fan, and some other basic furniture. Some power and hand tools are also included.
New On-demand Hot Water Heaters
Has a new on-demand hot water heater for the bathrooms, and a separate on-demand hot water heater for the kitchen. Connected to the public water system with lots of pressure and excellent drinking water.
Grounds
The property is actually two small lots together. One is 251 square meters and the other is 192 square meters for a total of 443 square meters.
Sloped lot is ready for your personal touches.
Howler monkeys can be heard daily and regularly visit the large trees along the property. Other visitors to the property included a sloth with her baby as well as various birds including toucans and parrots.
Nearby
Walking distance to bus stop, grocery stores and one of the best restaurants (Brisas del Lago) in the Lake Arenal area.
Affordable Utilities and Taxes
Recent months electricity bill: approximately $25
Recent months water bill: approximately $15
Taxes : approximately $280/year
Features – Amenities
Lake View
Furnished – Appliances – Laundry Room
Balcony – Terrace – Patio
Pet Friendly
Has neighbors nearby, but still offers lots of privacy.
This would be an excellent retirement location, or just a great, relaxing place to live.
Location
Google maps location: 10.5044, -84.9428
Price: $89,000
 For More Information
Contact Dave Schmidt via email at: david@ticotimes.net