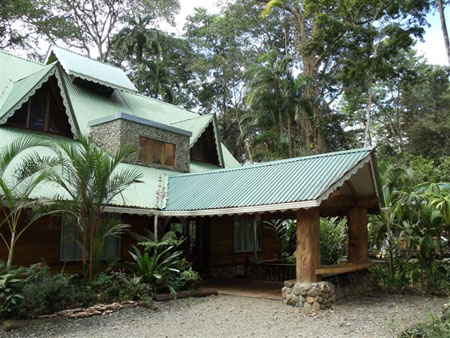 Luxurious jungle mansion located in the Maitri Park jungle/beach development.
Very private 3 bedroom, 3 bath house.
Approximate Measurements:
Construction: 5,300 Square Feet Lot: 1.25 Acres
Features:
2 bedrooms have king size beds and Jacuzzi bathtubs.
Extensive decks, gardens and outside cooking pavilion.
2 creeks run through the gardens.
Furnished
The jungle mansion sits less than 50 meters from the entrance of our newly acquired direct beach access road. This new road offers the opportunity to meander through the coastal rainforest to the very secluded Playa Negra, Rio Carbon, and Cahuita National Park.
Lots of monkeys, toucans and other wildlife to encounter as you explore the many trails winding throughout this 1/2 hectare piece of property.
Constructed with lots of love out of fine tropical hardwoods.
This is a one of a kind home being sold at a one of a kind opportunity.
Owner Financing Available
Special Promotion – Purchase both Jungle Mansion & La Casa Del Sol for $798,000 with 2.5 Acres of Land
Price: $648,000
About Maitri Park
Maitri Park is a true Eco-community. Maitri Park is a 25 hectare (62 acre) expanse of wilderness located within walking distance from the town of Puerto Viejo de Talamanca. We have sized and designed the lots within Maitri Park so that you will have room for your dream home, garage, guest home and garden, yet still have ample space to live amongst the tress that were alive when Christopher Columbus arrived on this coast in 1502. We are committed to conservation and giving back to our community. Our farm is located in the last island of ancient primary forest between Puerto Viejo and the Cahuita National Park, which is right across the Carbon River from our farm.
We believe it is imperative that the members of the Maitri Park community learn to live within this precious ancient Eco-system and not against the lives of the monkeys, sloths, birds, and 800 year old trees that we call our neighbors.
The old cacao farm that was planted here 100 years ago gives us room to clean out some of these chocolate plants living under the primary forest canopy. This creates enough room within your lot for the construction of your home, garage, gardens, and guest home and still have ample space left over to wander amongst the jungle.
Nature trails wind through the communal conservation areas. Walk to the Carbon river, Cahuita National Park, the Caribbean Sea, or Puerto Viejo. We have plans to start a green iguana re-introduction center ( a native endangered species), cacao/ chocolate demonstrations and sales, native medicinal and botanical gardens; all the while giving employment opportunities to the indigenous and native peoples of the area and raising awareness of their culture and history.
 For More Information
Contact Dave Schmidt via email at: david@ticotimes.net