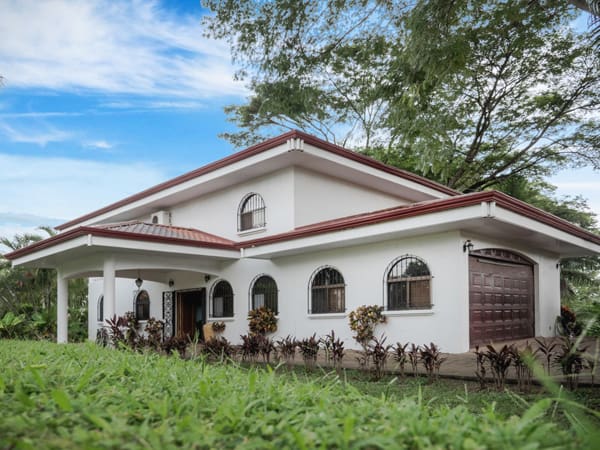 Land – 1/2 Acre House – 2,992 Square Feet
4 bedrooms 2 bath, 2 car garage
A beautiful traditional CR house for sale in Lagunillas, 45 – 60 minutes from the San Jose airport, and 25 minutes to Jaco Beach.
There are beautiful views of Carrera National Park where the Scarlett Macaws fly over our house every day and land in the almond trees.
The property is 2 miles from the famous Tarcoles River Bridge where the crocodiles can be seen.
Ocean views from the 2nd level and a terrace.
Also jungle and mountain views!
Three bedrooms on the main floor and the master suite on the 2nd level & fully furnished!
Indoor gourmet kitchen.
Outdoor rancho with electricity and running water, hook up for bbq.& a deep fryer for cooking.
Swimming pool with plenty of outdoor seating around the pool area
Nearly 3000 sq. Ft. Of spacious living on a half acre lot full of fruit trees and flowers, including mango, lemon oranges, coconut and and especially almond trees which attract the scarlet macaws that visit frequently.
This is a residential community equipped with full fence, gates and security a few meters away.
There are no monthly HOA fees.
The property comes with a full time caretaker for $160 per month.
Asking $325k but the owners will negotiate a much better price for a quick sale.
 Recent Photos
[tribulant_slideshow gallery_id=171]
 For More Information
Contact Dave Schmidt via email at: david@ticotimes.net