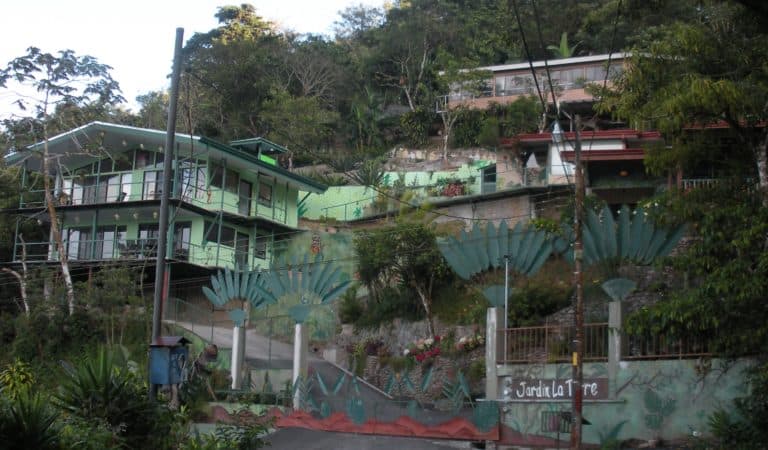 For Sale Houses in a
55+ Community
Near San Ramon de Alajuela
Jardin La Torre
Why San Ramon? You've done your due diligence and decided living in Costa Rica is for you. Like every other place, San Ramon de Alajuela is unique. Here are the attributes which, when combined, make San Ramon unique:
Mild year-round temperatures
A large, organized expat community (Community Action Alliance, Hacienda Vivace, Vientos Bajos Activity Center, Thursday Coffee at Delicias, Gringo Central, Vientos Bajos' Codger)
Thriving commercial center which provides for all your needs and supports a population of over 60,000 (a mid-sized city in the Central Valley with a small-town feel): excellent restaurants, shopping mall with big-screen cinema complex
Medical Services: Hospital, clinics, world-class dentists, specialists, pharmacists
Cultural Center: UCR campus, Jose Figueres Cultural Center, museum, public music school (SiNEM)
Efficient local, regional, and national-access bus system
Location:
On Ruta 1, an international highway linking San Jose, the Pacific Ocean, and Nicaragua
45 minutes to Juan Santamaria International Airport, San Jose
One-hour drive to downtown San Jose
One-hour drive to the beach (Dona Ana)
Social/Cultural Life: Community chorus, community theater, exercise and dance classes, Spanish lessons, concerts, and more
The Sporting Life: Pickleball, tennis, dancing, Pilates, yoga, public and private gyms, hiking, biking, public pools, basketball, and more 
Why Jardin La Torre (JLT)?
Jardin La Torre and its activities center complement, Vientos Bajos, were built as a gated and secured community for the 55 + active expat. Here's what we offer:
24/7 on-site security and maintenance
West slope of the west cordillera (phenomenal 50-mile coastline views & sunsets)
One mile from the Bernardo Soto International Highway (Route 1)
3900 feet altitude (temperatures between 60-85 degrees Fahrenheit)
Pastoral setting
11-minute drive to of San Ramon de Alajuela
Walking paths, local hiking
Located Across the street from Vientos Bajos, a four-story recreation center offering a sports court (basketball/pickleball), activities, events, diverse classes/ groups/clubs, libraries, etc. See our website (www.vientosbajos.com)
Pet-friendly
Local ownership: The owners live on the property
What We're Offering:
One and two-bedroom houses, for sale or rent (See our classified rental ad in the Tico Times)
Toucan-2 bed/2 bath. 1,700 sq ft: $150,000 USD
Loro-2 bed/1 bath. 1,265 sq ft: $145,000 USD
Mariposa-2 bed/3 bath. 2,450 sq ft: $169,000 USD
Pisote-1 bed/1 bath. 1,071 sq ft: $121,000 USD
Colibri (duplex unit)-2 bed/1 bath. 965 sq ft: $111,000 USD
Rana (duplex unit)-2 bed/1 bath. 985 sq ft: $111,000 USD
Danta-2 bed/2 bath. 1,185 sq ft: $140,000 USD
Rent to buy
Access/membership to Vientos Bajos Activities Center
Caveat: This property was designed with the active retiree in mind and is not ADA accessible
The Rest of the Story: When we moved to Costa Rica in 2011, we looked for and found what we couldn't find in the United States: Year-round perfect temperatures between 60 and 85 degrees Fahrenheit; away from the city but with quick and easy access to shopping, culture, beaches, and medical care if and when necessary; friendly neighbors; an expat support system to make transition from North America much easier; panoramic ocean views; and a surrounding of nature.
Then we added what we didn't find here when we arrived: a small community/ campus environment for active retired senior expats, along with social, cultural, and physical activities and events for retired expats–and a place to hold them.  Please look at our websites to see our units (www.latorrecostarica.com) and our recreation center www.vientosbajos.com) This may be what you've been looking for.
Testimonials:
"As retirees, we´ve lived in CR for 4 years searching for the ideal retirement spot…This is it; magnificent ocean and mountain views, great activities center and wonderful people sharing an arboretum like setting."  Rick R, current tenant at Jardin La Torre.
My husband and I retired in Costa Rica 4 years ago, and moved to El Empalme a little over a year ago.  We discovered the Vientos Bajos center, located across the street from El Jardín Torre campus, where we learned to play pickleball. We also enjoy various activities such as a their library, DVD and CD exchange, as well as a gym to work out.  Recently, we were able to rent one of the beautiful homes in El Jardín La Torre so now we have it all!  Panoramic views from high on the hill (including amazing sunsets) and the active lifestyle we wanted for our retirement.  Kim C.
Interested? Questions?
Please contact us at:
John or Caryl Buford (owners)
Costa Rica: 011-506-8530-6828
US: 815-669-6701
Email: jcbuford@aol.com
Recent Photos
[tribulant_slideshow gallery_id=160]