For many in Costa Rica, Christiana Figueres needs no introduction. The daughter of iconic revolutionary and president José "Pepe" Figueres Ferrer and his second wife, Karen Olsen, Figueres blazed her way onto the national stage as a leader in the fight against climate change, culminating in her successful coordination of the Paris Climate Agreement in 2015. She ran for Secretary General of the United Nations in 2016 and now helms Mission 2020, an effort to ensure that planetary carbon emissions reach their peak that year in order to attain carbon neutrality by 2050.
On Nov. 5, Figueres received the annual CRUSAder of the Year Award from the Costa Rica USA Foundation for Cooperation (CRUSA). Each year, CRUSA offers the award to one U.S. citizen and one Costa Rican for outstanding contributions to sustainable development; Figueres' fellow awardee this year was U.S.-Costa Rican philanthropist Steve Aronson.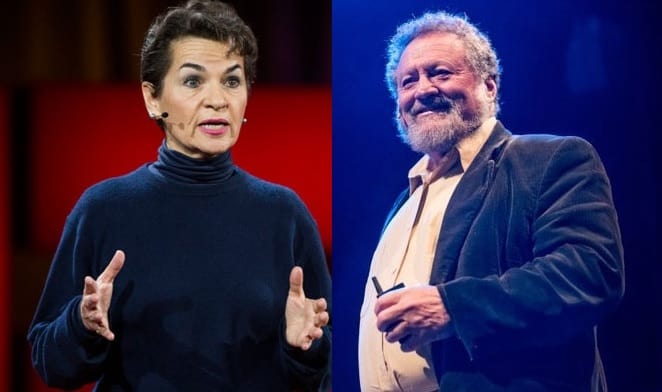 At the CRUSAder of the Year awards dinner on Monday at the Hotel Real Intercontinental in Escazú, 210 people gathered to celebrate the honorees and raise $34,800 for nonprofits around the country represented on the Amigos of Costa Rica platform. Ahead of the event, CRUSA staff spoke with Figueres about Costa Rica's place in the world, her plans for the future and one very special frog. Excerpts follow.
We've read that your decision to focus on combating climate change began in Monteverde, when you discovered that a frog you remembered from childhood was now extinct. Is that true?
There was no other place in the world where the golden frog lived, and it disappeared in 1994. I'd seen it as a child; when my daughters were about that same age, I wanted to show it to them and discovered that it didn't exist anymore. Scientists in Monteverde told me they suspected climate change was the cause, because increased temperatures caused a skin disease.
I realized that the planet I had inherited from my parents – a planet that included the golden frog – was now a diminished planet, the one I was giving to my children. And I realized that if I'd seen a species disappear right in front of my eyes in Costa Rica, there must be many other species that had disappeared in other countries.
When I understood the breadth of the crisis, I decided to dedicate my professional life to the issue.


Tell us about your recent work, particularly Mission 2020.
The Paris Agreement signed by the world's countries in December 2015 establishes that the world economy must decarbonize and reach carbon neutrality in 2050 – and there are 14 countries in the world, including Costa Rica, that have set carbon neutrality goals ahead of 2050. However, science, which has continued evolving since 2015, now shows us that in order to be carbon neutral by 2050, we have to reach the maximum of emissions and begin a decrease in the year 2020. Of course, that's practically two minutes from where we are today… There are policies and measures that all the world's countries and companies must take the revert our tendencies starting in 2020 and begin an organized descent that allows for economic transition to carbon neutrality in 2050.
What are the areas of focus for Mission 2020 in order to reach that goal?
Reverting our emissions involves modernizing various sectors. We're pretty far ahead in some of them: production of electricity. Costa Rica, of course, is the world leader on this, with more than 300 days with only renewable energies; that's a great luxury that we've been able to develop throughout our history, and it's not as easy to achieve for other countries. But the world's energy matrix is now at 12 percent renewable energy, up from zero in just three or four years. If we continue this trend, we can reach 50 percent of all energy produced in the world by 2030. We're on a good path there.
We're also doing well with the transportation revolution, and electric vehicles – of course, as we move toward electric vehicles, we have to make sure that electricity comes from renewable energies, so those efforts go hand-in-hand. But we're at a turning point with light transportation – cars, buses – while not with aviation or marine transport, though there are some interesting pilot programs there.
We're doing ok with the transformation of the financial sector. Financial institutions have realized the risk of investing in goods and services high in [emissions] is much higher than the benefit. That cost-benefit analysis has changed dramatically.
Where we are not in good shape is land use – that is, putting an end to deforestation. The restoration of degraded lands, especially in Africa, is stuck, for various reasons. The big problem is that these activities would be very beneficial to vulnerable populations that do not have food security and would benefit if we could restore their degraded lands.
A conversation with Steve Aronson: 'The character of Costa Ricans will save us'
You emphasize the importance of optimism throughout your speeches and writings. How do you maintain that positive attitude despite all the obstacles we're facing in this field?
I think optimism is a decision. It's a tool in a battle, not an achievement of that battle. Optimism should be our war horse. The situation we have in front of is one that we must change, and we are going to change. The fact that we don't know how we are going to achieve that goal cannot make us fall into pessimism. We don't have any other option than to be what I call stubborn optimists: we will always face problems and obstacles, but this can't turn us back. It just means we have to work harder to find a solution.
At CRUSA we are working to help Costa Rica be a laboratory for sustainable development in the world. Do you see Costa Rica playing that role?
Costa Rica is so small that it has never been a great power, but it has always been a great example for those powers. For many years we've been an example on many issues: in the protection of our biodiversity, or in our invention of Payments for Environmental Services, which, through the World Banks, is spreading in other countries. We invented the Certified Tradeable Offset (CTO) which was the predecessor of the clean development mechanism that we see today. We've reverted our deforestation in the past 20 years. Costa Rica has always had people with great vision and desire to experiment without fear.
We've always punched above our weight, and we continue to punch above our weight because of that attitude we have of wanting to experiment, wanting to change things and persevere until we find a solution.
What are some concrete, everyday steps you would recommend for those of us who care about climate change and sustainability?
For climate change there are four things to be done. The first is to stop eating meat. The second is to be aware of where our idle capital is invested. The third is to be much more responsible about how we transport ourselves. And the fourth is to be very vigilant about our voting, both for subnational and national leaders, and the United States is the best example of that. Those are four things that can be pretty easily done by any person who is halfway responsible about their carbon footprint.
For sustainability, because it has so many aspects, it's a little more difficult. Are you talking about oceans, about education? But if you want to take a [30,000]-foot look at that, I think it's all about footprint. What's our personal footprint on the oceans, on transportation, on food, with respect to how we impact other people?
Be aware that any interaction that we have with any other human being, but also any interaction that we have with the natural world, leaves a footprint. Sometimes that footprint is memorable and is something that people really appreciate, and sometimes that footprint is one that we should be ashamed of. Inasmuch as we can become more and more aware of the footprint we are leaving on this planet, the footprint we are leaving with our lives, we will be better stewards of sustainability.
The Costa Rica USA Foundation for Cooperation (CRUSA) supports sustainable development in Costa Rica with a focus on green and blue value chains, waste management, sustainable transport, education and leadership in philanthropy. Its U.S. counterpart, Amigos of Costa Rica, connects outstanding Costa Rican nonprofits with donors who can make U.S.-tax deductible donations to the nonprofits at www.amigosofcostarica.org. The sister organizations sponsor The Tico Times' philanthropy news section, Costa Rica Changemakers.