At Pad Thai, everything is grounded down fresh. I'm talking all the curry paste, turmeric, galangal, basil and coriander; all ground with a mortar and pestle. I could taste the difference. Ellen Kantawong, who owns the restaurant, is also the one in the kitchen, responsible for cooking everything herself.
She was born in China, to a Thai mother, and has lived in Costa Rica for almost five years. She arrived here via a stint in Hollywood, where she was learning the business side of things from her Thai family who now reside there, but it was her mother who taught her the recipes that she now serves to her customers.
"My mom told me that Thai food is health food and that Thai people do not cook with spice powders," Kantawong said.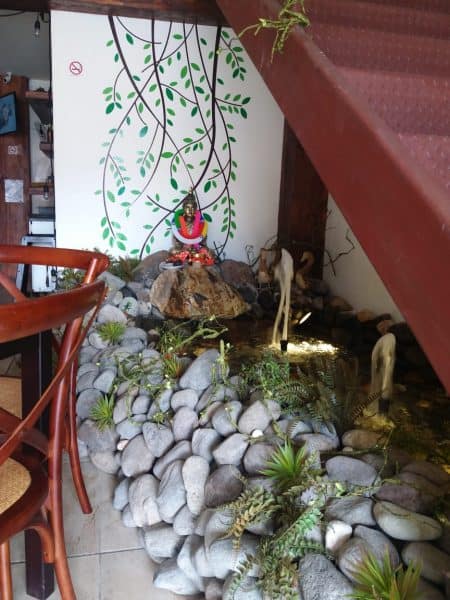 Pad Thai has a five-page menu full of food and drinks. Every item on the menu includes a photo, which will be beneficial for those who are less familiar with Thai food.
Categories in the menu include salads, appetizers, soups, rice, drinks, desserts and of course, their namesake Pad Thai. I've tried a lot and have not been disappointed with anything they have placed in front of me. But the stars of the show are their Som Yum, Tom Yum Goong Khao Pad, Pad Thai and their Kao Niew Mong.
All these names probably don't make any sense yet, but they will soon.
Be prepared for sensory overload when the food hits the table. The colors, smells and flavors come together impressively.
The Som Yum, a green papaya salad that is a staple in Thai restaurant, is a perfect option to start your meal and the version here is as good as I ever had during my travels through Thailand.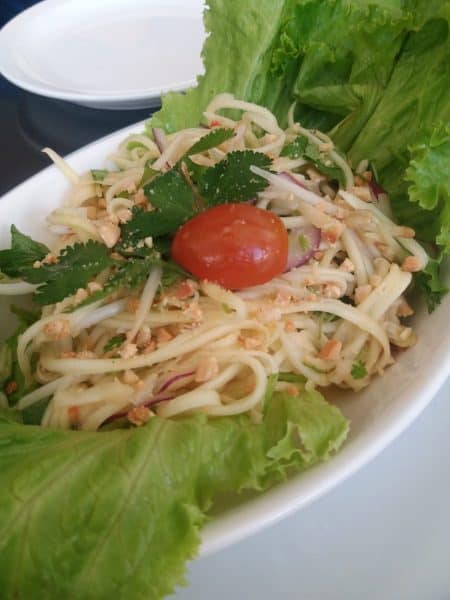 Served with a dressing of fish sauce, sugar, and lime juice that perfectly balances the acidity of the green papaya and the sweetness of cherry tomatoes, at Pad Thai the salad is garnished with peanuts for a little bit of added crunch. I'll never get tired of eating this salad.
Next up was the Tom Yum Goong, a hot and sour prawn soup. They serve this it in a large sharable portion, or a smaller individual one.
The large portion comes in a wok, placed on top of a lit candle to keep it warm. Overflowing with seafood, this soup includes prawns, crab and mussels. The presentation is breathtaking and their decision to serve it over a flame makes eating it, and sharing it, an experience.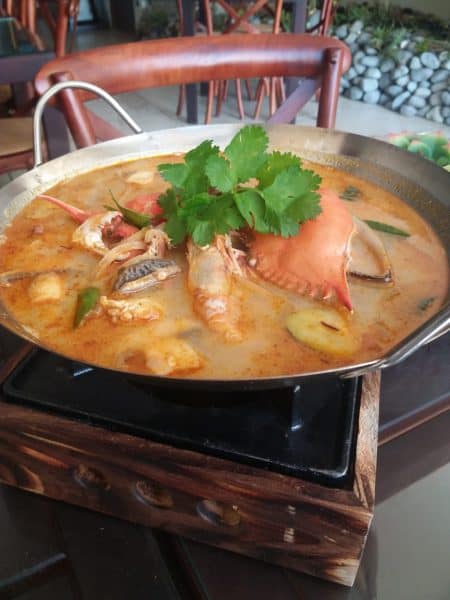 Not to be outdone by its visual aspect, the flavor of the
Tom Yum Goong
is off the charts. The broth is tangy, with bits of fresh lemongrass, ginger and kaffir lime leaves making welcomed appearances in almost every bite. This one is a must try.
Save room though, we still must talk about the Khao Pad and the Pad Thai, which hit the table just as we are literally drinking the last drops of broth out of the wok.
Don't judge me.
Kha Pad is a stir-fried rice with pineapple, chicken and shrimp. It was delicious, but the Pad Thai was my favorite; as it should be at a restaurant named Pad Thai.
While they serve Pad Thai with just egg, chicken or shrimp, I opted for the Pad Thai that included all three proteins, mixed, served over a bed of rice noodles, tossed in a perfectly balanced Tamarind-based sauce. You surely know this one. I was getting quite full at this point. I would have ordered a second serving otherwise.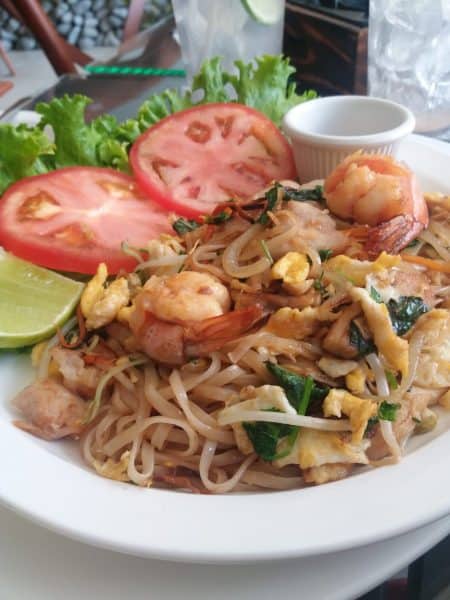 Last to hit the table was the
Khao Niew Mong
, a sticky rice dessert topped with mung bean seeds, sweetened coconut milk and fresh mango. While I barely had any space left in my stomach for dessert, I ate the whole thing.
OK, you can judge me now.
For those with a sweet tooth, this one is another must-try.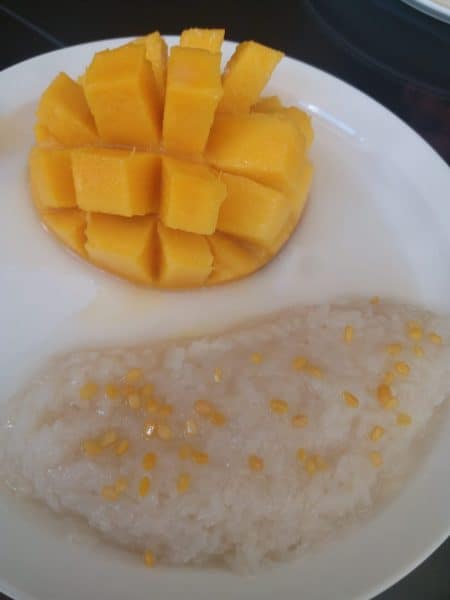 To drink, though they do offer a selection of beers and wines, go for their Thai Tea, which is absolutely delicious. It is very sweet and could be left as a dessert but now that I know how good it tasted, I can't wait until the end of the meal to have one.
It is some sort of black tea with red fruits, served over a generous portion of ice, and topped with a sweetened coconut milk.
For my next visit, I have my eye on their Thai curries, which are available in red, green or yellow.
Pad Thai is located 350 meters west of the TicaBus station, in the Paseo Colon neighborhood of San Jose. There are three parking spots directly in front of the restaurant, exclusively for their customers, as well as public parking along the street.
Look for a two-level building with stringed lights hanging over the parking spaces and a white and orange sign, showcasing the restaurant's name and logo.
The 44-seat restaurant is located on the ground floor of this building, Entering the front door you will be greeted by a very friendly, and very capable, gentlemen who will be happy to seat you and explain the menu. He does a great job, considering he is Costa Rican, and the offerings here are as foreign to him as ice hockey.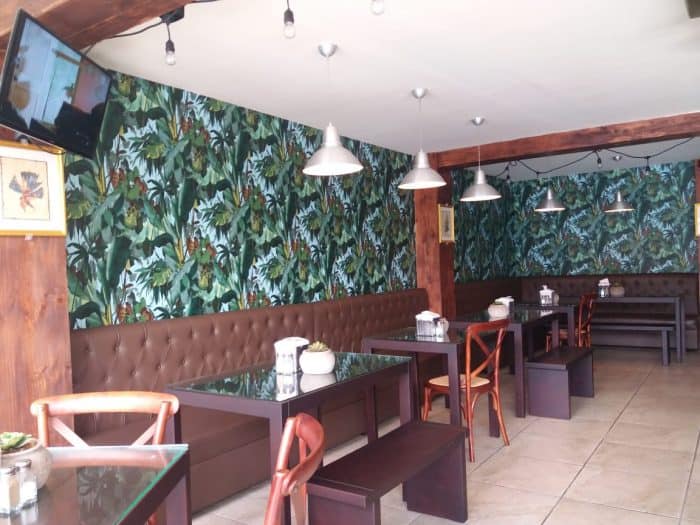 While you wait for your food, be patient, remember Ellen is alone in the kitchen; you can enjoy the interior design of this humble restaurant, which does its best make the room feel exotic.
You can choose to watch one of their two flat screen TVs, or, as in my case, daydream while looking at the water fountain, which is peacefully home to a golden statue of Buddha. (Buddhism is, of course, the main religion in Thailand.)
Though Ellen has a lot of fond memories in the kitchen with her mother when she was younger, Pad Thai is Ellen's first restaurant – and it has only been open for a month and a half, so it has not yet developed the loyal following that I predict it soon will. This means that reservations are not yet necessary – but word of mouth should quickly change that.
It is a truly special place. I expect that expats will be attracted to this restaurant, as they are already accustomed to eating this kind of food back home in North America and Europe, as well as curious Tico diners, who are constantly getting hungrier to try something foreign and new.
For now, Pad Thai is only open from Wednesday to Sunday. During the week their hours are 6 p.m.-10 p.m. and then Saturday and Sunday, they are open from 11 a.m.-10 p.m. Price per main dish averages around 7,500 colones (about $15) including tax. Major credit cards are accepted. Search "Restaurante Pad Thai" in Waze or Uber to arrive conveniently.
---
William Ayre is a Canadian born chef and restaurateur who has spent the last half of his life doing business in Costa Rica, where he now considers to be home. Inspired by Anthony Bourdain, Ayre's passion of experiencing different cultures through food has taken him to 35 different countries over five continents. Whether it's a 20-course meal at a fine dining restaurant in Toronto, or cantina hopping in search for the best chifrijo here in San José, he fits in just fine.