Art as a passion and a tool for the communication of complex messages of hope, all influenced by the sociopolitical crisis of her home country: that's what characterizes Venezuelan artist Emilia Cantor's artwork. For Cantor, art is a passion she has had ever since she can remember.
Painting has always been her sole interest, but at an early age she was asked by her parents to study something other than art. For that reason, she passed from one area of study to another, including Language at the Metropolitan University, advertising at Santa María University, and fashion design at the Brivil Institute of Fashion and Environmental Design. One day, however, she decided to do an online search for the best art schools in the world.
As a result, she applied and was accepted to the Florence Academy of Art in Italy. She obtained two scholarships to study painting for five years, then moved to Chicago to teach at the Ravenswood Atelier.
She returned to Venezuela to teach art, but given the growing sociopolitical crisis in her home country, she decided in 2012 to move to Costa Rica with her husband, who had obtained a job here as a tattoo artist. Just three months after settling down in the country, Cantor opened her own atelier, the Atelier del Sol, a small art academy located in Rohrmoser in western San José.
Here, she began teaching students of all ages about academic drawing under the methodology of French artist Charles Burgue, which she learned while studying in Italy. She also had her two daughters here in Costa Rica. As she watched events in her country unfold from afar, her work inspired by the crisis in Venezuela served as cyberactivism. Her students' work has been displayed at the Jade Museum in San José, and her own work has been displayed at the Botica Solera and the Juan Santamaría Museum.
She has achieved all of this by following her one true passion and working hard daily. As she told The Tico Times: "Painting is what keeps me healthy. Locking myself for four hours in the studio and sliding the paintbrush is my escape. It's wonderful. I always tell everyone: do what you love."
On a warm afternoon at her Atelier del Sol, The Tico Times sat down and spoke with Cantor, 38, about her life and work. Excerpts follow.
What did it mean to you to enter the Florence Academy of Art?
It was nice being with all these people. We were a generation of this renaissance of contemporary realism, which is the branch of art that we do [at the atelier], basically about using the bases of the grand masters from drawing and painting, but applying it in 2018 in a much more contemporary manner.
As you can see, that painting [points at an art piece of Venezuela] is very contemporary. It's Venezuela's resistance from last year. It's a sociopolitical painting that's completely current, but it's made under the system of drawing and painting from before.
Many of us [artists] are young or not that young, but we've been creating small ateliers or even big ones…. I'm like the representative of that in Costa Rica, and it's nice because many of the people that were in class with me are now the director of Barcelona Academy, the director of the San Francisco Academy; teachers that are giving classes in big schools in New York, Atlanta…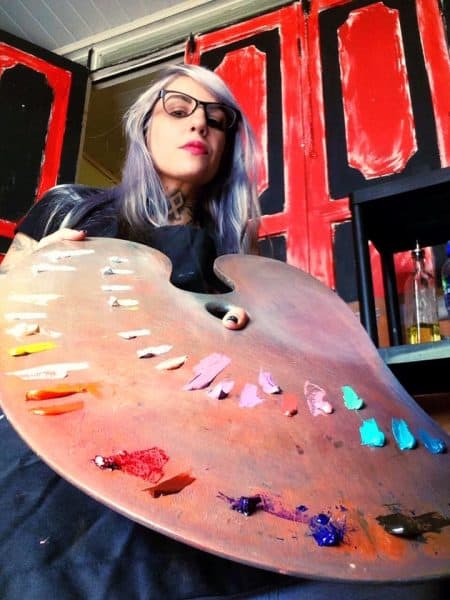 What does it mean for you that your daughters were born in Costa Rica?
They're chamiticas [combination of the word chamas, from Venezuela, and ticas]. They have a divine life. Their mother comes home with bags full of ice cream, Pediasure, pasta. Everything. Nothing's missing. Things in my country are so bad that being here you must be very grateful. They're happy. They're growing up in an amiable, secure and calm place after [us] coming from such a violent place.
Sometimes ticos complain about things and it's funny. Look, when there's a murder here in Costa Rica, it's the subject of conversation for two weeks, while in Venezuela someone is killed every 20 minutes. I mean, it's super different.
So, I'm very happy that my chamas are growing up in such a healthy and calm place as this one.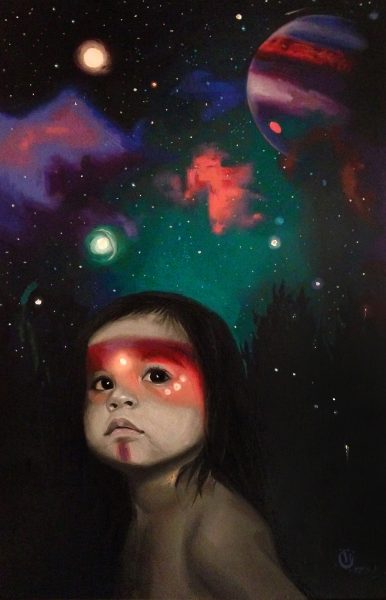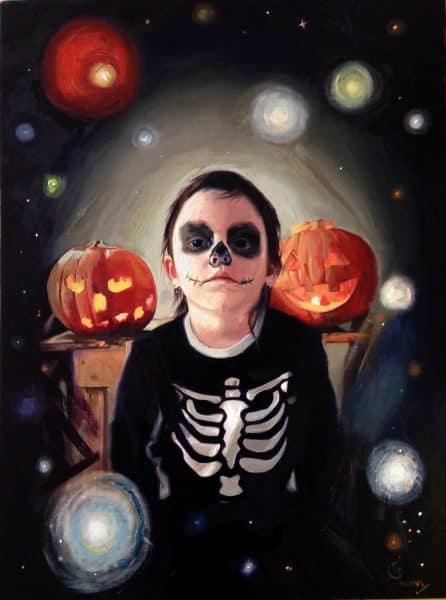 What methodology do you teach at your atelier?
The method was invented in 1866, and it's a design course from Charles Bargue, a French painter. He invented, in my opinion, the best drawing method and teaching that the world has had. The most important academies of Paris in the XIX Century adopted it… it was a the boom of art, because it was also [happening] in classical music, writing, painting. It was the best, the decade of inventors.
And that dies with all the modernism and the post modernism at the beginning of the century. Two wars arrive on a global level, and art has always been an echo of human situations. I believe that modernism and post modernism were the direct reflection of the human decadence of the two wars.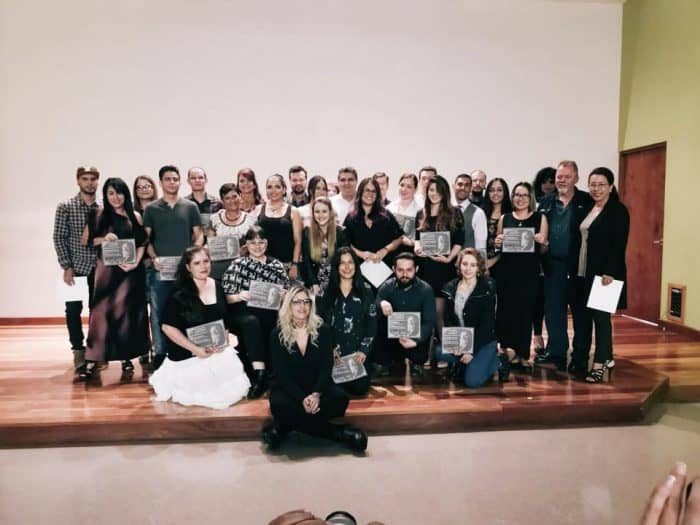 Given that art is an echo of human situations, how do you think that it has been a channel in your case to communicate the sociopolitical situations of Venezuela?
Something was achieved. For example, look at this painting: last year it ended up at the Juan Santamaría Museum. Immediately, I received threats from the [Venezuelan] government for having a painting of the terrorists, as they call us, in an international museum.
Art touches the soul. In dictatorships, the first people taken prisoners are journalists, artists: the people that are able to touch the collective.
That painting became viral on social media. In Venezuela it was shared approximately 60,000 times, if not more. And it gives a bit of hope to the Venezuelans so that they can see that even if you're outside, we're very aware of the situation on the inside. That it's a fight on a global level, not only within the country.
My mission with this is very altruistic. My drawings of the [children and youth in] resistance have gone directly to the parents. They're free. My dream, as a professional artist, to achieve with this is to give a bit of light to these people. There's probably nothing more horrible in life that your son or daughter is murdered. It must be the worst thing. As a mother I imagine it must be the strongest pain that one can receive and knowing that the drawing is a ray of light to make them feel a little better, even if it's a little while during the day, for me it's enough.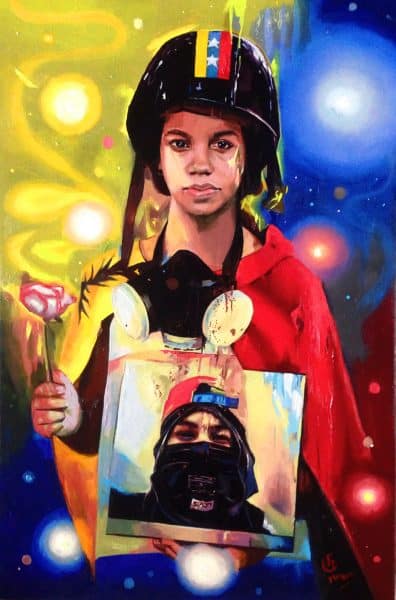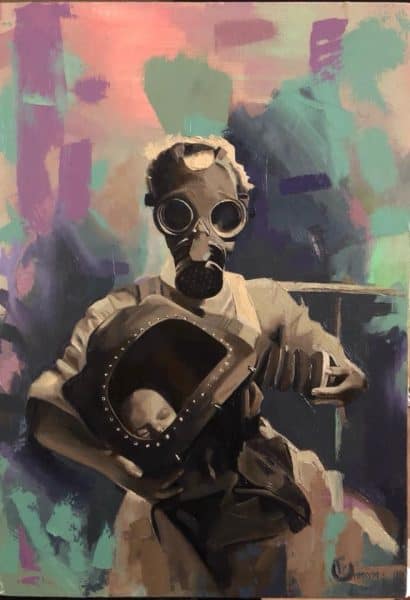 How did you realize that your art could work as something more than just being purely aesthetic and communicating something more in depth?
Before I was more focused on painting nice things… what happened last year was very strong. I think it changed a lot of people and that was when I noticed.
Before, I didn't want to combine art with politics, but things got so ugly and you thought things couldn't be worse, so I felt the need to paint about it.
I noticed that it was a tool to communicate different types of messages, and for that reason I also embraced the [topic] of animals. I like everything that has to do with working on the topic of the most unprotected ones. I'm like a mother lioness.
Me cabrean [I get pissed off] by injustice and if that happens so often, I'm going to take advantage of my talent to use it to transmit a message through it and not only to make empty art that does not say anything by simply being a technique of painting. I believe that the artist is the one who carries a message, or at least wakes up an emotion.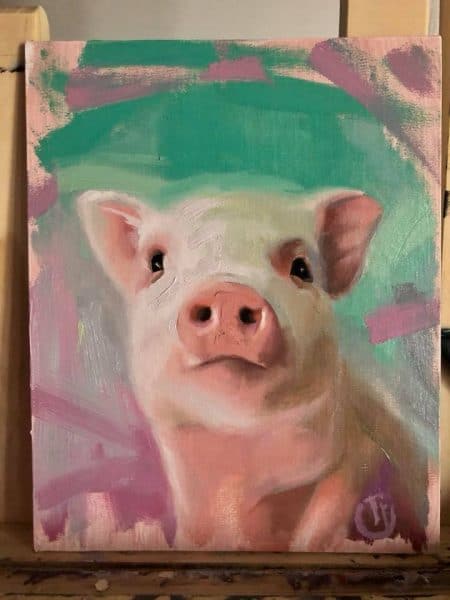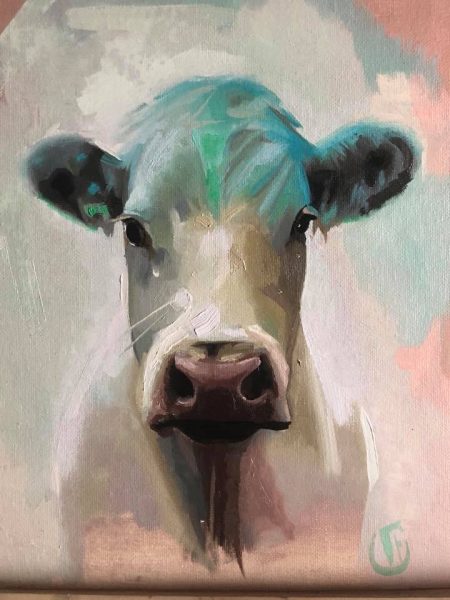 Atelier del Sol's exhibit Academicismo del Siglo XXI: Atelier del Sol en el Museo de Jade is on display at the Jade Museum un July 23rd. Cantor's personal exhibit Petite is on display at the Botica Solera until July 31st. For more information visit Atelier del Sol's Facebook and Emilia Cantor's website.
"Weekend Arts Spotlight" presents Sunday interviews with artists who are from, working in, or inspired by Costa Rica, ranging from writers and actors to dancers and musicians. Do you know of an artist we should consider, whether a long-time favorite or an up-and-comer? Email us at elang@ticotimes.net.