By what I have done, and by what I have left undone.
A relative of mine is 70 years old and had always voted for the same party: National Liberation (PLN). She inherited her party affiliation from her father, the same way the last name is inherited – unrenounceable, as she sees it. Not like a piece of property, which can be sold or divided and nothing happens.
Let's call her "Berta," because she won't allow me to publish her name. Even if she admits that her vote is a personal decision and no one can refute it, she feels ashamed. A feeling of repentance washed over her the night that Carlos Alvarado, of the Citizen Action Party (PAC), triumphed in Costa Rica's presidential election. He won by an unexpected landslide over his opponent, Fabricio Alvarado of National Restoration. (After decades of shared domination, Liberation had not even made it into the second round.)
When she told me, I could not believe it. "What did Alvarado do that night to provoke your repentance all of a sudden?" I asked, surprised.
Berta's answer could not be more authentic:
"He didn't do anything. I'm happy that he won. The problem is that I voted for the first time in my life for a party that isn't the PLN, only because I thought my vote was going to be very necessary. I thought of dad, and I almost asked him for forgiveness, but it was necessary. I thought that the result was going to be very narrow.
"When I saw the difference was 20 points, I realized that I could've not voted, because either way Carlos was going to win. That way I would not have stained my liberacionista record, and would not feel guilty as I do now."
I must clarify that "Berta" is almost 70 years old and is one of the most devout Catholics I know, one of those people who dedicate their weekends to work in the Church, one of those people who pray to the Virgen de Los Ángeles and obey what the bishops tell them to do, even if they're not completely convinced.
In Costa Rica's second electoral round, the Catholic bishops did not say anything clear. She felt she had the freedom of voting for the PAC just to save Catholicism from the Evangelical "threat." Unbelievably, she decided to vote for the candidate who supported same-sex marriage, which increased her feeling of guilt. Those were days of real suffering for Berta. She was "betraying" the party, her father's legacy, and the conviction that marriage can only take place between a woman and a man, as God says.
This electoral process exhausted her emotionally, she told me. And I believe her.
On April 2, the day after Alvarado's decisive victory, she felt that she did not want to have any link with the president-elect. It was like someone who betrayed her partner and repents, who does not want to see or listen to the one who made her fall from grace. That's why Berta says she has nothing to do with this administration, that she does not feel responsible for the outcome: what has to happen will happen.
She'll keep giving her time to the Church. She does not want anything to do with politics, not even to be informed. Moreover, she wishes the best to PAC, for the following reason: if Alvarado does well, the party will have much more support in 2022 and she won't feel that they'll need her precious vote, because "being unfaithful one time can happen, but two times is a vice."
I remembered "Berta" on May 8 when Carlos Alvarado gave his inaugural address and emphasized the need for all of us to get involved in some way – that the government is for all of us. His message was politically correct, but maybe he knows that, particularly in rural areas, there are many "Bertas," many people who voted without conviction or commitment. Maybe he knows that they don't feel part of the result, and that despite relieved over Alvarado's triumph, from now on they look upon his efforts with mistrust.
After the experience of 2014, maybe it's good news for the new leader to start like that: knowing that nothing belongs to him.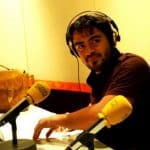 Álvaro Murillo: Journalist who specializes in political coverage and has written for La Nación, Semanario Universidad and El País. In "No Sugar, Please," his twice-monthly Tico Times column, he explores politics in its broadest terms, from the halls of government to community life. Connect with him on Twitter.