Part III in a series on adaptive surfing in Costa Rica. Read Part I, about the country's association for disabled surfers, and Part II, about British adaptive surfer Dean Bushby.
Straight from Arlington, Virginia, Kiersten Todt, her husband Roger Cressen, and their blended family – Kate (18), Andi (16), Haley (12) and Noah (14) – decided that they would compliment their stay at the Westin Conchal with surf lessons from Mojo Surf Adventures in Playa Grande. They had a special consideration: they would have to surf together and include Noah, who has cerebral palsy, a neurological disorder that affects body movement, muscle coordination and motor skills.
"We had so many good things we did as a family," recalled Roger. "But in the first week, we all wanted to surf. Everybody is into sports, and this seemed a fun water activity we couldn't do back home."At home, Noah does a lot of physical therapy with his legs and is rewarded by stickers for exceptional accomplishments. His family had concerns about him trying this challenging sport, and, as a result, got him the necessary attention in order to complete the task. The results, according to Noah, was a "four-sticker" experience.
Mojo Surf Adventures owner Tim Thomson gathered up his team of instructors, led by Johel Dinarte, and designated one coach solely for Noah, along with spotters who kept an eye on his session (one worked with the rest of the family). Safety was of utmost importance, as Noah's limited mobility required diligence.
"Johel could not leave him alone for a second," Thomson explained. "He rode the board in with him every time. Also, when the instructors got him up on the board we made sure three instructors were there to help and make sure he was safe. Noah did great most of the time he rode the board; he was lying down, but he got the feeling of surfing. His smile was infectious and he is so personable that he bonded well with Johel and with me. He is also a joker, so he was always making us laugh."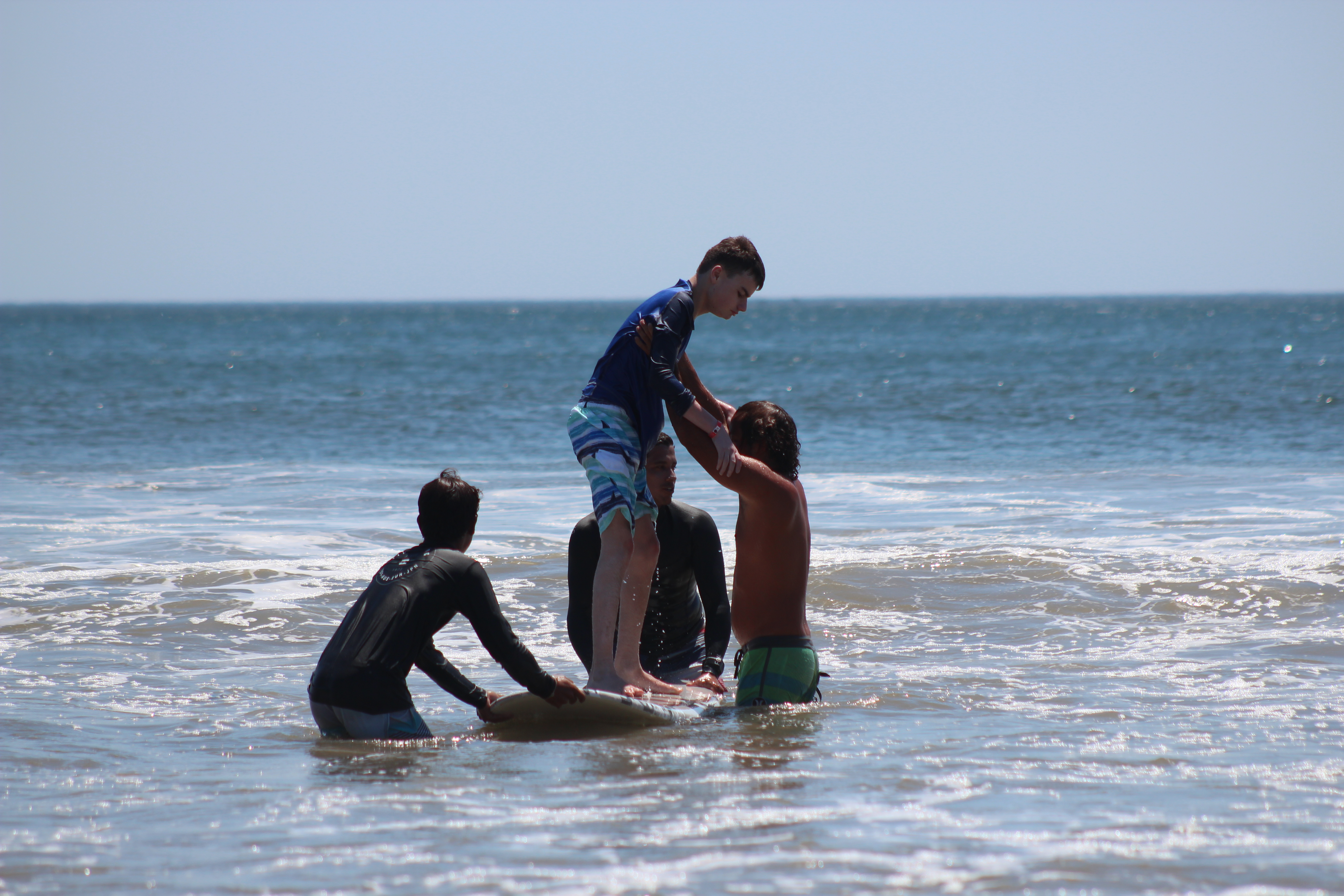 "I like surfing," Noah said after two days of doing it. "The waves were really rough sometimes, but I stood up on the board. I was embarrassed the first time, but then I was happy, proud. I accomplished something and I was strong. Dad was laughing at me, and I like surfing with my sisters."
His sisters enjoyed surfing with Noah as well. According to Kiersten, Haley has always been and continues to be tremendous support for her brother. She always makes sure he is taken care of and willingly stays in the background, although mom admits that's not her usual personality.
"The instructors really made it not at all scary," Haley explained. "They took the unknown out of the water and told us all, 'Don't be scared.'"
"To listen to our body more than our minds," added sister Kate. "We did it all at the same time, and we all got up."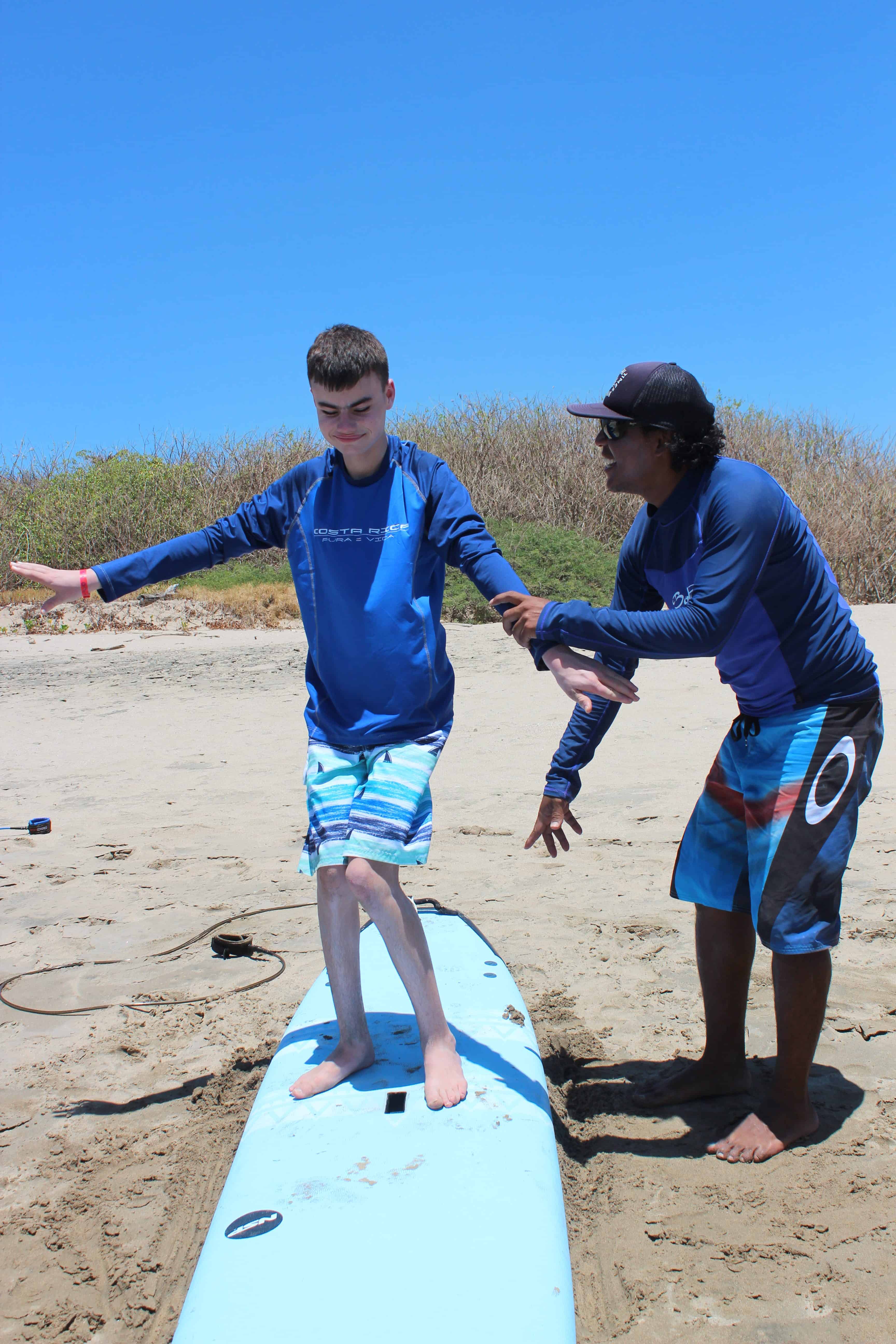 Noah admitted that he was "concerned, nervous and scared," particularly because he had a fear of going under the water. Kate noted that without help specifically for him, it might not have been possible for him to surf. Fortunately, Johel, who was the assigned instructor for the boy, was able to calm his nerves, and even goof around with him to take the fear away.
Due to Noah's success, as well as their own, the family is already planning a return to Costa Rica to continue working on their surfing.
"Mojo did a great job working with us as a family, creating lots of enthusiasm when we first got in the water and then when we were learning to surf. It takes a special person to connect will all our kids. Johel was great with Noah, they goofed around and he had to put Noah's limits in a positive way on the board and before on the beach talking. Tim was invested, as were those working with us," Roger said.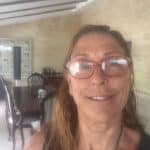 Ellen Zoe Golden is a former New York City punk rocker turned hip-hop head. She thought when she'd retire as a publicist in the entertainment business, she'd just surf, do yoga, run, read books, watch TV and hang out with her friends. She does all those things in Tamarindo, but has a day job as a travel agent for Costa Rica Vacations. She loves arranging for people to visit her adopted country.
Adaptive surfing in Costa Rica Part II: The story of Dean Bushby