A three-part look at adaptive surfing in Costa Rica. Read Part I here to learn how a Central Pacific coach is empowering disabled athletes around the country to take to the waves. In Parts II and III, we look at success stories in the northwestern province of Guanacaste.
Dean Bushby, 51, from Leeds, United Kingdom, is a computer network engineer who was injured in Thailand when he fell off a motorcycle and lost his left leg from the knee down. The healing process took five years.
Bushby, who played rugby in his youth, was unable to do much physical exercise. He had to learn to walk all over again with a prosthetic device, but maintained a very positive attitude: "I could either go down or go up."
He chose up.
Though friends, a local travel agency, Costa Rica Vacations, learned about his struggle, made worse by a limited budget of government aid. The company organized a complimentary trip a year ago to Costa Rica's Envision Festival, where subsequently Dean took a fall and broke his wrist.
Determined to finish his trip, he traveled to Tamarindo, in the northwestern province of Guanacaste, and settled in a complimentary room from the Best Western Tamarindo Vista Villas.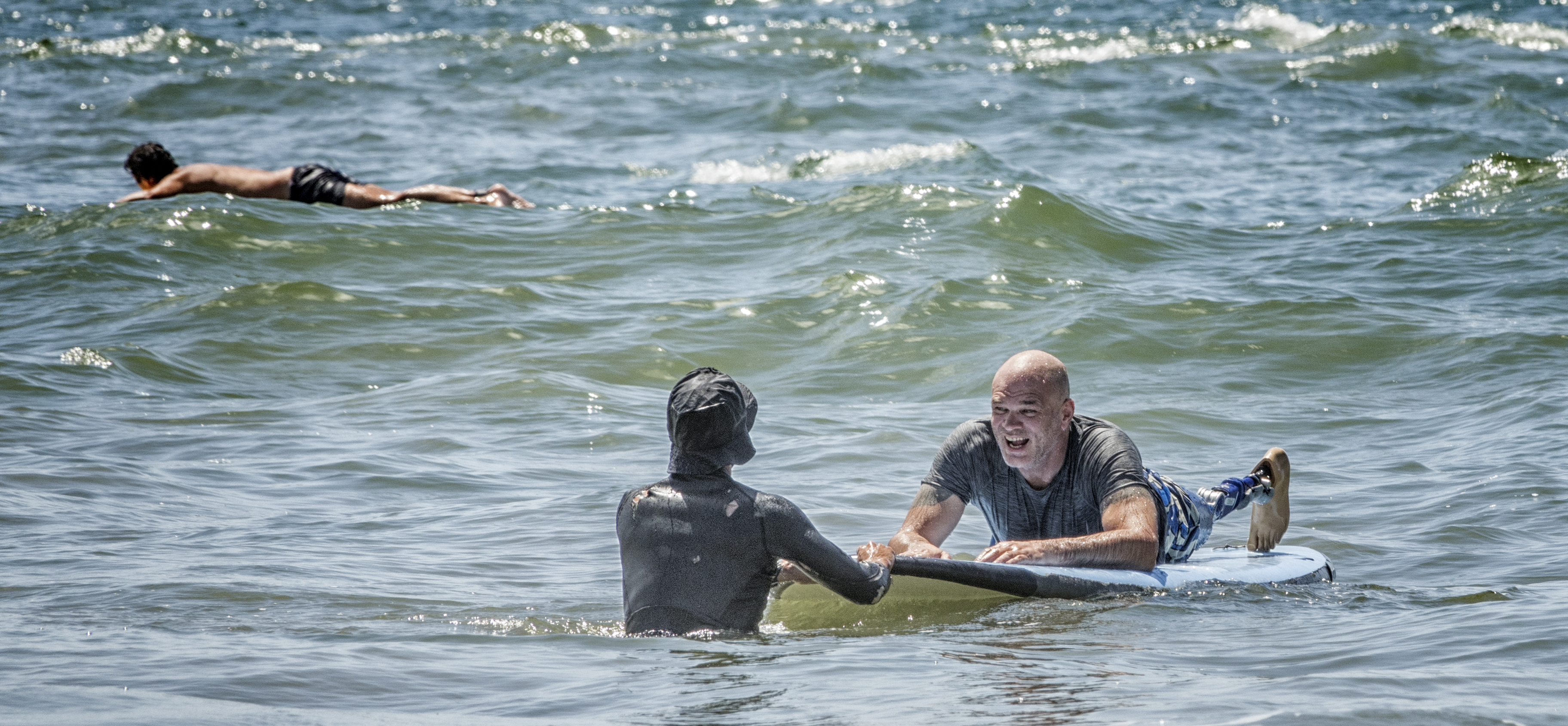 At the hotel, he met Eric Atkinson of Salty Sols Surf School, who shared Bushby's positive attitude. The instructor suggested Bushby try surfing.
"Before last year I had not been in the ocean for 15 years. I thought, why not give it a go?'" Bushby remembered.
After the accident, Bushby had not tried any other sports. However, he immediately found the ocean to be exhilarating. On his first rides, he lay down on the surfboard and rode the whitewater in that way.
"He had a lot of fun being in the water," recalled Atkinson. "And we did try and figure out how he could pop up, but the best he could do was get to his hands and put the back foot down."
Atkinson and Bushby started brainstorming about how Bushby could actually stand up on a board. The first thing they decided was that when Bushby returned to England, he needed to get a prosthetic that could be used in the water. Indeed, he went back and got fitted for one — a strap-on that is secured with his wetsuit.
Once again, Costa Rica Vacations and Best Western Tamarindo Vista Villas gave him a complimentary trip so he could return to Costa Rica and test out his new equipment.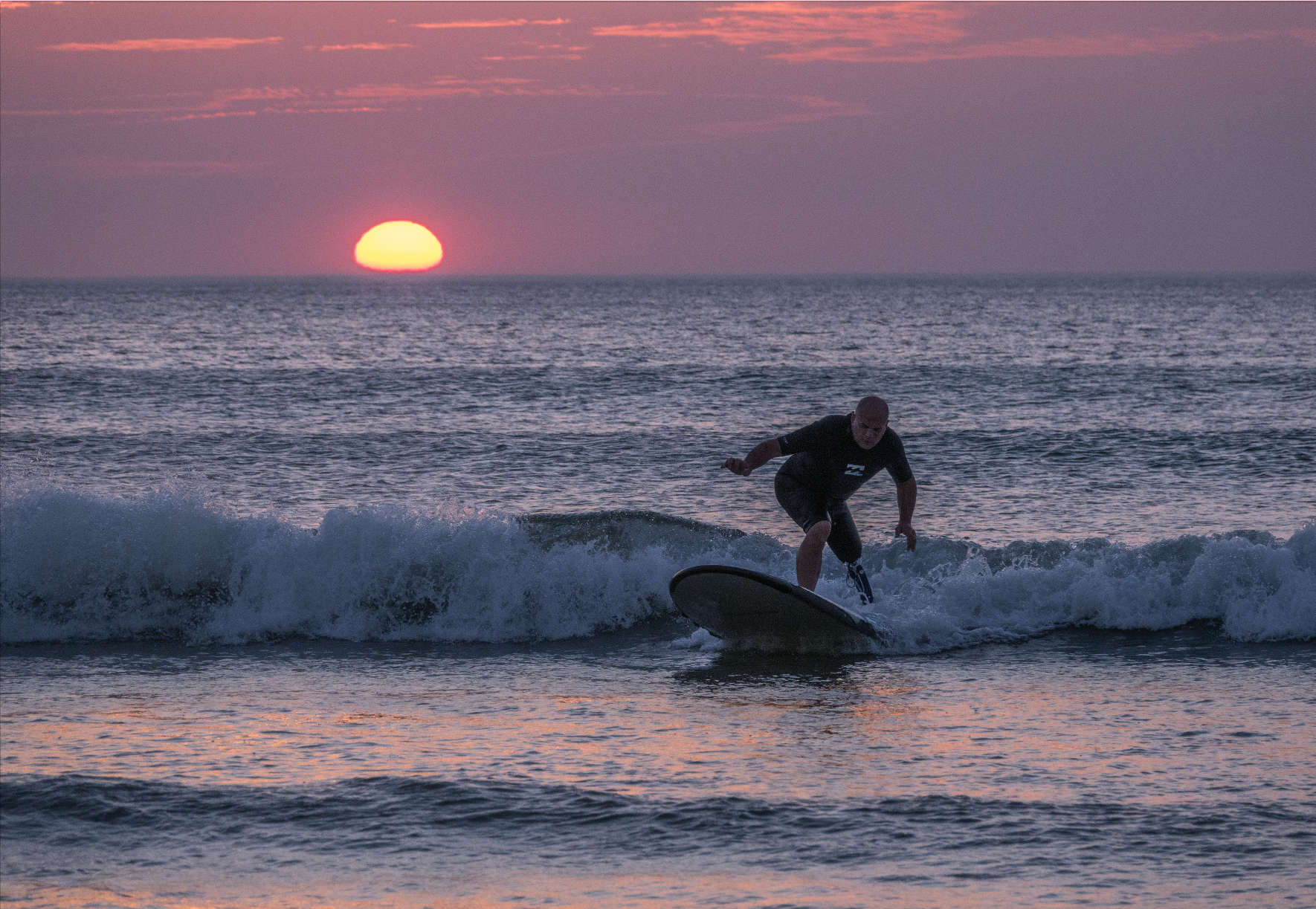 The duo talked about the possibility of knee boarding. While Bushby was in England, Atkinson sent him videos of that sport, and Bushby got a board made for that purpose. When they tried it in Tamarindo, however, it was a little unstable; they decided to look for more flotation so Bushby could get up on his feet in the waves.
The equipment became a big fat 10' longboard surfboard.
"It was brand new to both of us," said Atkinson, explaining the process. "On the first day, Dean put his right food back, but it was tough with the prosthetic in front because that's the front leg is the one that does a lot of movement for surfers. So, we switched it up, back leg prosthetic."
That actually worked a whole lot better. That's when he stood up and rode it.
"It was crazy. I would never have dreamed of this," exclaimed Dean. "I'm going to keep doing this working towards surfing without Eric in the water with me. I don't want to put anyone in danger. I need to work out my legs and make them stronger and I'll be in Pure Gym in Leeds."
While in Tamarindo, at Eric's suggestion, Bushby added yoga to his program, another first since losing his leg. That's another thing he'll keep up at home.
Dean hopes to one day surf the North Yorkshire coast back home, but in the meantime he and Atkinson are thinking of getting a van and traveling around, Costa Rica surfing and camping.
"This trip was pretty life changing," Bushby concluded.