2016 was a rough year for many people around the world, and Costa Rica was no exception: the country experienced a series of natural disasters from which people are still struggling to recover. Hurricanes and flooding took lives and left hundreds homeless and hoping for a better 2017.
Here is a look back at some of the worst disasters that hit Costa Rica and made headlines over the course of this year.
Hurricane Otto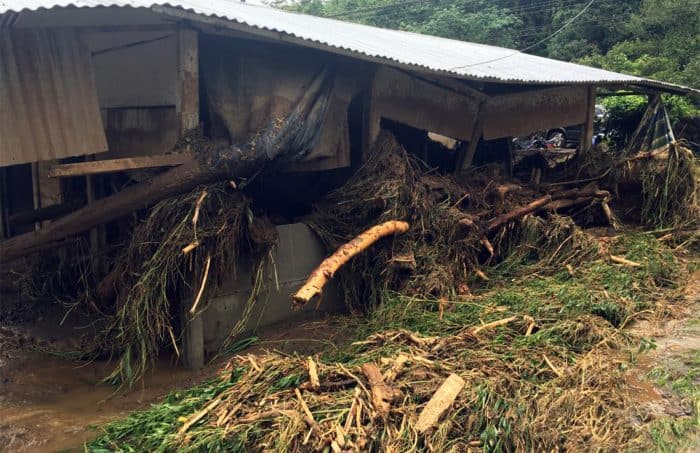 Rising waters, overflowing rivers and powerful gusts of wind from Hurricane Otto caused death and destruction in November.
The National Meteorological Institute on Nov. 22 warned that Tropical Storm Otto had become a Category 1 hurricane some 240 miles east of the Caribbean province of Limón. Two days later, Hurricane Otto became the first hurricane to make landfall here since 1851. Its path across northern Costa Rica resulted in a toll of 10 people dead, three of them minors, and thousands evacuated in shelters.
On Nov. 28, President Luis Guillermo Solís declared the country to be in a state of mourning for three days.
Otto also caused severe damage to roads, bridges and other public infrastructure in the amount of approximately $21 billion. The government also reported more than $3 million in housing costs for hundreds of damaged houses, many of them completely devastated.
In early December, Solís visited the areas most affected by the hurricane and pledged a rapid rebuilding of the communities.
Turrialba Volcano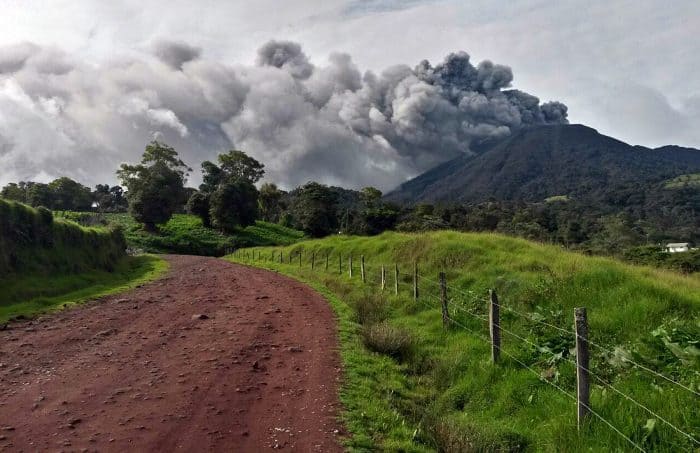 Costa Rica has five active volcanoes, but Cartago's Turrialba Volcano was the one that made headlines throughout most of 2016.
The volcano was inactive for over 144 years until 2014, when it resumed activity with periodic spewings of ash, vapor and incandescent rocks. This year, the volcano recorded several explosions that reached heights ranging from a few hundred meters to four kilometers.
Ash traveled through various provinces and people reported ashfall in Cartago, San José, Heredia, Alajuela and Limón. Ashfall prompted several closures of Juan Santamaría International Airport in Alajuela province and of Tobías Bolaños Airport in San José. It also caused considerable losses to the agriculture, tourism and export sectors.
In December, Central Valley residents are still dealing with the sulfur smell and ashes from Turrialba's periodic explosions.
Hurricane Matthew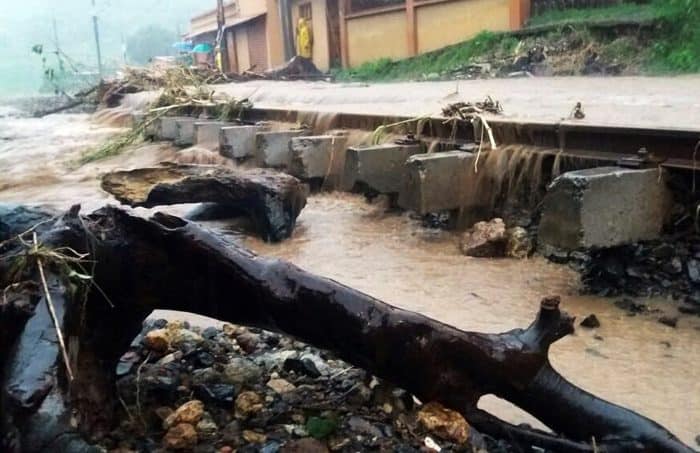 Hurricane Matthew hit Florida and other U.S. cities in early October, but its indirect influence over Costa Rica prompted the evacuation of 153 people in Cartago, Heredia and the capital of San José.
On Oct. 6, flooding and overflowing rivers forced emergency agencies to attend to more than 100 incidents at homes, public roads and buildings in 23 cantons. The Traffic Police that day reported that officers had attended to a total of 95 accidents and other incidents on roads in the Central Valley.
The Costa Rican Railroad Institute suspended train service in Cartago as flooding left debris and mud along various stretches of the railroad. The closure of airports in Miami, Fort Lauderdale, Palm Beach and Orlando prompted airlines here to cancel all flights to and from those destinations.
Flooding in the South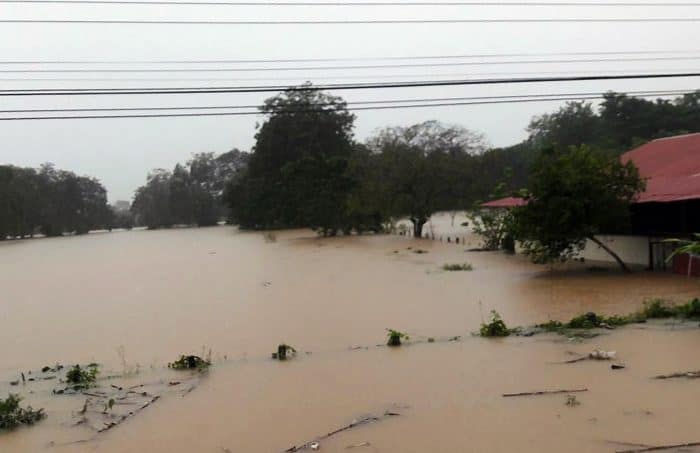 Despite the hurricanes, Costa Rica's 2016 rainy season recorded low precipitation levels. However, other weather phenomena such as cold fronts and low-pressure systems throughout the year caused heavy downpours that in some cases resulted in emergencies due to flooding.
In November, heavy rains and strong winds flooded a total of 29 southern Pacific communities. Overflowing rivers and landslides left communities isolated along the South Pacific in Puerto Jiménez, Golfito, Osa and Corredores.
The Red Cross and other emergency agencies also received reports of flooding at various communities in the Caribbean province of Limón.
Strong winds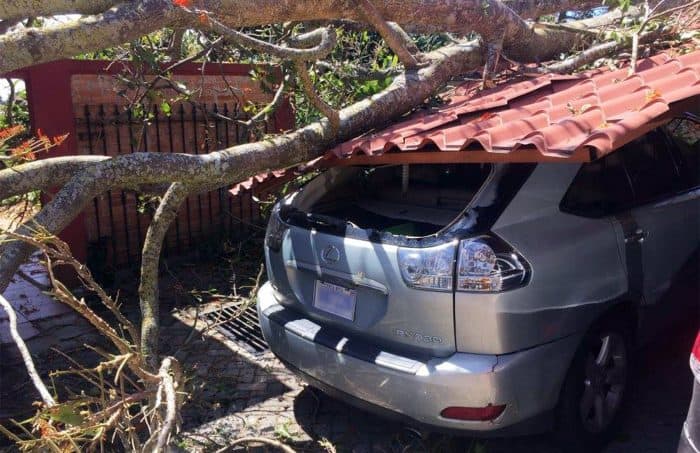 A cold front in February brought strong winds to most of the country that broke a national record for emergencies in one day. Gusts in Guanacaste province on Feb. 16 caused a tree to fall on top of a car, killing a 34-year-old man inside.
The Firefighters' Corps reported that the country's 73 stations that day received a total of 424 emergency calls — the highest number for a single day since the Firefighters Department started operations in Costa Rica in 1865. Most of them were related to fallen utility poles, trees, billboards and signs, broken power lines and blown-off roofs. They also received 129 reports of wildfires.
The National Power and Light Company reported receiving more than 300 failure reports in provinces in the Greater Metropolitan Area. Power supply failures at pumping stations also cut the water supply for more than 80,000 people in Alajuela and San José.
Earthquakes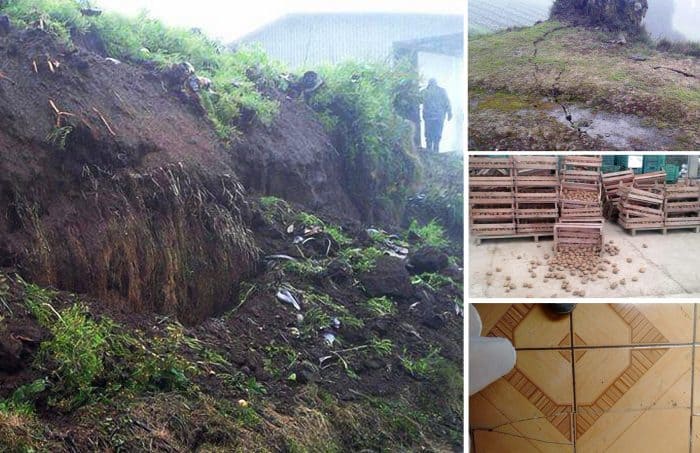 Monthly data from the University of Costa Rica's Volcanological and Seismological Observatory (RSN) state that there were 3,303 tremors between January and November.
Most of them went unnoticed; according to the RSN, the population felt and reported only 191 of them. April was the most active month with 396 tremors recorded; however, people only felt 14. Ticos felt the most quakes in September when the RSN recorded 26 reports, followed by 24 reports in January and 23 in May. A total of 15 tremors had magnitudes above 5.0 degrees in 2016.
One of the most noticeable, a magnitude-5.3 with an epicenter in the province of Cartago, shook five provinces in the evening of Nov. 30.
The National Emergency Commission reported that one house collapsed and nearly 40 were damaged in cantons east of Cartago.
The agency also found landslides and cracked roads in the province. Thousands of people suffered power and water cuts in four cantons in the aftermath of the quake.
Rincón de la Vieja Volcano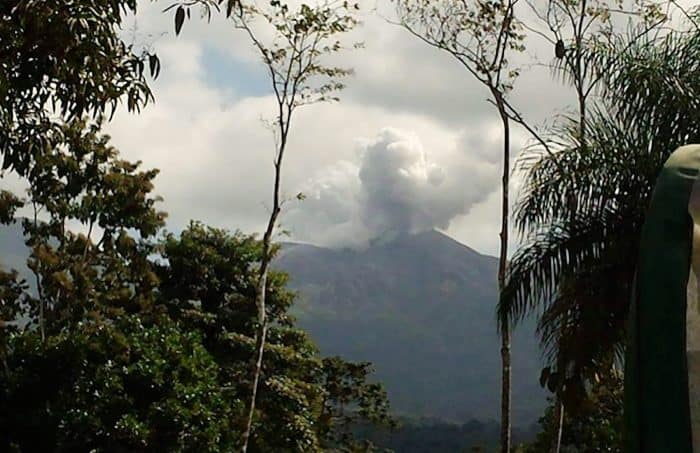 Rincón de la Vieja Volcano, in the northwestern province of Guanacaste, also recorded noticeable activity this year with various periods of seismic events, mostly vapor and ash explosions.
In March, at least two major explosions were recorded at the volcano. One of them, on March 9, left ash on the roofs of homes within a six-kilometer radius around the volcano, mainly in communities north of the crater in Upala and Buenos Aires.
On March 15, another explosion formed a column of vapor and gases that reached more than 700 meters (some 2,300 feet) high.
At the time, the National University's Volcanological and Seismological Observatory (OVSICORI)  recorded an increase in seismic activity in the surroundings of Rincón de la Vieja with volcanic tremors lasting up to 11 minutes.
Save
Save