The death toll from Hurricane Otto in Costa Rica has increased from four to nine, President Luis Guillermo Solís announced Friday. Five people died in the Alajuela canton of Upala and four in Bagaces, Guanacaste. Solís declared three days of mourning starting Monday.
Lamentamos profundamente la muerte de 9 personas por efectos de huracán #Otto en Bagaces y Upala

— Luis Guillermo Solís (@luisguillermosr) November 25, 2016
The northwestern region of the country, particularly the community of Upala, spent a horrific night in the path of the storm, and at an earlier news conference Friday morning Solís said four people had died and others were missing, with widespread damage that was still becoming apparent in the light of day.
The President declared the country to be "in a state of mourning" and called on the people of Costa Rica to "unite, like a national family."
The storm, which has now moved away from Costa Rica and over the Pacific Ocean, made landfall in the country at about 3:30 p.m. Thursday and caused damage in hundreds of communities, especially because of landslides and rivers that overflowed their banks. Authorities had calculated approximately $8 million in damage to roadways as of Thursday evening.
"Between 4 p.m. and 10 p.m., the amount of rainfall recorded was the equivalent to that of a full month: about 200 liters per square meter," Solís said.
The mayor of Upala, Juan Bosco Acevedo, told Channel 7 News that water rose so fast in Upala that many residents sat on their roofs during the terrifying nighttime passage of the hurricane.
"The situation is chaotic and unprecedented. Upala is devastated," Acevedo said.
https://www.facebook.com/CNECostaRica/videos/vb.211227752303178/1176367559122521
Different parts of Guanacaste experienced vastly different levels of impact. Geraldine Carmona, project coordinator of the nonprofit Guanacaste Community Fund, told The Tico Times that the more fortunate areas seek to take advantage of their relative calm to help the hardest-hit zones. Carmona attended a meeting this morning of a wide range of institutions
"I live in Santa Cruz — in the center of the canton there was a lot of wind last night, but the impact was not too significant," she told The Tico Times in a phone interview Friday morning. "What was discussed at the meeting this morning was that at the Santa Cruz regional committee, where there is more objectivity for the distribution of funds (because of the relatively light impact), will be the base of support for Upala, Bagaces and La Cruz, which were the most affected areas."
She said the commission is made up of a wide range of institutions including the Ministry of Public Education, Caja, Health Ministry, municipal leaders and civil society.
Carmona said a team is on the ground in Upala and that she expects more information about the impact of the storm to be available later.
Hotel owners throughout Guanacaste reported heavy rain and winds, fallen branches and scattered power outages, but no serious damage — at least at those places that had telephone service.
"We had wind and plenty of rain but nothing bad, nothing serious," said Max Navarro, administrator of the Blue River Lodge near Dos Ríos de Upala and Rincon de la Vieja Volcano National Park. "Some branches fell, and we're cleaning the gardens, but the guests are very calm. After midnight everything was very serene. Some branches fell, but didn't hit any structures."
He said the hotel's popular Dino Park attraction, ziplining and other tours would be closed for a couple of days while workers clean up and make safety checks, but everything should reopen in 72 hours.
Nelson Rojas, manager of the Hotel Casa Del Viento in La Cruz in far northwestern Costa Rica, said, "There was not much damage in La Cruz. We got hard rain and strong wind, but not much damage. There were fallen trees in Santa Cecilia and La Garita." He said there was no flooding because there are not many rivers there.
Freddy Morales, receptionist at Cañon de la Vieja Lodge near Rincón de la Vieja, said, "Yes, there was lots of rain and wind, but thank God no disaster. Everything is in order, no property damage or human injuries. Jut lots of cleaning of branches and leaves everywhere, luckily. We're canceling tours today, but we'll reopen tomorrow."
Marie-Jo Beaudoin at the M&M Beach House in Playa del Coco said the town experienced fallen trees and a three-hour power outage, but she didn't know of anybody who was hurt. She sent a link to a Playa del Coco Facebook page that showed lots of fallen trees.
Brian Bratton, owner of the Christie's International real estate brokerage in Tamarindo, said that popular tourist destination experienced a few downed trees here and there, but nothing significant.
"They just graded the roads yesterday and we were all wondering: 'Why? It's all going to flood.' And it didn't even come close, it's all in great shape. It was really windy and that's about it."
Calls went unanswered, presumably for lack of phone connections, to three lodges near Tenorio Volcano National Park and Río Celeste, closer to the hard-hit areas of Upala, Bijagua and Bagaces.
In Potrero, north of Flamingo, a Tico Times reporter was having dinner Thursday at the Hibiscus Restaurant, 200 meters from his hotel, when a giant tree fell on the one-lane bridge between them, knocking out power at around 10 p.m.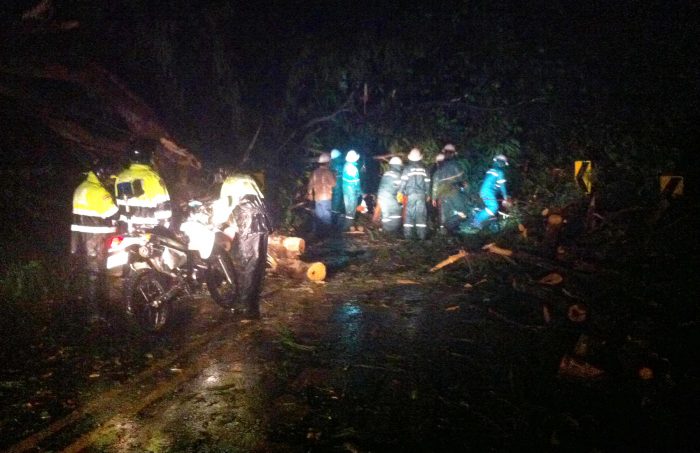 The bridge was impassable by car or by foot, and the restaurant owners, who also needed to cross the bridge to get to their daughter at home, led the way on an alternate route down a dirt road, but they came to a normally fordable river that was too swollen to cross. The restaurant owner, Allan Vargas, waded into the river almost up to his waist before giving up.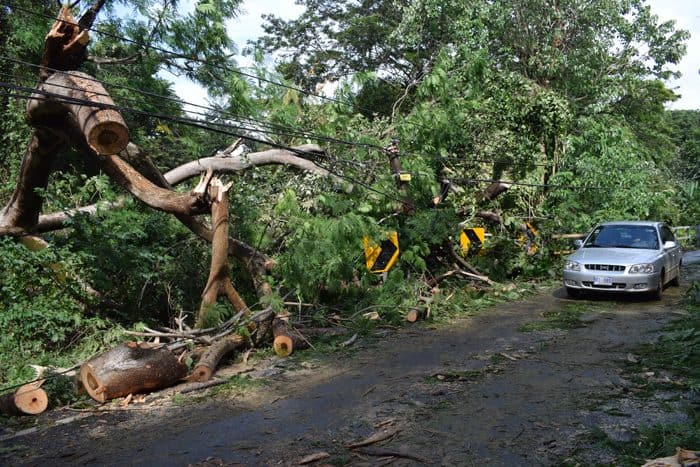 They returned to the bridge, where a crew of over a dozen men worked an hour and a half in hard rain to clear the fallen trees and downed electrical wires, reopening the bridge about 12:30 a.m.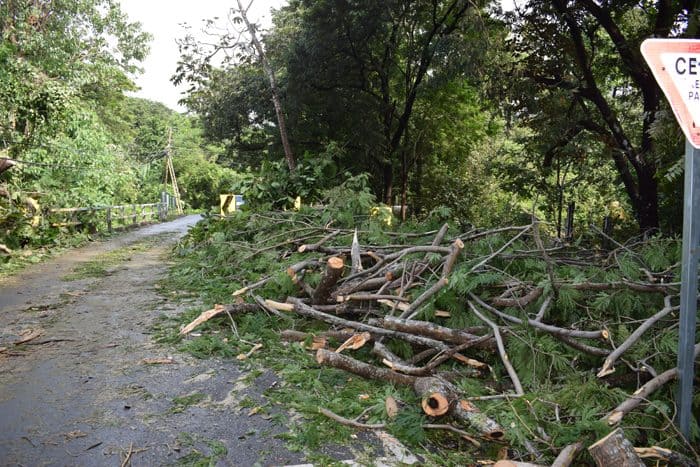 By morning, chainsaws could be heard all over the area clearing fallen trees elsewhere, and workers at the bridge were still repairing electrical lines. A worker said trees had fallen across the road in three places near Potrero, and 40,000 customers had been without power until it was restored around 4 a.m.
The Tico Times will continue to bring you more information on this developing story. Read our complete Hurricane Otto coverage here.
See what people in Costa Rica are posting on social media about Otto: