ISLA COLÓN, Panama – It's about 35 °C and the sun shines vigorously on Isla Colón, the main island of Bocas del Toro, Panama. Not the best moment for a bike tour during the hottest hours of the day, or so we discover. But my boyfriend and I are determined to make it to the so-called "Plastic Bottle Village," created by environmentalist Robert Bezeau.
His village isn't too difficult to find: signs describing the impact of plastic bottle consumption are located everywhere on the island's main road toward Boca del Drago's famous Starfish Beach. After a half-hour ride, we arrive at Bezeau's property, tucked away on a hill in the jungle. He awaits us with some ice-cold beers in glass bottles, which we happily accept.
"If only all the drinks in the world were served in either glass or cartons," sighs Bezeau after he takes a sip. "It would make such an ecological difference."
Bezeau, 67, a French Canadian, left Montreal for Panama on his quest for warmth and sunlight in 2009. The archipelago of Bocas del Toro was already increasing in popularity by then.
"From the beginning, I saw the rapid development and its corresponding problems on Isla Colón," he says. The more tourists, the more trash they brought in. "It was clear to me this was a very serious problem."
So Bezeau simply started picking up bottles.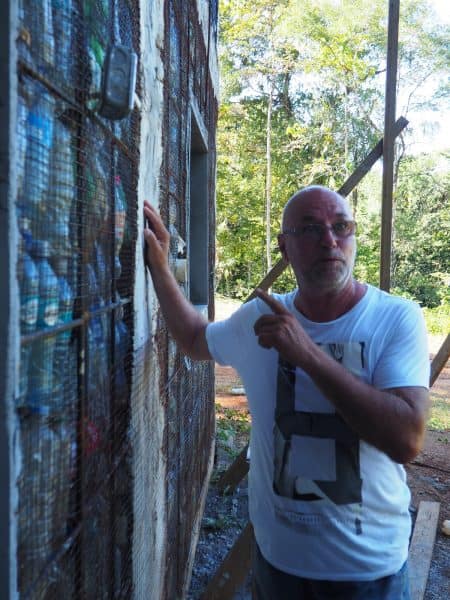 "Otherwise they would have end up in the ocean," he explains, "or they would have been burned just a bit further up the hill, a process that releases a lot of chemicals."
In an effort to join forces with like-minded allies, Bezeau started the Bocas Recycling Program in 2012.  Soon his stash of trash was piling up.
"For months I was thinking about what to do with it. I was even dreaming about it every night," he recalls." And then one day when I woke up – the idea of building houses just popped up in my head and I knew I had found my purpose!"
Bezeau and his team are working hard to construct an eco-residential community of some 120, all made out of collected plastic, spread out on 83 acres of jungle. As he guides us around the area, he notes that in only 13 months of work, the project has grown fast. We watch as construction workers build the entrance of the village, which looks like a castle.
Three other buildings are near completion. Robert points out where he plans to locate the core of the village: a hilltop spot with a spectacular view.
The first official residents of the village happen to be visiting as well during our tour. Jeff and Justine Catalano, who will one day live in one of these houses, are walking around the property with their three-month-old baby Jai.
The Catalanos have been living on the island for a couple of years. After moving here from the United States, they opened the restaurant Taco Surf, which unites their passion for surfing and Mexican food.
"We used to live in San Diego, but both of us got pretty tired of the long workdays. Little energy was left for the things we like to do best," Jeff explains. "Bocas was the perfect place to enjoy life in a different, more conscious way."
"With an increasing world population and a globally increasing level of consumption, there is a need for more sustainable initiatives when it comes to plastic," Robert continues. According to the environmentalist, the average human consumes roughly 15 or more drinks in plastic bottles a month. "If you were born after 1978 – the year that Coca Cola introduced the plastic bottle to the world – and will live up to 80 years old, you will leave behind a minimum of 14,400 plastic bottles on this planet."
Since the bottles take hundreds of years to break down completely, with much of the waste consumed by fish and birds, thereby shortening their lifetimes, the impact is devastating, he adds. While using discarded bottles as construction material doesn't prevent more bottles from being used, it does prevent them from entering animals' habitats.
We walk towards the biggest house, still under construction. The design gives a feeling of simplicity; its appearance doesn't seem much different than that of a conventional house. The workers first put the bottles in a cage made out of used wire; next, they weld several cages to one another before they implement electricity and drainage systems. In the end, they cover the boxes with concrete.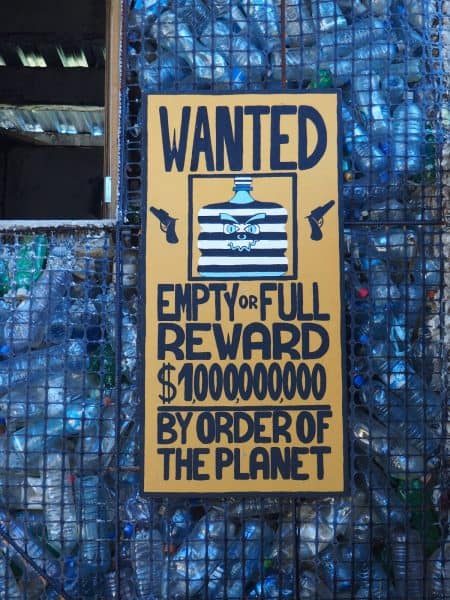 This big house contains some 22,000 plastic bottles.
Reusing the bottles is more than an ecological boon – according to Bezeau, plastic as a construction material offers other surprising benefits, too.
"The home can be up to 17°C cooler on the inside compared to its surroundings on a hot sunny afternoon like this. The heat is passed through the air in the bottles," Bezeau says. "Even on a tropical island such as Colón, you wouldn't need other energy inputs such as air-conditioning."
Bezeau also claims the houses are earthquake-resistant.
"The plastic is extremely strong, but flexible. It's like with bridges: if they're too rigid, they'll fall apart. At the same time, the wired frame of the house guarantees the strong base," he explains. "I believe it to be even safer than a house of bricks."
Alongside the creation of this eco-village, Bezeau and his team are developing other ideas as well. For example, they are talking with a company that develops sustainable products in India.
"We're trying to create square bottles together, which we can easily click into on another," he says, describing the effort as the classic "if you can't beat 'em, join 'em" approach. "Yeah, it might sound a little odd, but it would make construction a lot easier. And you might ask yourself; why are bottles round anyway?"
As I wrap my brain around that question, Bezeau rushes to his Mac in order to show me the current designs of the square bottles. They remind me of Lego blocks, evoking some Proustian memories.
"This clickable system would be efficient as well in case of natural disasters," Bezeau clarifies. "Imagine those bottles with water being dropped on affected places; people could instantly start creating a shelter for themselves!"
Robert's biggest desire is to help transform plastic bottles into modern residences all around the world.
"Many people already approached me with questions. I'd really like to spread our knowledge about eco-building techniques and establish a training center here – made out of plastic, of course," he adds with a smile. "I know I'm just one crazy person, but I hope I can find many more crazy ones who want to make a difference."
For more information, visit the project website.